Unidentified, decomposed body found in Florida woods; Some think he's a Baton Rouge native
NAPLES, Florida – Facebook comments on threads related to an unidentified man found dead in a hiking camp deep in the south Florida swamp suggest the mysterious hiker is from Baton Rouge.
Sheriff's deputies in Collier County, Florida, have been corresponding with Facebook users for days after the department posted a computer-generated image of a man found dead in a tent in Big Cypress National Preserve on July 23.
"He had no identification. It appeared that he had been living or hiking in the preserve," deputies wrote in their Facebook post that has spread like wildlife among hikers' pages.
The man is believed to be between 35 and 50 years old, 5'8" and weighed only 83 pounds.
In numerous Facebook threads, other hikers said they saw a man matching the likeness up and down the eastern United States. One person suggested they had a conversation about the man being a native of Baton Rouge.
Deputies in Florida did not suggest in their post where the man may be from. On numerous public messages with hikers, deputies repeatedly said the case is under investigation and they're hoping someone will recognize the man and report his identity.
"We have received some tips that the man could have been from Baton Rouge. Since we don't have him identified we can't make a definitive connection to any place," the sheriff's office said in a statement to WBRZ Wednesday afternoon.
Nevertheless, they hope the image will be shared and lead to an identity.
Hikers also shared images of who they believe the man could be. The photos were taken while he was alive.
No one is sure of his real name since he only identified himself on trails with an alias - "Mostly Harmless" or "Denim."
People wrote in addition to having been told he was born in Baton Rouge he also told stories about him most recently living in the New York area where he was a programmer before he decided to start hiking.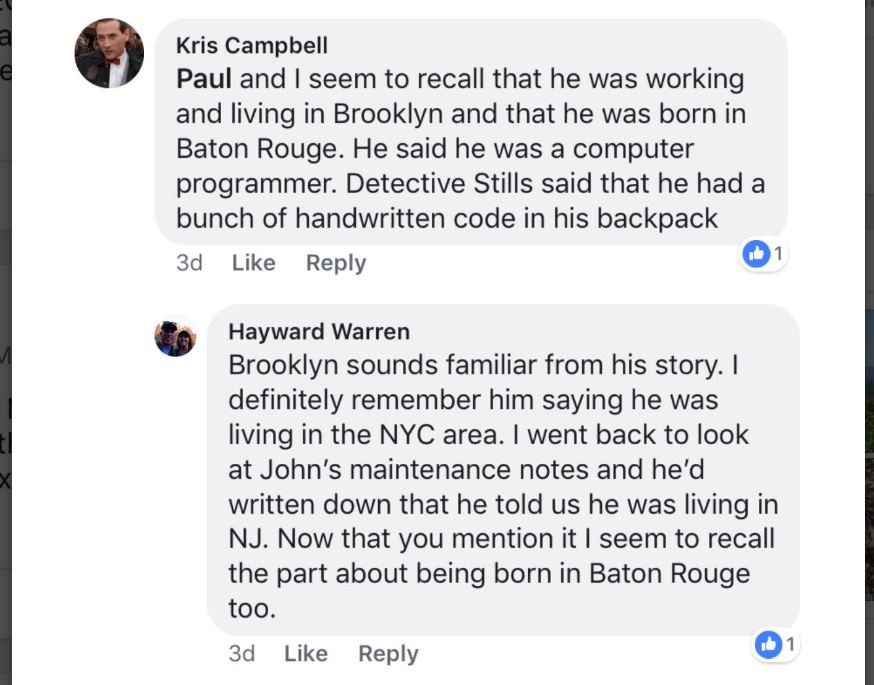 It appeared he'd been hiking for more than a year on various trails on the eastern United States coast.
The sheriff's office asked people to report information to their tip line: 239-252-9300.
***********************
Follow the publisher of this post on Twitter: @treyschmaltz
More News
Desktop News
Click to open Continuous News in a sidebar that updates in real-time.