Officials expect Sunshine Bridge to remain closed for months
DONALDSONVILLE – Damage to the Sunshine Bridge from a barge collision last week is far more extensive than originally thought, leading state officials to believe the crossing will be closed well beyond October.
An update released by DOTD officials Monday said repairs to the highway linking both sides of Ascension Parish could go on for "months rather than days." The department says key load-carrying components of the bridge sustained significant damage when a barge pushing a crane slammed into it before sunrise Friday morning.
The bridge also serves as a major east-west artery for St. James Parish via Highway 70.
DOTD Secretary Shawn Wilson said a contractor has already been selected to handle the repairs, but work this extensive will take time to make the bridge safe again.
"It is important to know there is not an easy fix for this kind of damage," Wilson said in a statement Monday. "There is no temporary fix that will allow us to safely open the bridge."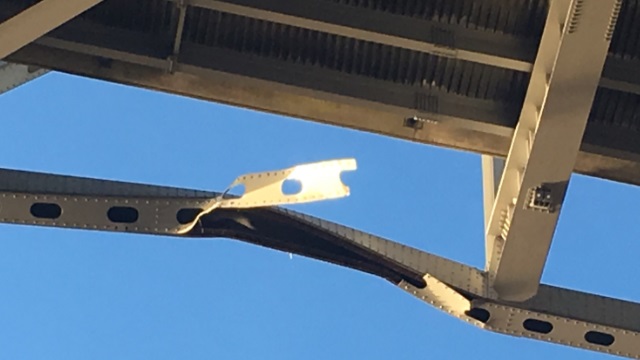 Some 25,000 commuters use the bridge each day.
Not a bright day on the Sunshine Bridge. It's closed until further notice. It was hit last night. pic.twitter.com/dATZtNWxD0

— Shawn Wilson, Ph.D. (@onevisionary) October 12, 2018
Because of heavy traffic volume due to the continued closure, the second Plaquemine ferry will continue extended weekend hours of 8 a.m. to 8 p.m. On weekdays, the second boat will also continue to run an hour longer, until 10 a.m., in the mornings and will start at 1:45 p.m. in the afternoons.
DOTD is implementing a new signal-timing sequence at the La. 3127/La. 20 intersection. Technicians will be on site at this intersection to monitor congestion and will operate the signal manually if the new timings are not sufficiently moving traffic.
Techs will also be staged at the intersections of:
-LA 3125/LA 3213
-LA 3125/LA 3274
-US 61/LA 641
In addition to the ferry crossing, drivers are encouraged to use the Veterans Memorial Bridge.
Motorists should prepare for delays as those who regularly use the Sunshine Bridge will be using alternate routes.
The state told WBRZ Friday, it expects to recoup costs of repairs from the company or companies involved in the collision.
When Ascension Parish schools reopen from the system's fall break, some westside Ascension Parish schools will delay the start of the school day. It's unclear if the school system has long term plans at this time. CLICK HERE for additional school system details.
Watch WBRZ morning newscasts from 5 a.m. to nine a.m. Monday-Friday for live updates on the traffic conditions in this area. Traffic reports are featured every ten minutes. We also have live traffic updates every afternoon in our 4 p.m. and 5 p.m. newscasts. Click HERE for a live traffic map or HERE to monitor the WBRZ traffic Twitter account which posts updates.
Alternate routes:
LA 70 westbound traffic may detour by heading east on LA 3125, south on LA 3213 and crossing the Veteran's Memorial Bridge, and west on LA 3127 to the junction of LA 70.

LA 70 eastbound traffic may detour by heading east on LA 3127, north on LA 3213 and crossing the Veteran's Memorial Bridge, and west on LA 3125 to the junction of LA 70.
More News