Have we had our last freeze?
Can I plant my garden? That has been a popular question coming into the WBRZ Weather Team via email, Facebook and Twitter over the last week. Of course, the answer hinges on a forecast that stretches beyond the standard next 7-Days and one known to be beyond the reliable bounds of meteorology. However, climatology can offer some insight.
Since 1930, the last freeze in Baton Rouge has averaged out to occur on February 23. Nevertheless, freezes have occurred as late as April 13 with 122 freezes after February 24 over the last 86 years.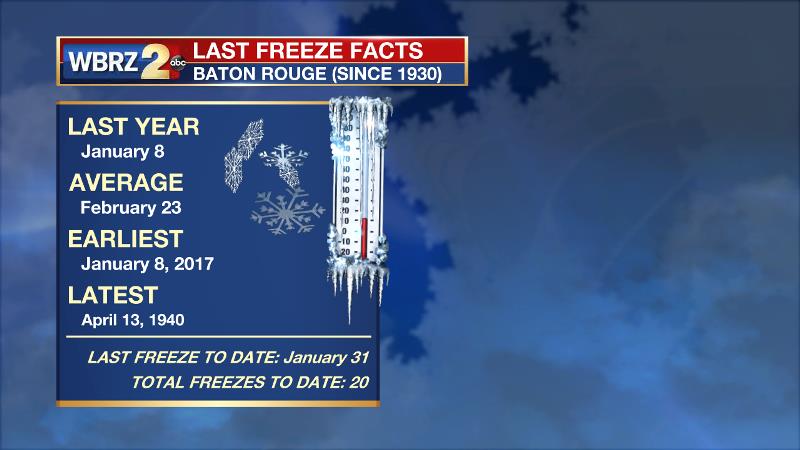 For this year, there is high confidence that the remainder of February will not bring freezing temperatures. No forecast model even winks at the possibility of a cold air outbreak.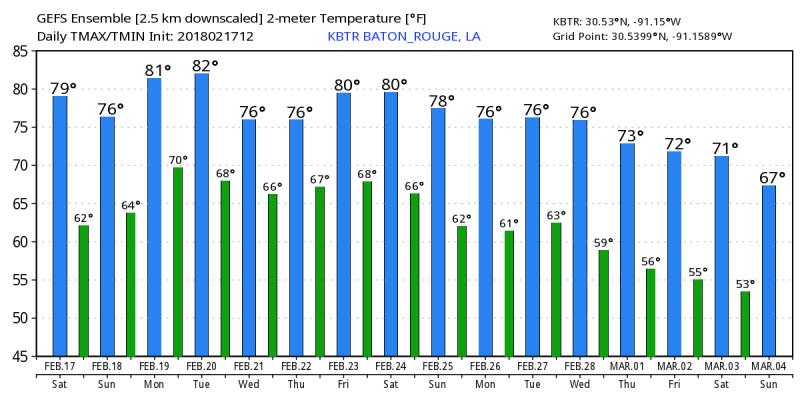 Looking into next month, the Climate Prediction Center three to four week temperature outlook continues a mild pattern. These assessments are based on circulations traversing the planet and large scale climate drivers. Due to a continuing La Nina and the current position of warm and cold air around the globe, the next four weeks out to March 16 are expected to bring warmer than average temperatures to the southern United States. For a reference point, the average high and low temperatures on March 1 are 69 and 48 respectively. By March 16, those numbers go to 73 and 50.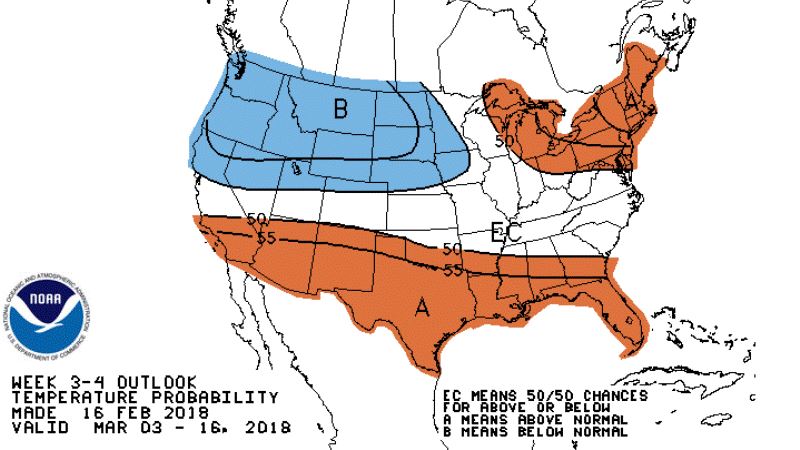 It is always important to remember though that "above average" means that over a period of time the sum of all temperatures will turn out to be above average—it does not mean there cannot be an isolated cold spell.
Friendly reminder about the #winteroutlook from @NOAA today, credit to @NWSFortWorth pic.twitter.com/N5RgpSRg3W

— Josh Eachus (@DrJoshWX) October 19, 2017
Finally, from March 17 through the latest last freeze in Baton Rouge of April 13, there have only been 11 freezes since 1930. Given the current outlook and what climate data shows, odds are good that the hard cold is over.
In fact, within the last 40 years, winters have been notably shorter and warmer in the Baton Rouge area. Climate data suggests that winter has become 2.5 degrees warmer over that span. Winter is the fastest warming season in most of the country generally from the Front Range of the Rockies to the East Coast. The most significant warming has been occurring in the northern states with some locations averaging more than 6 degrees warmer in that same time period. This trend emphasizes a general rule of climate change — cold areas and seasons warm faster than areas and seasons that are already warm.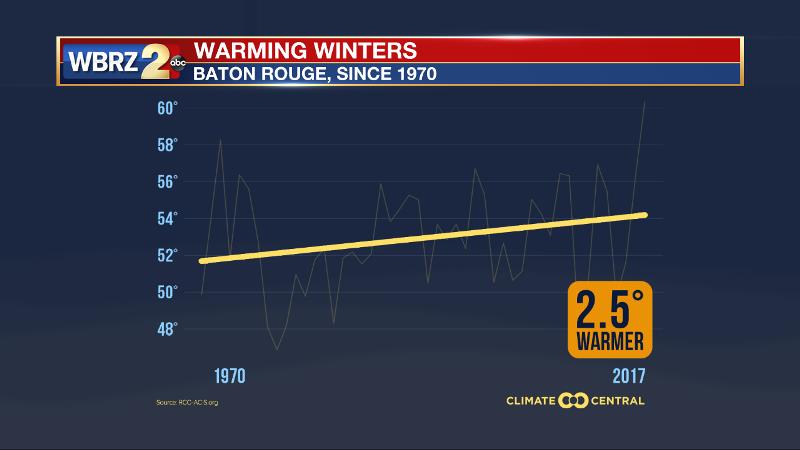 ---
With that information, the decision is yours. If you want my opinion… I will go ahead and prep the plants for spring. If an isolated, unanticipated freeze has me running for burlap and moving the tropicals inside, so be it! It beats gardening in the returning warmth and humidity of April!
The WBRZ Weather Team is here for you, on every platform. Your weather updates can be found on News 2, wbrz.com, and the WBRZ WX App. on Apple and Android devices. Follow WBRZ Weather on Facebook and Twitter for even more weather updates while you are on the go.
More News