Cold front coming, cooler air is not
A weak cold front will slide across the area Tuesday into Wednesday. Little change in temperatures is expected, although humidity may come down a bit.
THE FORECAST:
Today and Tonight: Tuesday will bring another chance of showers and thunderstorms, as a cold front moves into the region. Measurable rain is expected for about 40 percent of the 13 Parish, 3 County forecast area. High temperatures will make it into the upper 80s thanks to some breaks of sun. Rain chances will scale back overnight with low temperatures in the low 70s.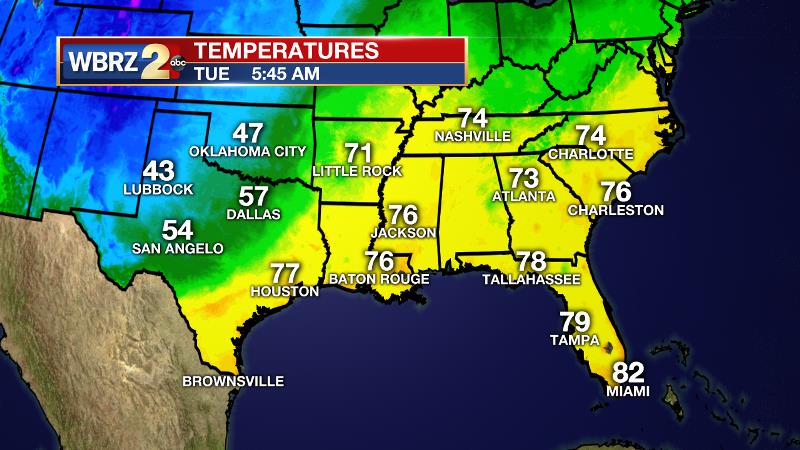 Up Next: While much cooler temperatures are found behind a cold front northwest of Louisiana, a weakening cold front running into warm and humid Gulf air will prevent that fall feel from reaching the Baton Rouge area. Wednesday is looking mainly dry, but a weak cold front lingering in the area means that rain chances cannot be set at zero. Skies will be mostly sunny with high temperatures in the upper 80s. High temperatures Thursday through Sunday will remain in the 80s, while lows only drop to the mid 60s at best. Humidity may come down just a little. Mostly clear skies are expected through the weekend.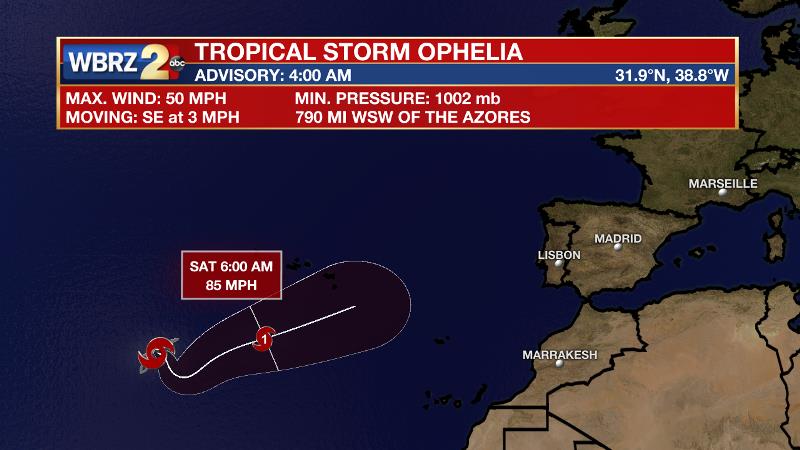 The Tropics: As of4am Tuesday, Tropical Storm Ophelia was located 790 west, southwest of the Azores. With maximum winds of 50mph the system was drifting southeast at 3mph and will not go anywhere fast. While it could reach hurricane strength late in the weak, the storm should weaken as it approaches Portugal next week.
THE EXPLANATION:
Thanks to a weak shortwave trough, titled positive and lifting northeastward from the Midwest to New England, a cold front will slide into the region Tuesday. Since an upper level ridge will remain over the eastern United States and given the orientation of the associated trough, this front will have a difficult time pushing through the area. With some leftover low-level moisture, the front will be able to generate a few showers and thunderstorms on Tuesday, but then drier air aloft will begin to shut rain down on Wednesday. Expect well above average temperatures Thursday through Sunday as that ridge dominates the Southeast. Highs will be able to climb into the upper 80s with a few isolated readings of 90 degrees possible. The slightly lower humidity will result in low temperatures in the mid to upper 60s.
--Josh
More News