BRPD officer faces internal investigation over comments following Denham Springs shooting
DENHAM SPRINGS - A Baton Rouge police officer is the subject of an internal affairs investigation after he apparently criticized a teenage girl who had a run-in with a crazed gunman who shot an officer last week.
On Friday, high school senior Charley Scott told WBRZ about her chilling encounter with 30-year-old Justin Roberts.
Scott said she turned in front of Roberts' vehicle, a gold Jeep SUV, as she was leaving the shopping center on South Range Avenue on Thursday. The Jeep then followed Scott home, cutting her off and brake-checking her along the away.
Home security video showed Roberts pulling into the driveway behind the teenager as she closed the garage door behind her. In a matter of seconds, he had backed out of the driveway and left the neighborhood.
"By the time I checked the side door he was already gone," Scott told WBRZ.
Less than half an hour later, Scott saw reports on the shooting at the shopping center and recognized the shooter's SUV as the same one that had followed her home.
"I was like, 'that's the exact same Jeep that was in my driveway.'"
Investigators say police were responding to a disturbance in the parking lot when Roberts started shooting. A Denham Springs police officer, Shawn Kelly, was shot multiple times and remains in critical condition as of Tuesday. Roberts was shot to death minutes later in a confrontation with a Livingston Parish sheriff's deputy.
Scott's mother, Kim Domangue, posted about her daughter's scary encounter of Facebook hoping it would serve as a lesson for others. While many were supportive of the family, one message from a Baton Rouge police officer shocked her.
In that message, officer Matthew Hurley told Domangue that he hoped her daughter "feels bad" over the shooting, seemingly trying to place blame on the teen.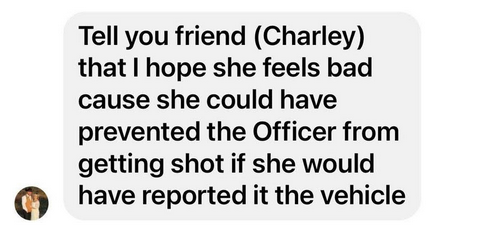 A Baton Rouge Police spokesperson confirmed the department has launched an internal investigation into Hurley's comments.
Domangue says BRPD Chief Murphy Paul contacted her and apologized on behalf of the department. She added that she's heard of similar complaints against Hurley and that his past conduct may also be part of the internal review.
More News