Poll: Most opposed to death row clemency in Louisiana
BATON ROUGE - By a 5-to-4 margin, Louisianians oppose an effort by Gov. John Bel Edwards to commute the sentences of those on death row, a new statewide poll shows.
The exclusive WBRZ survey of likely voters asked whether they were for or against the governor's proposal to remove most state inmates convicted of capital crimes from death row.
Forty-one percent said they support the move; 51 percent are against it.
The remaining eight percent are undecided.
The issue has led to a back-and-forth between the governor and anti-death penalty advocates on one side, and groups like district attorney and law enforcement associations on the other.
Edwards is not proposing the release of prisoners; rather, commuting the death sentence to life in prison for dozens being held on death row.
The poll was conducted in mid-August by Faucheux Strategies.
Other media outlets in the polling partnership include WWL-TV, KTBS-TV, KATC, and The Times-Picayune/The Advocate. The Urban League of Louisiana and the Public Affairs Research Council round out the sponsorship group.
Faucheux Strategies is a nonpartisan research company that is unaffiliated with any of the candidates. The margin of error for the full polling sample is 3.46 percent, with 800 completed surveys included in the results of the poll.
Sixty-four percent of respondents are white, 30 percent Black and six percent other.
Interviews were conducted via cell phones and landlines.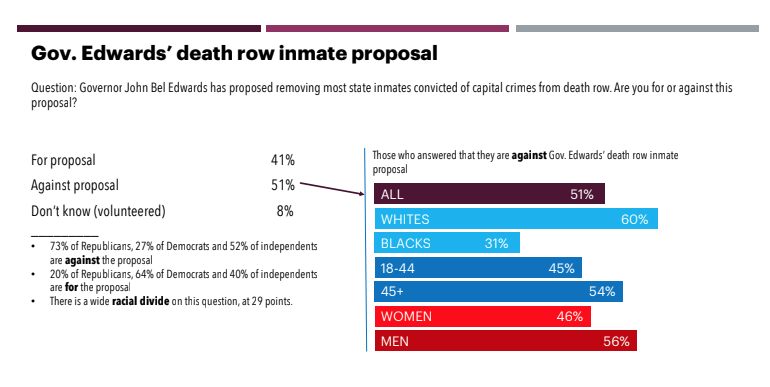 More News