Harvey weakens into Tropical Storm with sustained winds of 70 mph
ROCKPORT, Texas - Harvey rolled onto shore overnight as a powerful Category 4 storm. It has now been downgraded to a Tropical Storm.
> WATCH: Pat's most recent forecast HERE.
> WATCH: New video; overnight video shows first images of damage from Harvey; watch HERE
As of Saturday morning, as many as ten people had been injured and taken to a makeshift hospital at an area jail. Damaged was reported to numerous buildings. Roofs collapsed at a local nursing home and high school.
Rockport is just up the shoreline from Corpus Christi, Texas. The storm packed 130 mph winds as it blasted the region.
As the sun rose Saturday, crews were just able to safely survey the damage. Damage reports will likely be coming in all day.
The storm was downgraded by Saturday morning to a Category 1 but still posed a significant threat to the Texas coast because of large amounts of rainfall expected. People as far north as Houston could feel the impacts of significant rain and possible flooding later Saturday. Some areas could receive more than 35 inches of rain.
The storm quickly grew Thursday from a tropical depression into a Category 1 hurricane, and then developed into a Category 2 storm early Friday. By Friday afternoon, it had become a Category 3 storm and strengthened again around 6 o'clock Friday to become a Category 4.
View from inside Hurricane Harvey
While Texas will most likely bear the brunt of the approaching Hurricane Harvey, bands of rain from the storm have been sweeping over parts of Louisiana. Flood warnings have been issued along some southwest Louisiana rivers with forecasters saying some low-lying roads and recreational areas are threatened. And officials worry that rain could last for several days, raising worries of more serious flooding.
The slow-moving storm's unpredictable long-term path had the attention of both state and local officials.
Official calls for evacuations were issued Friday in parts of Cameron and Vermilion parishes where forecasters say rainfall totals could approach 15 to 20 inches over the next seven days.
Rainfall projections for New Orleans are lower. But officials urged vigilance there, noting that a change in the storm's track could increase flood dangers.
THE LOCAL FORECAST:
This Weekend: The weather should be fairly typical of August with scattered showers and thunderstorms. Due to the tropical air mass in place, any thunderstorms will be efficient at producing rain and downpours could leave behind a quick inch or two in isolated locations. Keep in mind though, nothing widespread is expected and some areas will actually stay dry. There certainly does not appear to be any need to cancel plans through Sunday. High temperatures will be just a few degrees shy of normal--in the upper 80s--due to increased cloud cover and pockets of rain. Nighttime lows will be in the mid 70s as usual.
Next Week: While the evolution of the storm system remains uncertain, it is becoming a bit more clear than last week. By Monday, whatever remains of Harvey is expected to stay over southeastern Texas. However, at the same time, two upper level ridges east and west of the area, are expected to weaken and "unclog" the stalled pattern. As a result, there will be increased development of showers and thunderstorms across southeast Louisiana and southwest Mississippi. Meanwhile, moisture content in the atmosphere will remain very high and some pockets of heavy rain could become established--especially Monday and Tuesday. It is worth pointing out that areas on the eastern side of an inland tropical system often see isolated tornadoes as well. Be on alert for any warnings issued. The remnants of Harvey could continue to bring unsettled weather to the western and central Gulf Coast straight through the week.
With regard to the rainfall forecast, persistence remains the name of the game. The WBRZ Weather Team still expects the Baton Rouge area to receive 4-7 inches of rain through Friday. Certainly, there could be isolated amounts twice as high bringing the potential for flash flooding and river flooding. The National Weather Service is planning to issue a Flash Flood Watch for the area later this weekend to highlight that possibility. The highest rainfall totals will likely occur closer to the stalled front which is expected to remain along the Louisiana coast. Areas from Morgan City to Houma to Grand Isle could see nearly 10 inches of rain.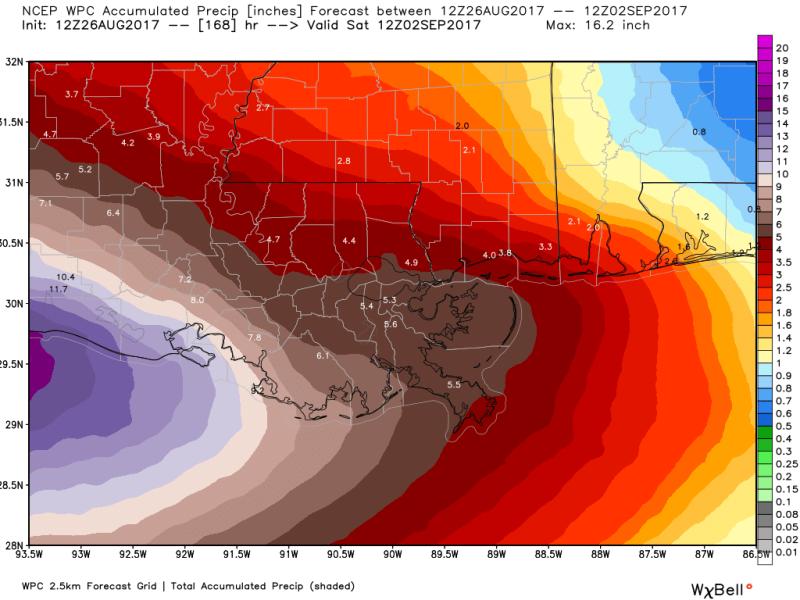 It is still just a little early to tell how local rivers could be affected. Only the next 48 hours of forecast rainfall is factored into predicted river levels. Since the heaviest rain is expected next week, it may not be until Sunday that we know what kind of rises may occur. The National Weather Service has issued a special hydrologic outlook to highlight the potential for rises on area rivers. As usual, the Amite, Comite, Tickfaw and Tangipahoa will be most vulnerable some residents nearby should take the necessary precautions, just in case river flooding occurs.
#BatonRouge area: carry on with your weekend as normal, check @WBRZweather for updates. We may have a heavy rain, tornado threat next week pic.twitter.com/Njqx8REqI1

— Josh Eachus (@JoshEachus) August 25, 2017
Keep in mind, flooding is not imminent, simply a possibility which is why the WBRZ Weather Team encourages the Baton Rouge area, counties in Southwest Mississippi and especially parishes along the southeast Louisiana coast to monitor the forecast as it evolves. Plan to get frequent forecast updates from the WBRZ Weather Team on News 2, wbrz.com, Facebook, Twitter and the WBRZ WX App. on Apple and Android devices. As always during hurricane season, stay prepared and review plans.
More News
Desktop News
Click to open Continuous News in a sidebar that updates in real-time.