Four more arrested following investigation into Denham Springs murder
UPDATE: The sheriff's office says four more arrests have been made in the investigation into Wednesday's murder.
Rebecca Dugas, Bernard Bellard, Jr. Shane Gaudin are currently being held in the Livingston Parish Detention Center. The three were arrested in connection with a number of drugs, guns and fake money found while police were investigating the shooting.
A fourth person, Kathleen Wingert, was arrested but has already been released after paying a $25,000 bond for obstruction of justice.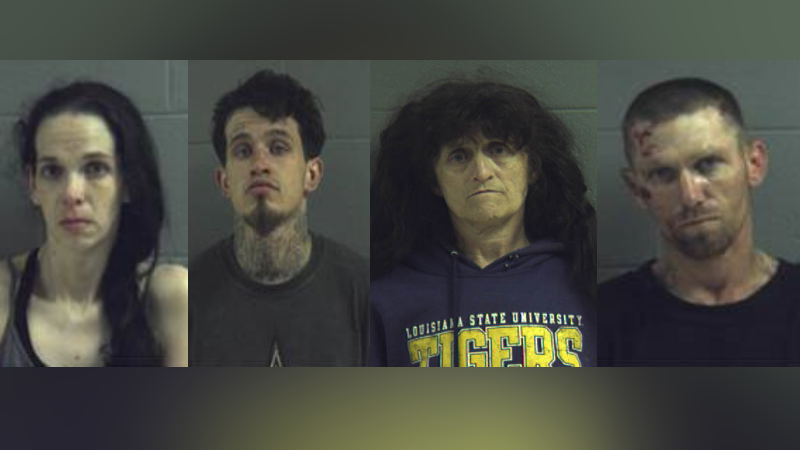 Rebecca Dugas, Shane Gaudin, Kathleen Wingert and Brennan Bellard
Check back for more updates.
*****
DENHAM SPRINGS - Sheriff Jason Ard says the suspect in a deadly shooting Wednesday morning is in custody.

Deputies believe Daniel Roberts is responsible for shooting a man in the Eastover Estates area at 6 a.m. The victim, identified by family members as Billy Forrest, later died at the hospital.

Roberts was found on LA Trace Road in French Settlement by Livingston Parish Sheriff's deputies just before 8 p.m.

"I can tell you that our victim was struck in the abdomen from a bullet fired from a handgun," Ard said. "The motive is still unclear at this point in our investigation."

Earlier Wednesday, 29-year-old Cary Cedotal was arrested for obstruction of justice.

Deputies are still investigating. More charges and arrests are possible.

Anyone with information is asked to call 225-686-2241.
More News