Even hotter temperatures coming as near record warm May ends
Rain chances will slowly diminish over the next several days with very little activity left around Thursday through Saturday. Temperatures will continue to warm as this drier trend emerges. May 2018 will likely close as the second warmest on record after smashing the streak for most consecutive May days in the 90s. The previous streak was 12 days in 2012 and 2011. By the end of the month on Thursday, May 2018 will have recorded 21 straight days in the 90s.
THE FORECAST:
Today and Tonight: Another fast climb in temperatures is expected with the 90s by lunchtime and the low to mid 90s for mid-afternoon highs. Mostly sunny skies will persist and the rain chances are just above nil. Lows will only fall into the mid 70s overnight with mostly clear skies.
Up Next: With mostly clear skies and low rain chances, high temperatures will warm into the mid and possibly upper 90s Friday through Sunday. In addition to this, high dew points will result in feels-like temperatures between 100-105 degrees and the National Weather Service may need to post the first heat bulletins of the season. There is a shot at some showers and thunderstorms on Sunday and Monday that could provide needed rain and a reduction in temperatures of two or three degrees.
Some friendly reminders for your summer of fun events—sunburn can occur in less than 15 minutes with the extreme U.V. Index typical of this time of year. In addition to that, the symptoms of heat exhaustion and heat stroke can set in just as quickly. Recognize the signs and symptoms displayed in this graphic. Seek medical attention if you or somebody you know is affected. While we all enjoy a list of cool beverages, be sure water is at least a part of that list! Finally, look before you lock. DO NOT leave people or pets in an unattended car.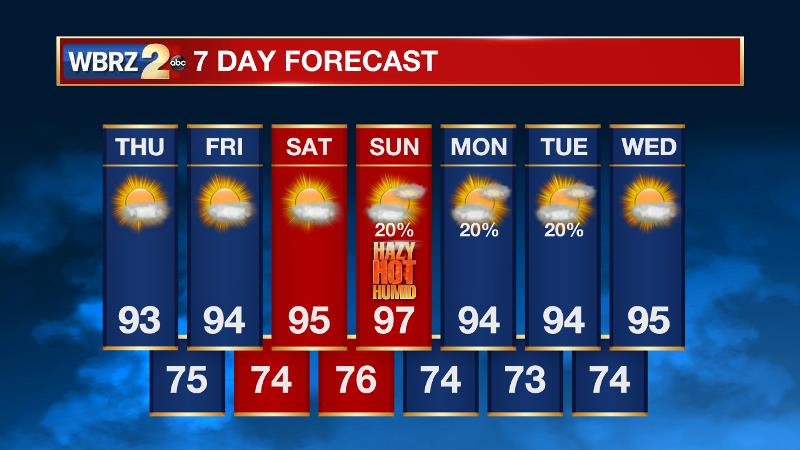 THE EXPLANATION:
An upper level ridge axis oriented from southwest to northeast will nudge over the Lower Mississippi River Valley Thursday through the weekend resulting in drier air aloft and increased subsidence. This will effectively shut down the already low rain chances that have been posted for the last several days. Subsidence due to the ridge will allow warming surface temperatures. Meanwhile, light onshore flow will keep dew points very high and well into the 70s. This combination will result in the most uncomfortable warmth so far this year. Saturday and Sunday especially will bring high temperatures into the upper 90s and feels-like temperatures well over 100 degrees. Heat advisories may be needed from the National Weather Service to reinforce heat safety. The ridge will slowly retreat southwestward on Sunday and a weak boundary may backdoor into the region. This coupled with small disturbances in the upper level flow should be able to induce a few showers and thunderstorms Sunday through Tuesday.
--Dr. Josh
The WBRZ Weather Team is here for you, on every platform. Your weather updates can be found on News 2, wbrz.com, and the WBRZ WX App. on Apple and Android devices. Follow WBRZ Weather on Facebook and Twitter for even more weather updates while you are on the go.
More News