What El Nino Watch means for Louisiana and Mississippi
An El Niño Watch has been issued by the National Oceanic and Atmospheric Administration (NOAA). Experts at NOAA's Climate Prediction Center (CPC) that monitor global patterns issue a watch when conditions favor the development of El Niño within the next six months.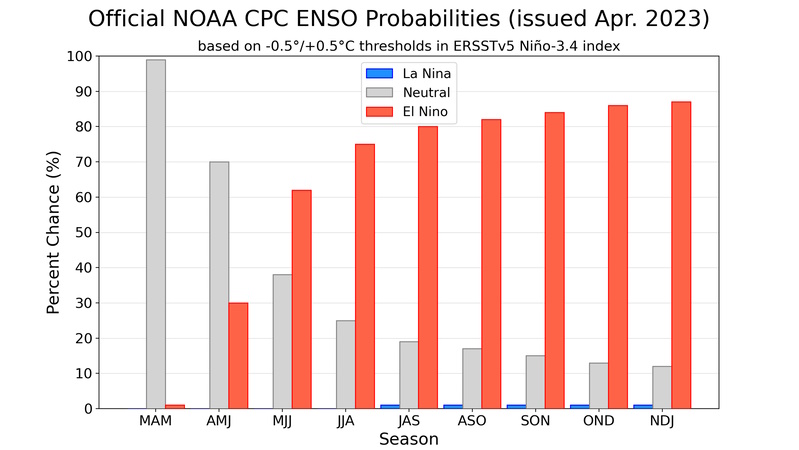 The watch is significant because the opposite pattern, La Niña, has been in place for more than two years. Such a pattern shift has historically resulted in broad weather pattern changes around the world, including Louisiana and Mississippi. The CPC gives El Niño a 62% chance of developing between May and July.
El Niño influences the Atlantic and Pacific hurricane seasons, usually leading to fewer tropical storms and hurricanes in the Atlantic and more than average in the Pacific. In the case of the Atlantic, El Niño increases vertical wind shear—the change in wind direction and strength from the surface to higher in the atmosphere—which makes it more difficult for tropical systems to form and strengthen. Just last week, the Tropical Meteorology Project at Colorado State University released its annual spring outlook for the upcoming hurricane season and cited the potential for El Niño as reason to expect below average activity.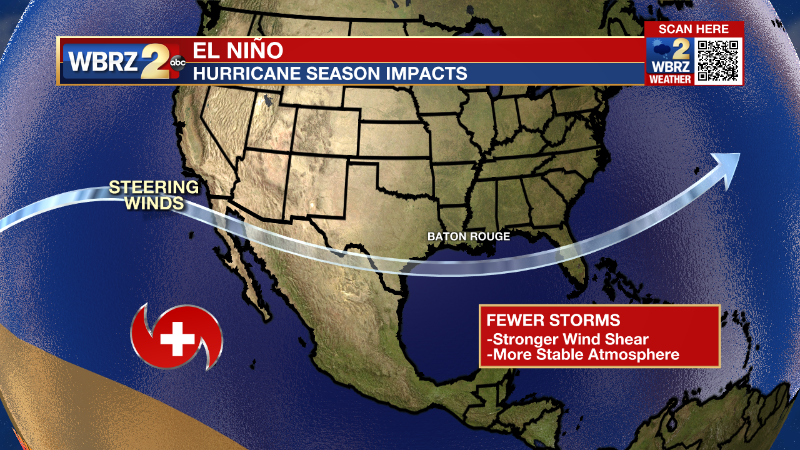 El Niño does not influence United States weather patterns during the summer months, aside from what stems from the tropics. On the other hand, December, January and February tend to be markedly more active across the southern United States, including Louisiana and Mississippi. When El Niño is present, winter in the Capital Area tend to be wetter and more prone to severe weather.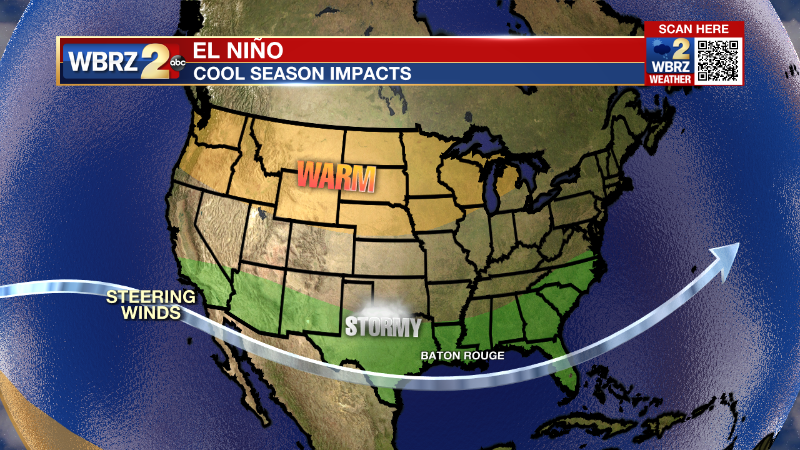 Lastly, ENSO has a strong relationship with the global average temperature. When you look back on previous decades, the warmest year has come during an El Niño, and the coolest during a La Niña. Due to the overall upward trend in global temperatures, recent La Niña years have featured much higher averages than El Niño years from the 1990s and earlier. 2022 was the 6th warmest year since records began in 1880, and that was with a La Niña. If El Niño develops this year, odds are increased for record breaking global warmth.
The El Niño-Southern Oscillation (or ENSO) is a climate pattern defined by sea surface temperature and precipitation departures from average across the equatorial Pacific Ocean. This pattern can influence weather and climate the planet. El Niño is the warm phase of ENSO when ocean temperatures are warmer and precipitation is greater than normal in that region and La Niña is the cool phase with ocean temperatures and cooler and precipitation is less than normal.
The Storm Station is here for you, on every platform. Your weather updates can be found on News 2, wbrz.com, and the WBRZ WX App on your Apple or Android device. Follow WBRZ Weather on Facebook and Twitter for even more weather updates while you are on the go.
More News