Tornado Watch issued for the Baton Rouge area
There is a 3/5 Enhanced Risk for severe weather on Tuesday. The primary threats will be damaging wind gusts and tornadoes. Keep in mind, these risks DO NOT imply that all areas will experience severe weather, but everyone located in the risk area should be prepared for that possibility.
Click HERE to watch the WBRZ live stream
*TORNADO WATCH* for the shaded area. We're tracking storms and will bring you warnings if issued. #lawx #mswx pic.twitter.com/F8OuoG7fbR

— WBRZ Weather (@WBRZweather) January 3, 2023
The National Weather Service has issued a Tornado Watch for East Baton Rouge, West Baton Rouge, Ascension, Iberville, East Feliciana, Livingston, Pointe Coupee, St. Helena, Tangipahoa and West Feliciana Parishes as well as, Amite, Pike and Wilkinson Counties until 5 pm Tuesday.
A TORNADO WATCH means conditions are favorable for tornadoes and/or damaging winds in and around the watch area. Be on the lookout for threatening weather conditions and listen for later statements and possible warnings. If a tornado warning is issued, seek shelter in a low-level, interior room of a sturdy building. For more on tornadoes and how to stay safe, CLICK HERE.
??Are we all clear on the difference between a watch and a warning?

Right now we are under a tornado watch, now we wait to see what the chef cooks up. Full forecast: https://t.co/tI0UMEZv8U pic.twitter.com/0I3kQA8GdZ

— Marisa Nuzzo WBRZ (@marisanuzzowx) January 3, 2023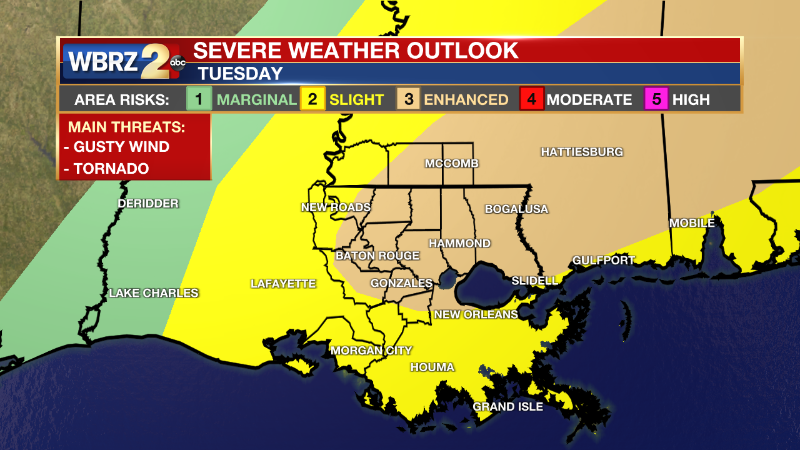 Tuesday: Scattered thunderstorms will develop before noon and last through evening commute. Any storm will have the ingredients to become severe, but not all will turn severe. The main threats we are watching include wind gusts 60mph+, heavy rain, large hail, and tornadoes. In addition to the risk for severe storms, a Flood Watch has been added to East Baton Rouge, Ascension, Livingston, St. Helena, St. James, and Tangipahoa Parishes. Repeated heavy downpours could cause water to pond on the roads. CLICK here to watch the futurecast timeline.
As the sun goes down on Tuesday, the threat for severe storms will slide east of the WBRZ viewing area. Be sure to have a way to receive warnings throughout the day. The day will otherwise be mostly cloudy and muggy. High temperatures will top out in the mid 70s with south winds of 10-20mph and higher gusts.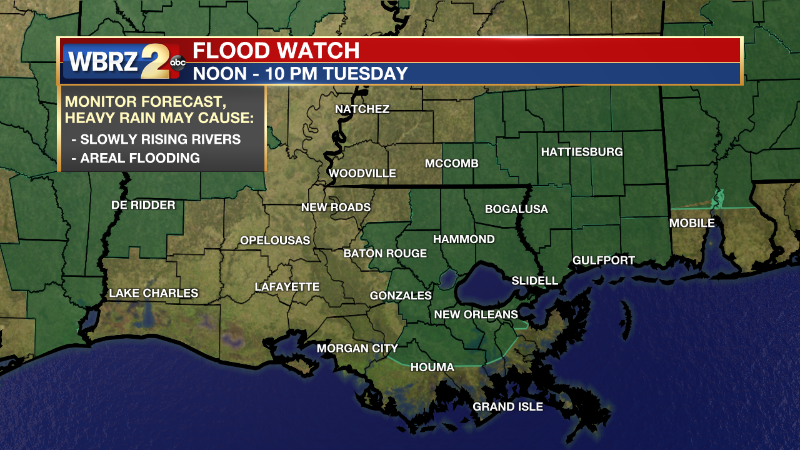 Click HERE for the WBRZ weather page.
Click HERE to see how to download the WBRZ weather app.
---
WHAT 2 KNOW:
SEVERE WEATHER: individual storm cells will be capable of producing a tornado, damaging wind gusts and hail. A squall line later in the day will bring a continued risk for primarily damaging winds and heavy rain, but the other hazards will remain possible.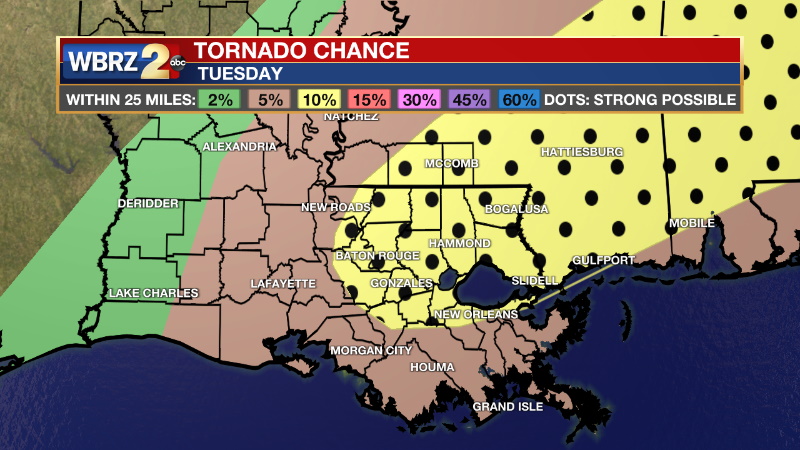 Tornado Chances: there is a 10% percent chance of a tornado within 25 miles of any given point in the enhanced risk area and a 5% chance in the slight risk area
Damaging Wind Chances: there is a 15% chance of damaging wind gusts within 25 miles of any given point in the enhanced and slight risk area
Hail: there is a 5% chance of large hail within 25 miles of any given point in the enhanced and slight risk area
RAIN: through the day, a combination of individual storm cells and then a squall line will deliver about an inch of rain to most areas. Some isolated higher totals could lead to nuisance street and poor drainage flooding since the ground is saturated due to heavy rain last week.
TIMING: the risk for severe weather will mainly occur during the daytime hours. Especially from 9am to 6pm, you should pay close attention to the weather.
SAFETY: With the threat for severe storms please have access to alerts through Tuesday. You can download or activate the WBRZ WX App on your Apple or Android device or turn on a NOAA Weather Radio for bulletins such as watches and urgent warnings. Of course, WBRZ, WBRZ+ and the Cable Weather Channel will have updates as the weather unfolds.
If a tornado warning or severe thunderstorm warning is issued, seek shelter in a low-level, interior room of a sturdy building. Take pets (on a leash) with you, have on hard-soled shoes, monitor storm coverage on a wireless device and cover your head in the event of wind or tornado impact. If a flash flood warning is issued, do not drive on flooded roads and avoid low lying areas. For more on severe weather safety, CLICK HERE.
---
Up Next: Into Wednesday, the rest of the moisture will work its way out. A little more drizzle will be possible in the morning and then the sun will come out in the afternoon. Temperatures will be a little cooler on the other side of the rain. Wednesday afternoon temperatures will be in near 70 followed by overnight temperatures in the mid 40s. Skies will stay clear for the second half of the workweek. Thursday is looking sunny with temperatures near 60 in the afternoon and overnight temperatures in the upper 30s. High temperatures will be in the upper 50s on Friday with a bit of a warmup expected into the weekend. Click here to see the 7-day forecast.
The Storm Station is here for you, on every platform. Your weather updates can be found on News 2, wbrz.com, and the WBRZ WX App on your Apple or Android device. Follow WBRZ Weather on Facebook and Twitter for even more weather updates while you are on the go.
More News