Saturday AM Forecast: Enjoy the dry because changes are coming
Enjoy the dry time because the pattern changes tomorrow.
THE FORECAST
Today & Tonight: Saturday is starting with some patchy fog in places, as the sun rises the fog will lift. Partly sunny skies will stick around until about lunch. By the afternoon hours, we will be seeing mostly sunny skies and warm temperatures in the mid-80s. There will be a light breeze out of the south, but it will not be nearly as windy as yesterday. Overnight tonight a frontal boundary will stall out along the coast, this will give us some dense patchy fog to start your Sunday.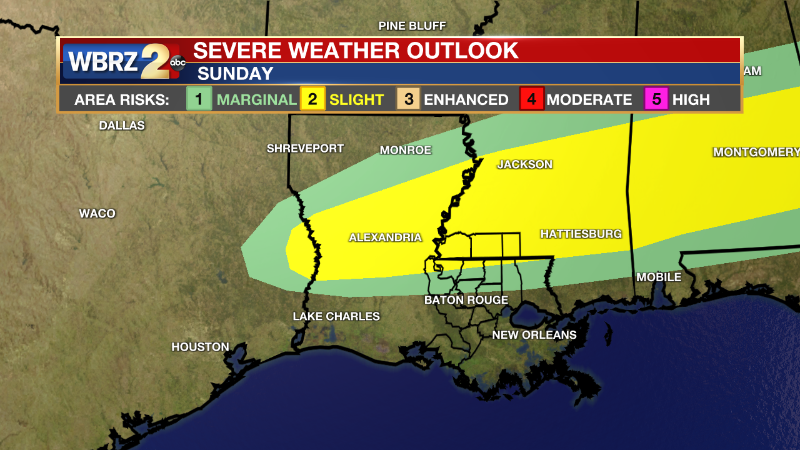 Up Next: By Sunday more rain will be around. You will start your day with patchy fog, and just before sunrise, there will be some light scattered showers across the area. Temperatures will hold in the 60s to start the day, but by the afternoon the 80s will be back. Isolated showers will start up just after lunch and will become more widespread into the evening hours. There is a marginal level 1/5 risk for severe weather for areas north of I-12, and a slight level 2/5 risk for our Mississippi counties. The showers and storms will have the potential to become strong or even severe. Be sure you have a way of getting information. Into the start of your workweek, the rainy pattern will continue. Monday morning with start muggy with temperatures in the mid-to-upper 60s. Throughout the day, rain chances will increase and temperatures will top out in the low-80s. Click here to see the 7-day forecast.
The Storm Station has you covered with hour-by-hour weather tracking is available for your location on the WBRZ WX App on your Apple or Android device. Follow WBRZ Weather on Facebook and Twitter for even more weather updates and unique weather insight from the whole team!
More News