Fall begins, steam continues
High pressure is in firm control over the eastern part of the U.S. giving rise to just slim rain chances over the next few days. The official first day of the autumn season begins today at 3:02PM sharp when the sun will be directly over the equator and equal amounts of daylight and darkness to every spot on our spinning blue marble. This also signifies the beginning of spring for the southern hemisphere as the sun makes its annual march to the lower half of the globe.
Today and Tonight: Look for mostly dry conditions on your Friday with limited rain chances and warm temperatures ushering in the official first day of fall today. Expect a high temperature near 90 degrees high with plenty of humidity. Tonight will be seasonably mild with a low temperature near 70 degrees beneath mostly clear skies.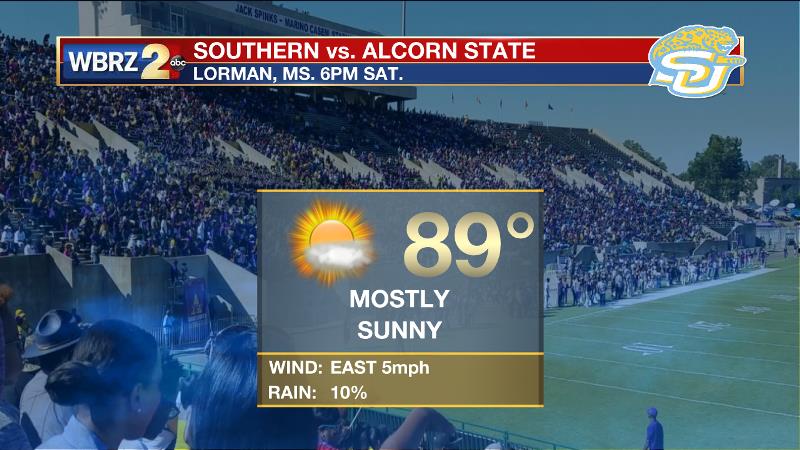 Football Forecast: LSU will host Syracuse on Saturday. Unlike the first home game that felt much more like fall, the first game played in the actual fall season this weekend will feel more like summer! Afternoon temperatures will be near 90 degrees with plenty of humidity. Skies will be mostly sunny with only an isolated shower possible. The low rain chances will diminish into the game. In Lorman, Mississippi, the Southern Jaguars will play the Braves of Alcorn State. Similar to Baton Rouge, mostly clear, hot and humid weather is forecast with kickoff temperatures near 90 degrees.
Up Next: Sunday appears to be our chance for the wettest day as a 40% chance of showers and afternoon thunderstorms exist, but this should be short-lived as Monday approaches and conditions begin to dry out by Tuesday.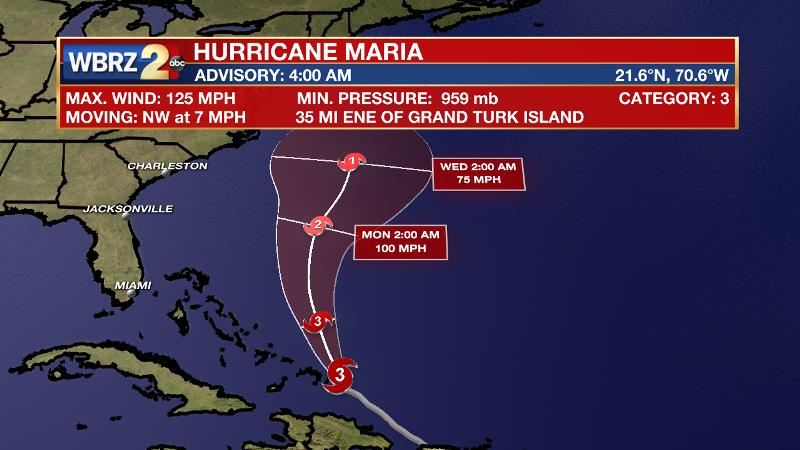 The Tropics: Hurricane Maria is positioned southeast of the Bahamas with a minimum central pressure of 959mb and maximum sustained winds of 125mph moving northwest at 7mph. While the eastern United States should pay attention to this storm, the current forecast calls for a north and then northeast turn out to sea. Swells from the storm will spread to the southeast U.S. coast through Friday.
Jose is now a post-tropical storm making another loop in the north Atlantic. The latest advisory displays a minimum central pressure of 990mb and maximum sustained winds of 50mph drifting west at 2mph. The storm is forecast to spin in place before dissipating over the weekend. Tropical storm conditions are still possible in New England, with high surf along the Eastern Seaboard.
THE EXPLANATION:
The upper level pattern across the Gulf South will change very little through Saturday as a weak upper level trough extends across the southeastern United States and a broad area of high pressure remains over the Midwest. Higher upper level vorticity will be over the local area, which will increase forcing. While this would suggest greater convective coverage, drier mid-level air will push precipitable water values to 1.5 inches by Friday and Saturday. The drop in available moisture and slight increase in mid-level temperatures will reduce instability. Therefore, only expect isolated showers and thunderstorms to develop during peak heating hours on Friday and Saturday. The drier air mass will also cause less cloud cover, and continued above average daytime highs. Overnight lows will be slightly above average in the lower to middle 70s. The upper level pattern will shift slightly on Sunday and Monday with a broad and weak upper level low becoming more centered over the forecast area. As this upper level low moves in, it will also return precipitable water values near 2 inches. With continued vorticity and more lift in in the upper levels expect to see greater rain coverage on Sunday and Monday. Scattered showers and thunderstorms should fire up from mid-morning into the early evening hours. Rain coverage will range from 30 to 50 percent during this period, and expect to see daytime highs closer to average in the upper 80s. The upper level low will rapidly move northward into the Tennessee Valley and weaken in response to a much stronger longwave trough diving into the Rockies. As the low pulls out, a shortwave ridge axis will build over the area resulting in increased negative vorticity and subsidence in the atmosphere. This sinking air mass will warm temperatures in the mid and upper levels, and also dry out the atmosphere. A fairly strong mid-level cap should develop by Tuesday and remain in place through Wednesday. With little in the way of available moisture or forcing in place, rain chance will drop to almost nil Tuesday and Wednesday. The lack of cloud development and rain activity will also allow daytime highs to climb into the lower and possibly middle 90s.
--Josh
More News