Cindy moisture keeps weather active through weekend
The remnants of Cindy will enhance the development of showers and thunderstorms essentially through the weekend. With 1-3 inches of rain around the area since Tuesday, and 1-3 inches more possible through Monday, runoff will be manageable for local rivers and no flooding is expected. Coastal flooding issues should begin to ease today.
THE FORECAST:
Today and Tonight: A very "tropical" week will end with partly sunny skies and intermittent thundershowers. Plenty of leftover Cindy moisture will allow for brief downpours. It will feel very humid outside with high temperatures getting back into the upper 80s. Winds are expected to remain southerly at 10mph. Overnight will be partly to mostly cloudy with muggy low temperatures in the mid 70s.
Up Next: A trough of low pressure—what's left of Cindy—will be forced south into the area this weekend, stalling, and providing a daily focus for showers and thunderstorms. Now though, a little extra push will be needed meaning daytime heat will spark off activity. High temperatures will make into the mid to upper 80s before any rain while overnight lows will be in the low to mid 70s. There are signs that the trough will be pushed south of our area as a cold front. If this occurs, the middle of next week may bring some unusually cool and drier air for late June with highs in the mid 80s and less humidity!
College World Series: The LSU Tigers will take on the Oregon State Beavers at 2pm Friday. The weather in Omaha really couldn't get nicer—mostly sunny skies and high temperatures in the upper 70s are anticipated for the next couple of days.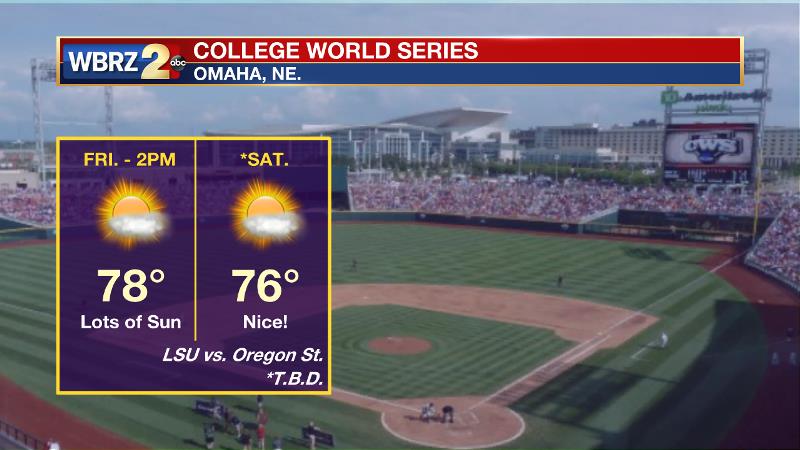 Remnants of Cindy: Tropical Depression Cindy continues to weaken but bring heavy rain to the Mid-Mississippi River Valley. This storm was a textbook example though of impacts occurring well away from that National Hurricane Center forecast cone. Heavy rain, flash flooding and tornadoes battered coastal Mississippi east to the Florida panhandle—the worst just missing Southeast Louisiana. As of 4am Friday, the depression was located northeast of Memphis, Tennessee with maximum winds of 20mph, a minimum central pressure of 1,000mb and was moving northeast at 14mph. Locally, the only lingering impacts will be an increased southerly breeze and a very moist air mass that may somewhat enhance afternoon shower and thunderstorm development.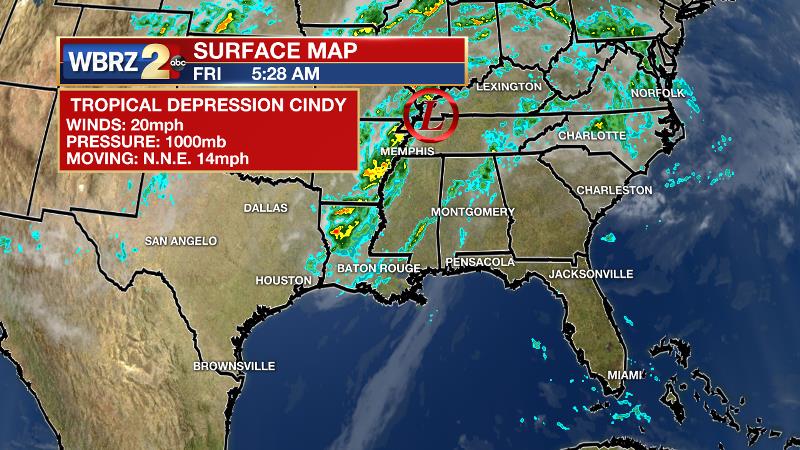 Alerts:
A COASTAL FLOOD ADVISORY is in effect for areas around the tidal lakes. East facing shorelines are receiving tides 1-3 feet above normal due to sustained easterly winds of 20-30mph. Inundation will continue in the usual spots through Friday afternoon.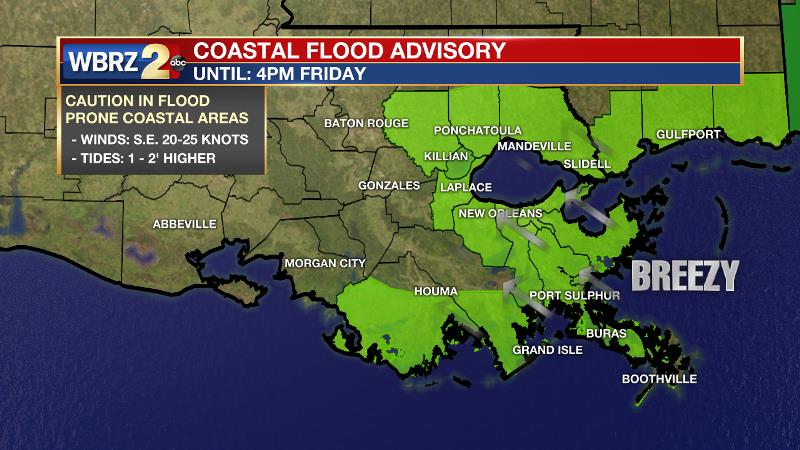 We encourage you to download the WBRZ WX App. on your mobile device to follow the latest updates. That information can also be found from @WBRZweather on Facebook and Twitter.
--Josh
More News