Capital Area water companies say saltwater intrusion not a threat to local supply
BATON ROUGE - Several utilities that provide fresh water to Capital Area homes and businesses on Monday said a saltwater intrusion concern downriver should not have effects in or around Baton Rouge.
Extremely low levels in the Mississippi River have allowed saltwater from the Gulf of Mexico to move upstream, contaminating the drinking water supply despite efforts to head off the intrusion.
New Orleans officials anticipate their city will see the effects of saltwater intrusion next month, though city officials said the timeline is "subject to change."
The Mississippi River is forecast to reach "historic lows over the next several weeks," Louisiana Gov. John Bel Edwards said during a Friday news conference, and the US Army Corps of Engineers says it will use barges to move 36 million gallons of fresh water daily to affected areas.
But the Baton Rouge Water Company, Parish Company and Ascension Water Company on Monday said even if the saltwater flow continues to move toward the Capital Area, that would not impact their operations. The three service providers draw water from aquifers, and not the Mississippi River.
For those around Baton Rouge who do get water from the Mississippi, there is no immediate threat of contamination this far upriver.
Water systems that will eventually be affected include St. Bernard, Orleans and Jefferson parishes.
The saltwater "wedge," as it's called, could reach New Orleans by the third week of October and East Jefferson Parish by the end of the month, but steps are being taken to slow that upstream movement.
It's not the first time Louisiana has dealt with the problem.
"We have been through this situation before in 1988, and we are monitoring this situation very closely and applying the lessons learned," Edwards said. "It is extremely important for the public to stay informed and only rely on credible sources for updates during this event."
Measures include work taking place now to raise a sill -- a riverbottom barrier -- that was built in July. The added height will slow, but not stop, the saltwater creep.
Additional information onthe Lower Mississippi Saltwater Intrusion may be found here.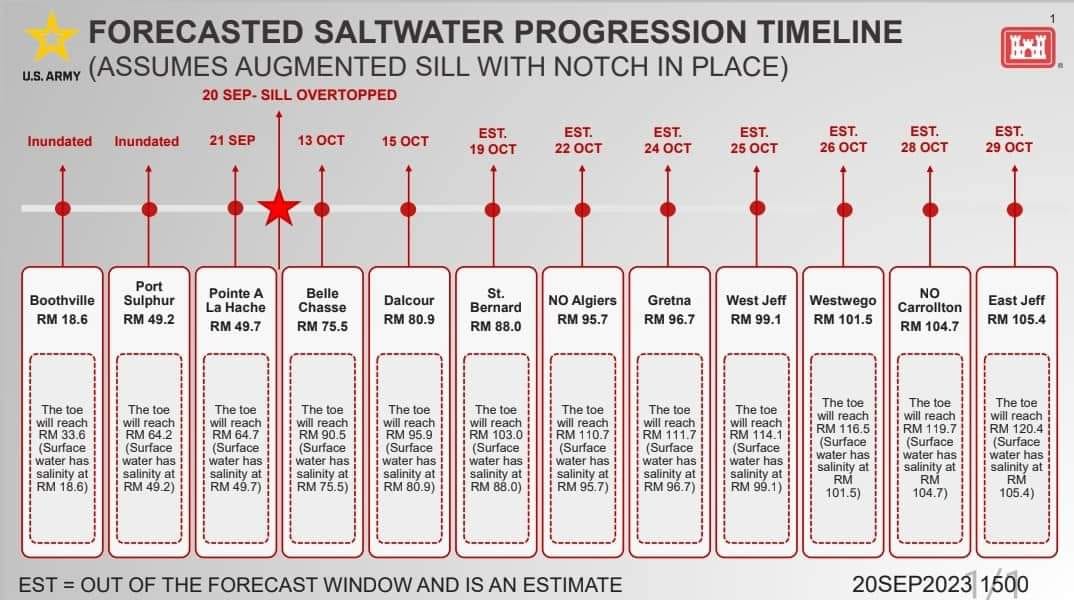 More News