Storms Saturday, lower humidity Sunday
While a significant or long lasting drop in temperatures is not expected from a weekend cold front, lower humidity is always welcome.
THE FORECAST:
Today and Tonight: After a nice sunrise, Friday will be a repeat of Thursday with mostly sunny skies and hot temperatures. Highs will reach the mid 90s. Elevated humidity will lead to feels like temperatures in the 100-105 degrees range from noon to dusk. Tonight will reveal a few more clouds with lows in the upper 70s.
Up Next: On Saturday, a cold front will come into the region. Given a day of summer heat and humidity, the cold front will have plenty of energy to tap and a round of strong thunderstorms will be possible. At this time, gusty wind, heavy rain and frequent lightning would be the main concerns. The front will then move through the area with some lingering showers into early Sunday morning. Beyond the front, expect at least two quiet, sunny days. Temperatures will drop just 2-4 degrees below average, which isn't really noticeable during the hot Gulf Coast summer months. On the other hand, pulling dew point temperatures down a few degrees and therefore reducing humidity, will be a change we can feel. Any relief will not last far beyond Tuesday. Showers and thunderstorms will return by the middle of next week as well.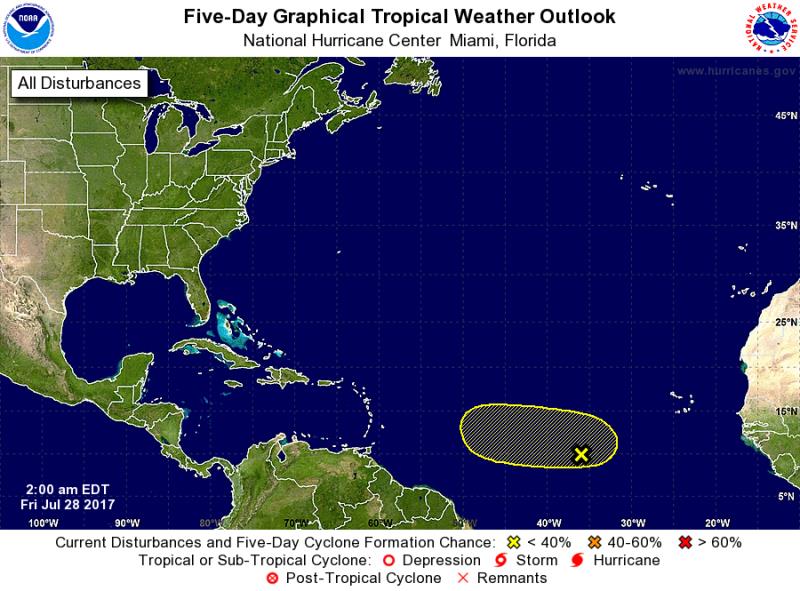 The Tropics: A weak disturbance just west of the African Coast will continue to have a slim chance of organization over the next 5 days. The National Hurricane Center places a 30 percent chance of development on this cluster of showers and thunderstorms as it jogs to the west-northwest.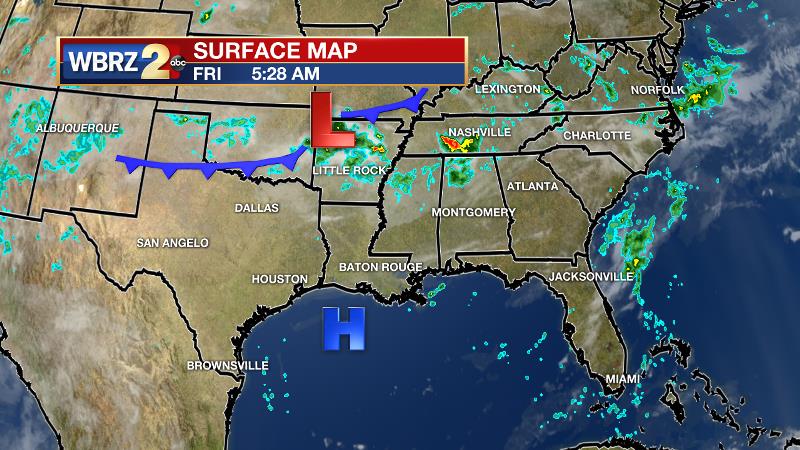 THE EXPLANATION:
A fairly significant 500mb trough will be digging out of the Great Lakes region into the Southeast. With this trough will be an accompanying cold front at the surface. Forecast model indications are that this front will make it into the Gulf of Mexico by Sunday. The main impacts from this front will be felt on Saturday. With regard to showers and thunderstorms—ample heat and humidity interacting with frontal lift should be more than enough to enhance development. Cold fronts don't often have the chance to tap our energetic summer air mass, so we will need to monitor the possibility of some strong to severe storms with gusty wind. As far as temperatures go, the upper air mass does look fairly anomalous for the time of year. Modest drying will occur and some of this will translate to the surface. At this time, forecast models are showcasing dew points down by about 3-5 degrees into the mid 60s and high and low temperatures down 3-5 degrees, near 90 and 70 respectively. This is not a major departure from average but may provide a noticeable change—especially with respect to the humidity. Return flow will kick in by Wednesday which will bring back humidity and the chance of showers and thunderstorms.
--Josh
More News