Short term uptick in shower and thunderstorm activity
Tuesday is a tricky forecast, as it will be a transitional weather day with slightly more shower and thunderstorm activity expected. As the action will only be scattered, high heat will remain a part of the forecast for areas that miss rain.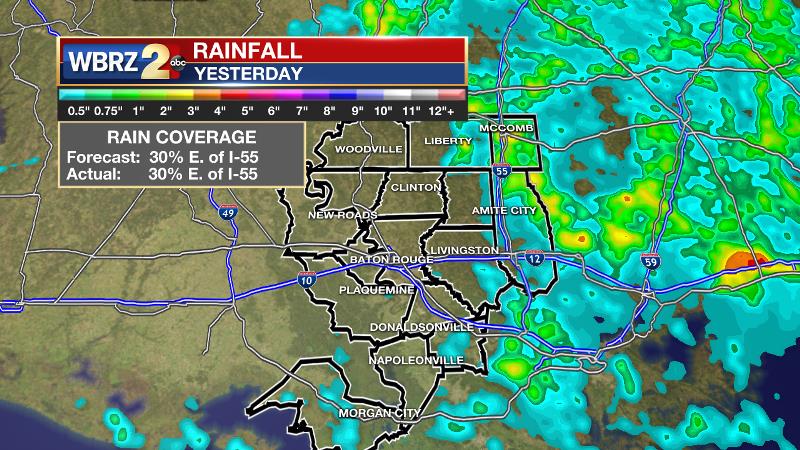 THE FORECAST:
Today and Tonight: Scattered showers and thunderstorms will spark off early on Tuesday, not necessarily waiting for daytime heat to fire. Approximately 50 percent of the 13 Parish, 3 County forecast area will benefit from a cooling shower or thunderstorm. There is a slightly better chance for rain east of the Mississippi River. Locations that miss rain will have high temperatures top out near 91 degrees with feels-like temperatures near 100 degrees during the early afternoon hours. Overnight, spotty showers will remain possible with lows in the mid 70s.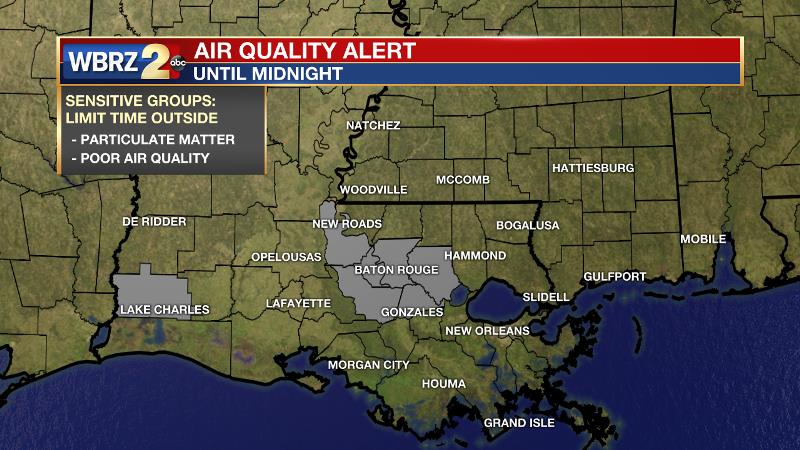 An *AIR QUALITY ALERT* has been issued for the Baton Rouge area through midnight. Reduced air quality is due to particulate matter which means a mixture of solid particles and liquid droplets can be found in the air. Some particles, such as dust, dirt, soot, or smoke, are large or dark enough to be seen with the naked eye. Others are so small they can only be detected using an electron microscope. In this case, a transport of dust all the way from the African Sahara is the primary cause. Levels are low enough that only those with breathing sensitivities such as asthma would be affected by spending longer periods outside.
Up Next: By Wednesday and Thursday, the atmosphere should "unlid" further allowing for scattered to widespread showers and thunderstorms and therefore high temperatures closer to or perhaps a few degrees below average. Rain chances will quickly diminish by the weekend allowing thermometers to bubble back up in a big way. Some of the hottest air of the season is expected Friday through Sunday. Feels-like temperatures will be between 105 and 110 degrees.
The Tropics: There are currently no active storms in the Atlantic Ocean, Caribbean Sea or Gulf of Mexico. No development is expected over the next 5 days.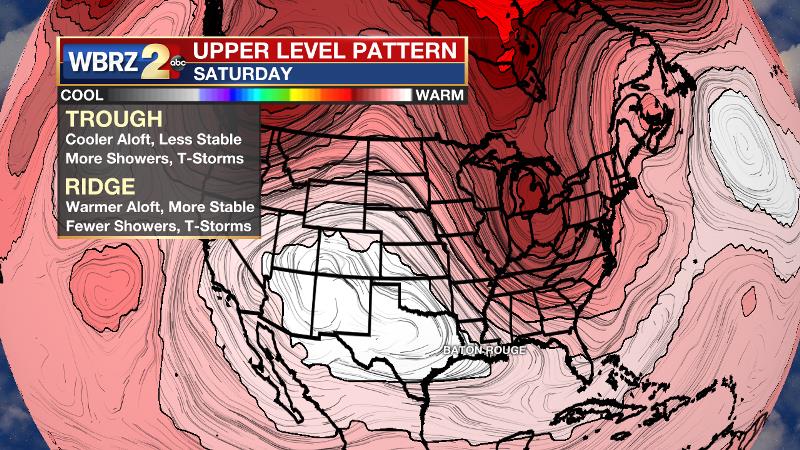 THE EXPLANATION:
The Baton Rouge area sits on the eastern periphery a stubborn 500mb ridge. Thanks to some broad lift in the atmosphere, showers and thunderstorms should be able to kick out shortly after sunrise Tuesday. Some areas may reach convective temperatures of 91 degrees before action begins but most will not need to do this. Precipitation has been developing during the afternoon, which has allowed thermometers to warm into the 90s. Earlier activity on Tuesday should be enough to keep temperatures down. All activity should be moving in a general direction toward the south although not very fast. Especially west of the Mississippi River, some subsidence and dry air remains in the atmosphere due to the upper level ridge. There, fewer showers and storms are expected and temperatures will stay hotter longer. Additionally, the added duration of heat will allow for instability to build and any showers and thunderstorms that can break through will have plenty of energy to quickly turn strong or possible severe. Downpours, frequent lightning and gusty wind will be possible with any boomers. Slow moving storms will be capable of dropping a quick inch or two of rain and therefore could create some nuisance flooding. By Wednesday, a northern stream trough will penetrate the Eastern U.S., which should lead to at least a few active days of shower and thunderstorm activity—mainly Wednesday and Thursday. Along with broad lift and more instability caused by the trough, precipitable water will increase to the 2.25" range, which is near a record value for the time of year and will continue the threat for locally high rain totals. By the weekend, the upper level ridge will return with vengeance. Not only will the ridge suppress convection and disallow any afternoon cooling from rain, but also lead to increased compressional warming and prolonged, dangerous heat. Highs will easily reach the mid and potentially upper 90s. Leftover surface moisture from midweek rain will have dew points running high and heat indices could be between 105-110 degrees. The National Weather Service says standby for the possibility of heat warnings.
--Dr. Josh
The WBRZ Weather Team is here for you, on every platform. Your weather updates can be found on News 2, wbrz.com, and the WBRZ WX App. on Apple and Android devices. Follow WBRZ Weather on Facebook and Twitter for even more weather updates while you are on the go.
More News