Saturday PM Forecast: The comfortable weather is sticking around
Near perfect weather on repeat for Sunday.
THE FORECAST
Tonight & Tomorrow: Tonight temperatures will dip back into the 50s for one more night. Heading into Sunday, temperatures will gradually warm. Morning lows will be in the low-50s and daytime highs will reach near 80°. There will be plenty of sunshine in the forecast. Winds will begin to shift out of the south, and more moisture will start to move into the area overnight. With southerly winds back in the forecast some spotty showers will be around the area at the start of the workweek.
Up Next: You will start the workweek with mostly cloudy skies and warmer temperatures. Monday the warming trend continues with temperatures topping out in the mid-80s in the afternoon. PM isolated showers will be around the area, but most people will stay completely dry. Temperatures will continue to climb back into the mid-to-upper 80s by the middle of the week. There is a chance to see a few spotty showers this week, but most will be able to dodge them. Click here to see the 7-day forecast.
The Storm Station has you covered with hour-by-hour weather tracking is available for your location on the WBRZ WX App on your Apple or Android device. Follow WBRZ Weather on Facebook and Twitter for even more weather updates and unique weather insight from the whole team!
Early Heads up:
Checking out the Climate Prediction Center's 8-14 day outlook. Cooler temperatures will be setting in across the area as our next cold front pushes through the area. Temperatures will likely be below average by mid-March.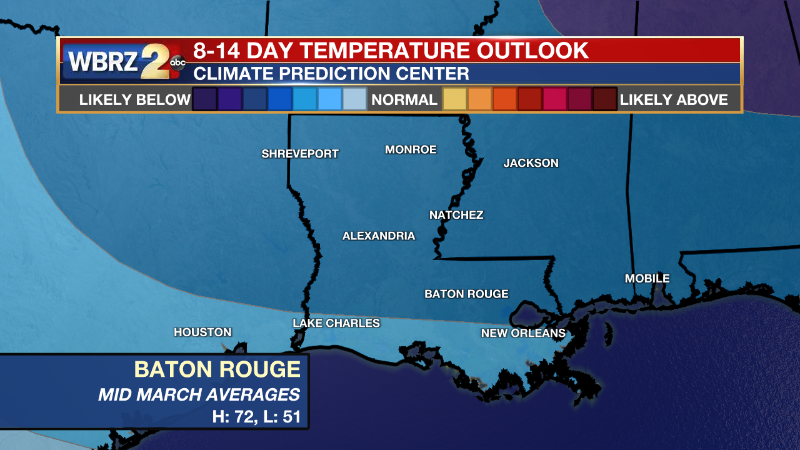 More News