Friday AM Forecast: Showers and storms will start up later today
Watching for showers and storms this afternoon.
THE FORECAST
Today & Tonight: We are looking at another hot and humid day across the Capital Area. The day will start quiet with temperatures in the 70s and winds light out of the south. As the day goes on, the threat for severe weather increases. The Storm Station is tracking a cold front expected to bring showers and storms into the area this evening. As temperatures rise back into the mid-80s this afternoon, isolated showers and storms will start to bubble up ahead of the main line. These sneaky showers will have the potential to become strong and possibly severe. The main threats for severe weather is for gusty winds, hail, and a spin up tornado. Just after sunset, the main line will move through the area. Most people will stay completely dry today, but I would not rule out a strong storm clipping some of the area. Be sure you have a way of getting information.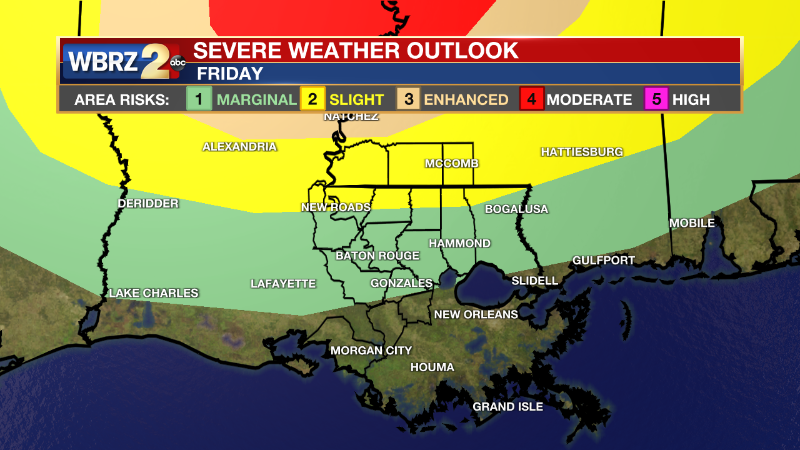 Up Next: Saturday will be the better day of the two this weekend. There will be some lingering showers before sunrise, but as the cold front continues to move east we will be completely clear and dry before lunch. Temperatures will climb into the mid-to-upper 80s into the afternoon. By Sunday more rain will be around the area and a stationary front sets up right over the Capital Area. Showers will be hanging around until Tuesday then some cool and dry weather will set in. Click here to see the 7-day forecast.
The Storm Station has you covered with hour-by-hour weather tracking is available for your location on the WBRZ WX App on your Apple or Android device. Follow WBRZ Weather on Facebook and Twitter for even more weather updates and unique weather insight from the whole team!
More News