Friday AM Forecast: Keeping the heat for the weekend
Outdoor conditions will be perfect for any weekend plans.
THE FORECAST
Today & Tonight: Another day with a repeat forecast. Waking up this morning with clear skies and temperatures dipping into the upper-60s. Throughout the day, temperatures will peak in the low-90s. A few spotty showers will bubble up during the afternoon hours but most people will stay completely dry. You LSU baseball forecast is looking HOT but dry.
Up Next: Heading into the weekend, the forecast is heat on repeat with a few spotty showers. Daytime highs will top out in the low-to-mid 90s across the area. For the most part, there will be sunny skies, but by the afternoon a few clouds will move in. There will be a few showers each afternoon, but not many people will actually see measurable rainfall. Continuing into the start of your next workweek, everyday there is a small chance for rain in the forecast. Not everyone will see rain, but no one is completely in the clear. Everyday we are expecting daytime highs to reach the low-90s. There is plenty of moisture available. Heat plus humidity is perfect for a quick summertime pop-up shower. Click here to see the 7-day forecast.
The Storm Station has you covered with hour-by-hour weather tracking is available for your location on the WBRZ WX App on your Apple or Android device. Follow WBRZ Weather on Facebook and Twitter for even more weather updates and unique weather insight from the whole team!
The Tropics: Tropical Depression Two formed in the eastern Gulf of Mexico yesterday afternoon. This system does not pose a threat to the Baton Rouge Area. A broad area of high pressure will set up over the southeast, pushing TD 2 further south into the Gulf. The National Hurricane Center will be posting the first advisories of the year on Tropical Depression Two. Earlier in May, NHC determined that a subtropical system formed over the North Atlantic in January, technically making that Tropical Depression One. CLICK HERE for the full story and storm forecast.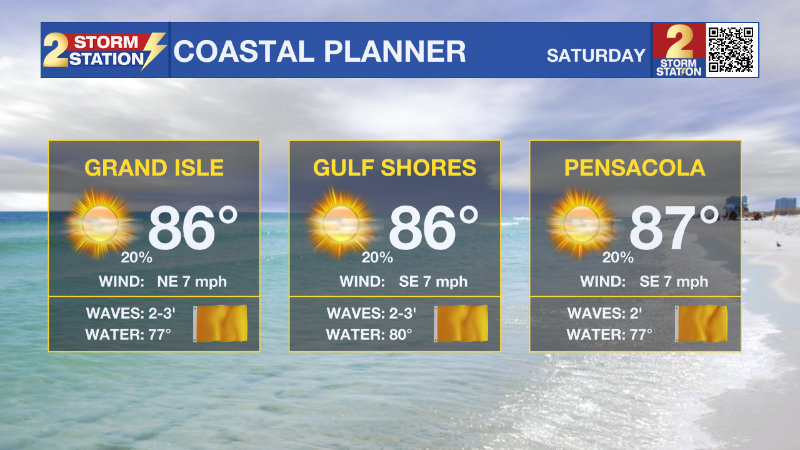 If you are heading anywhere along the Gulf coast this weekend. Be sure you checking in for the local forecast. Rip currents will be moderate and even possibly high as TD 2 continue to push southward out of the Gulf.
More News