Big paws to fill: training begins for Raising Cane III
BATON ROUGE - For a Baton Rouge family, their dog has become more than just a pet. She's the mascot for their popular chicken restaurant, Raising Canes. But the family is training the dog to be more than just the face of the company; they're hoping she'll become a therapy dog visiting nursing homes and hospitals.
At the young age of 13 weeks, Raising Cane III is already learning obedience skills.
"We already have her on sit, down, stay and come," said Larry Benoit with Larry Benoit Dog Trainer LLC.
"It's funny, this poor pup, she has no clue what she got in for," jokes the dog's owner, Gwen Graves.
The Graves family took in Cane at the end of January. The former mascot, Raising Cane II passed away in 2016, and left big paws to fill.
"I gave Cane II to [my husband] when we were dating right when we were about to open the first restaurant not knowing the mascot she would be," explained Graves. "Immediately she had the most kind, gentle nature."
A couple years later, Cane II would become a nationally certified pet therapy dog through the Tiger Human Animal Therapy Service program, visiting hospitals like Our Lady of the Lake.
"It's just amazing, the second the therapy animals walk in front of the children, the nurses and doctors, it's such a great break for them," said Graves. "It's an hour of joy for Cane, for me, for the patients, for the doctors, it's just special."
Graves is hoping Cane III will also provide that joy. If you ask her trainer, Benoit, he'll say she's well on her way.
"I was able to teach her how to walk on a leash in an hour at 7 weeks of age," he said. "I knew she would be great."
More proof: Cane III has already handled huge crowds being front and center at the Washington D.C. Mardi Gras celebration in our nation's capital.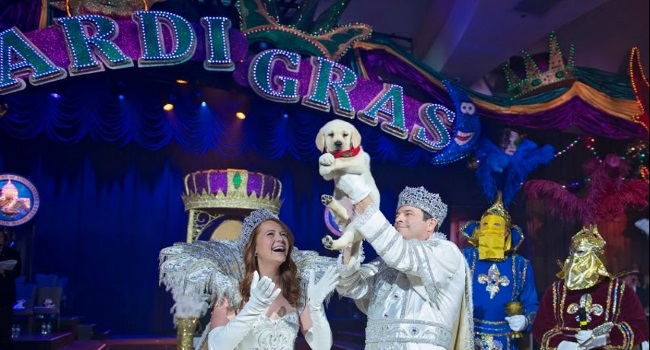 "From day one she just took to everybody," said Graves. "Crowds don't bother her, she loves people and on the same note she is also sweet and so gentle. I think she'll be a perfect fit to our family."
Cane II didn't become a therapy dog until the age of 5. So while Cane III is doing well in training so far, the Graves say they're not sure if, or when, the puppy will begin serving.
More News