Monday Evening Video Forecast
Related Story
Cooler weather has finally arrived! Jackets (and perhaps heavy coats) will be needed over the next several days as temperatures continue to plunge. Wind will also be an issue, and we're looking at fire weather concerns through midweek. Beyond Halloween, overnight lows venture into the 30s for a couple of mornings – very close to frost/freeze territory.
Tonight & Tomorrow: Monday saw its high temperature around midnight. Since then, temperatures have steadily dropped. That will continue into Monday night, bottoming out in the middle-40s early Tuesday morning. We'll keep overcast skies as well, along with a few spotty showers. Overall rain totals, if any, look very limited.
The sky initially takes on a spooky appearance on Halloween with mostly cloudy skies dominating. While we cannot rule out a spotty shower or two early, rain chances fade away by late morning. Clouds decrease for the second half of the day. By trick-or-treating time, skies turn mostly clear as temperatures fall into the lower-50s. The clearing skies are a sign of drier air moving into the region. With northerly winds gusting up to 25 mph, dangerous fire conditions are a concern. A Red Flag Warning is in place across the area for Halloween.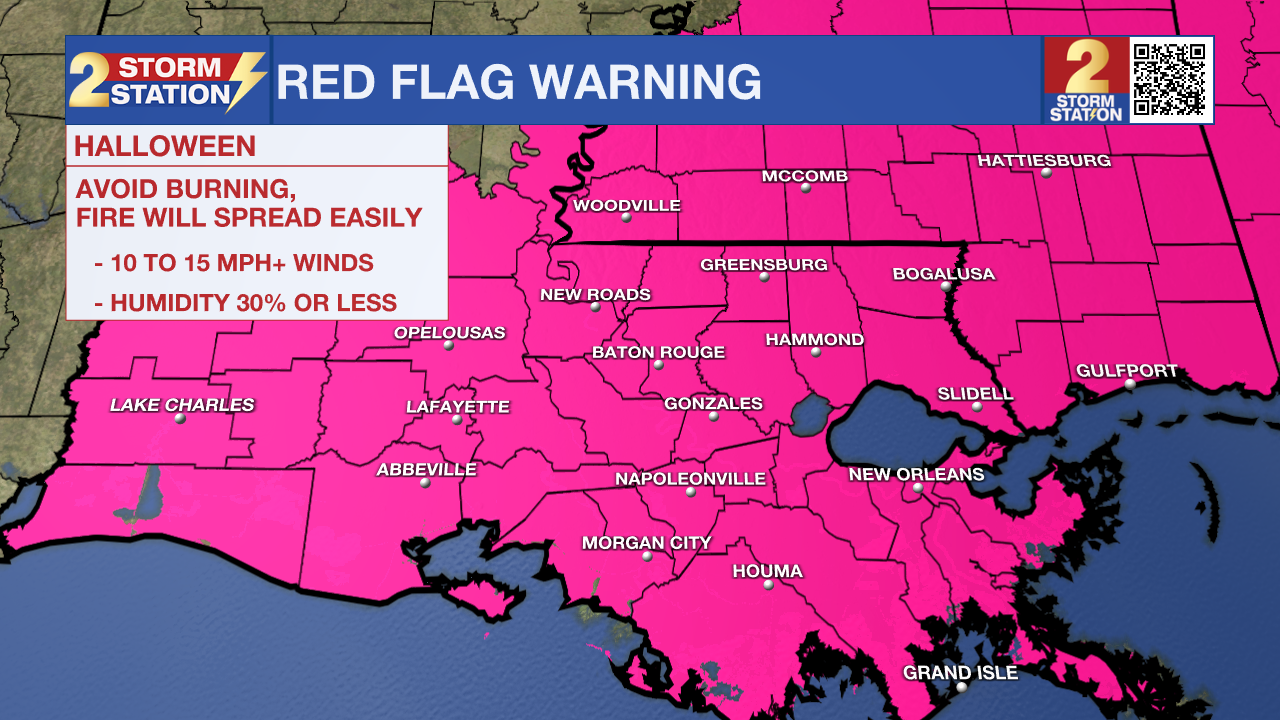 Up Next: It gets cold into Wednesday morning with lows in the middle-30s. Factor in the wind, and we could see wind chills, or feels-like temperatures, in the 20s. We cannot rule out a few areas of patchy frost on Wednesday morning, but the wind should alleviate those concerns to some extent. We'll be sunny and windy on Wednesday afternoon with highs in the low-60s. Fire weather will be a concern once again. For that reason, a Fire Weather Watch is in effect across the capital area on Wednesday. This may need to be upgraded to a Red Flag Warning at some point.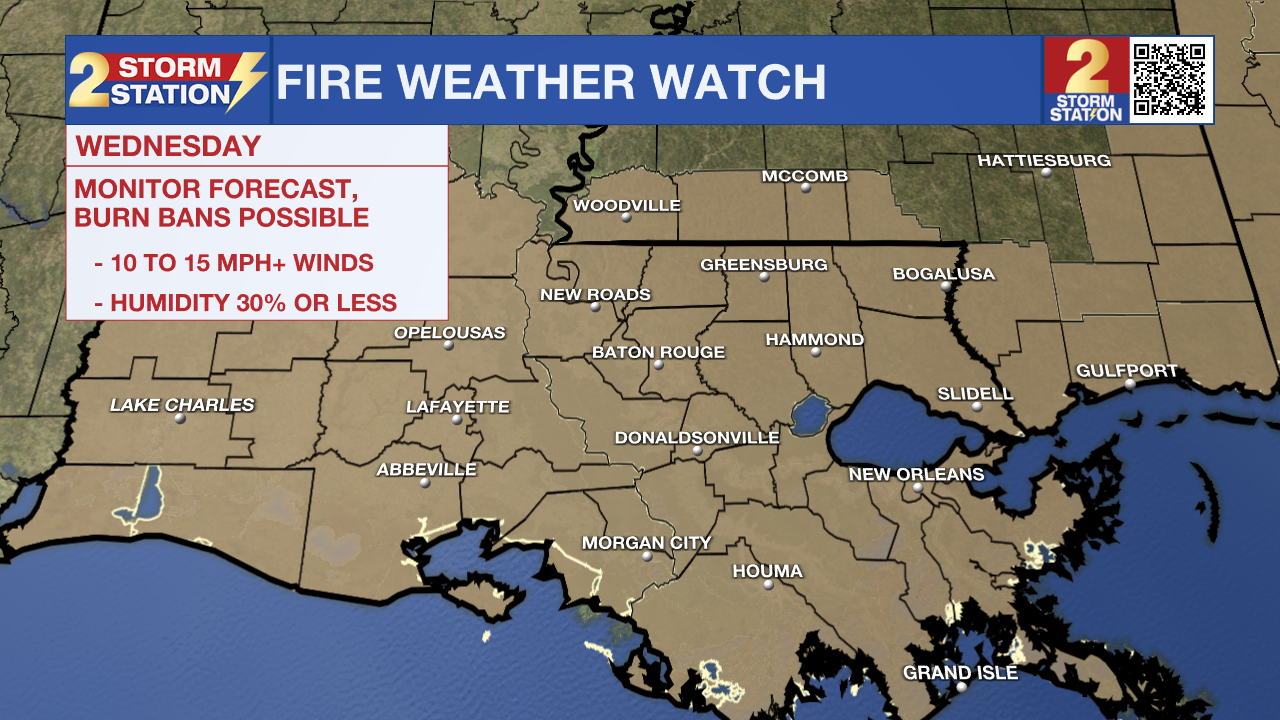 Wind speeds relax overnight and into Thursday morning, and that will help temperatures dip into the low to mid-30s. Areas of frost cannot be ruled out, so you'll want to consider bringing animals inside along with plants. Especially in some of our northern parishes and counties in MS, temperatures may be very close to freezing. Afterward, temperatures begin to steadily climb. By the weekend, we'll see highs back near 80° with lows in the 40s and 50s.
---
Get the latest 7-day forecast and real time weather updates HERE.
Watch live news HERE.
---
The Tropics: We are watching area of low pressure located about 100 miles east of the Bahamas. However, conditions do not appear favorable for tropical development. The National Hurricane Center is giving this wave a 10% chance of formation in the next couple of days before turning out to sea.
A different tropical wave located over the eastern Caribbean has a better chance of acquiring tropical characteristics in the next 7 days. The system may gradually develop in the next week, perhaps becoming a tropical depression late this week as it reaches the central and southwestern Caribbean. As of now, the system is generally moving west toward central America.
-- Meteorologist Malcolm Byron
The Storm Station is here for you, on every platform. Your weather updates can be found on News 2, wbrz.com, and the WBRZ WX App on your Apple or Android device. Follow WBRZ Weather on Facebook and Twitter for even more weather updates while you are on the go.
News
Cooler weather has finally arrived! Jackets (and perhaps heavy coats) will be needed over the next several days as temperatures...
More >>