Weather Related Asthma Can Be Deadly
It is usually presumed that during rain and storm events, pollen and allergens gets cleaned out of the air to result in a drop in these within the atmosphere. However, rain and drastic meteorological changes surrounding showers and storms can make some people's symptoms worse and potentially deadly. This was observed in Australia, as an outbreak in 2016 resulted in 4 deaths and over 1,900 people rushed to hospitals due to severe breathing problems.
Around 1 in 4 people with allergic rhinitis (hay fever) also have asthma, so it is important to recognize that pollen can trigger asthma as well as hay fever symptoms. Many people with hay fever due to grass pollen allergy can get wheeze or chest tightness in the spring and summer season when they also have hay fever. This is likely to be asthma triggered by grass pollen allergy.
The transfer of pollen grains are mainly mediated by two ways: anemophilous (wind) and Entomophilous (insects). The big difference between these types are weight and amount of pollen. Pollination by way of the wind typically produce great quantities of very lightweight pollen grains, sometimes even with air-sacs that help to allow the pollen to travel longer distances. Grasses also rely on the wind to distribute their pollen, where two acres of ryegrass will release hundreds of pounds of pollen per season. Intact pollen grains are usually trapped in the upper airways and do not reach the lungs. Other allergen carrying particles including atmospheric pollutants can carry grass and tree pollen allergens. Unlike intact pollen, these smaller particles are capable of reaching the small airways of the lung and can trigger asthma attacks.
Thunderstorm asthma is thought to be triggered by massive loads of small pollen allergen particles being released into the air during thunderstorms that incur rapid changes in wind, temperature, and humidity. During a building or developed thunderstorm, there is a resulting rain shaft. The rain-cooled air near this shaft pushes outward, causing a gust front ahead of the storm. This wind gust pushes winds outward, ahead of the storm in upward of 60 mph.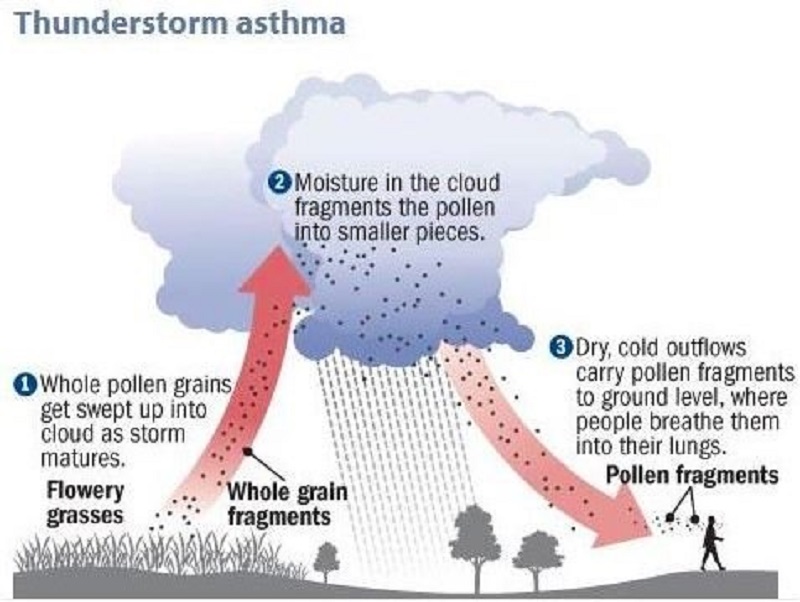 Steps of pollen ingestion and spreading in and around a thunderstorm. Figure Credit: ASCIA
A single pollen grain contains up to 700 starch granules and some grass pollen allergens are located in these starch granules. When it rains or is humid, pollen grains can absorb moisture and burst open, releasing hundreds of small pollen allergen particles that can penetrate deep into the small airways of the lung. Some things to keep in mind:
*Not all thunderstorms trigger thunderstorm asthma
*It is not only people with pollen allergy who may be affected by thunderstorm asthma
*Other allergens such as fungal spores, massive humidity, and temperature changes over a short period can also affect some people with asthma and other respiratory diseases during a thunderstorm
There are things that you can do in order to protect yourself from thunderstorm asthma. First, make sure to see your doctor to make sure that your hay fever due to grass pollen is well treated. Regular use of nasal corticosteroid sprays is more effective than antihistamine tablets for severe hay fever. If you experience any symptoms of asthma such as chest tightness, wheeze, shortness of breath, cough, waking with breathing symptoms then see your doctor for assessment and get a plan to manage asthma. You should have access to a preventer medication and make sure to use it every day, particularly if high pollen counts and or thunderstorms are predicted. Try to also avoid being outside on high pollen days, particularly during windy days and when thunderstorms are in the forecast.
More News