Tropical moisture threatens Gulf Coast with flooding rain
A threat for heavy rain and flooding continues. Involvement of tropical moisture from a disturbance in the Gulf of Mexico increases the threat; however the track of this particular system is not critical to the local forecast. Heavy rain is expected regardless. This will be a steadily evolving weather situation, so stay in touch with the forecast. We encourage you to download the WBRZ WX App. on iOS or Android to keep up with the latest headlines as well as any watches or warnings. That information can also be found from @WBRZweather on Facebook and Twitter.
THE FORECAST:
Today and Tonight: Rain and thunderstorm coverage and intensity should begin to ramp up on Tuesday. Any storms will be capable of heavy rain and frequent lightning. High temperatures will max out in the mid 80s. Activity will continue overnight, heavy at times, with lows in the low 70s.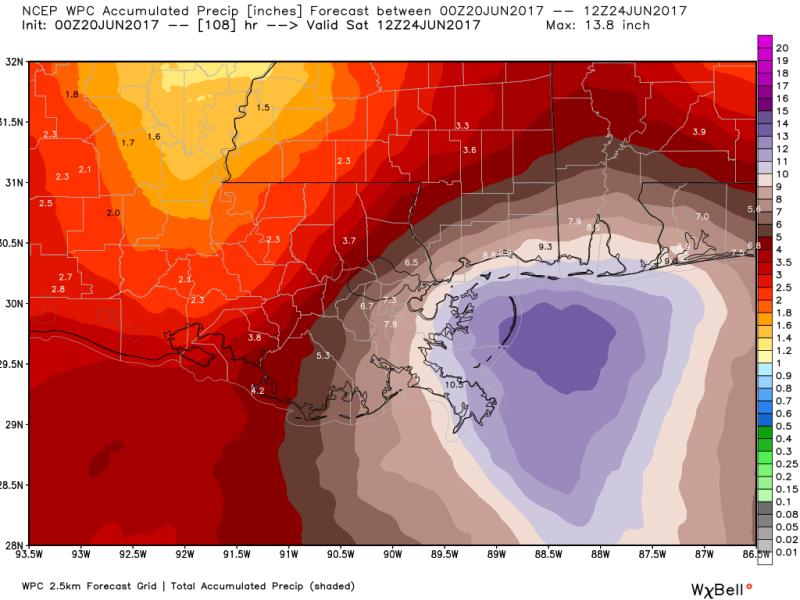 Up Next: Several weather factors are in place that may contribute to a period of heavy rainfall and subsequent flood potential on regional rivers and streams through at least Thursday. Uncertainty remains as to where exactly the heaviest rain occurs, and this may not be known until the strongest rain bands develop over land. However, confidence is high that some locations will receive rain amounts up to 10 inches since the atmosphere will pack near record levels of moisture. A general 3-6 inches of rain is expected across the WBRZ Weather forecast area. At this time, the highest amounts are expected to be south and east of Baton Rouge. As tropical systems interact with land, tornadoes become possible. Keep a severe weather plan in mind as well in case a tornado warning is issued. Due to rounds of rain and thunderstorms, temperatures will have small day to night ranges—from the mid 80s to mid 70s. The unsettled weather should begin to ease into a more typical summer pattern by the weekend.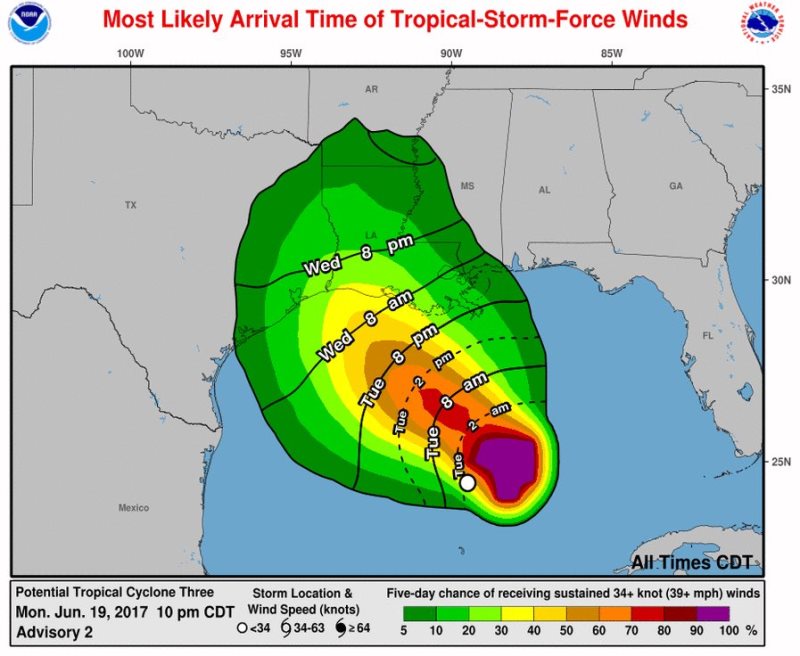 The Tropics: A tropical disturbance in the central Gulf of Mexico is expected to bring heavy rain to the central Gulf Coast over the next several days. As of 7am Tuesday, the disturbance was located about 300 miles south of Morgan City, Louisiana with maximum winds of 40mph, a minimum central pressure of 999mb and was moving northwest at 5-10mph. The storm continued to lack a well-defined center of circulation which complicates the forecast by reducing the ability of model guidance. However, in this case, it is unimportant to focus on storm track as the heaviest rain is positioned on the eastern side of the storm. So, there is high confidence in a heavy rain event in Southeast Louisiana and South Mississippi. In the Central Atlantic, Tropical Storm Bret is bringing rain and wind to the Windward Islands. With maximum winds of 40mph, Tropical Storm Bret is expected to continue westward into the Caribbean Sea before weakening later this week.
A FLASH FLOOD WATCH is in place through Thursday and pockets of heavy rain could cause quick water rises in smaller creeks and streams and for areas of poor drainage. A few local evacuations may be issued, so have a plan in place should this occur in your area. Some bridge and road closures may be necessary as well.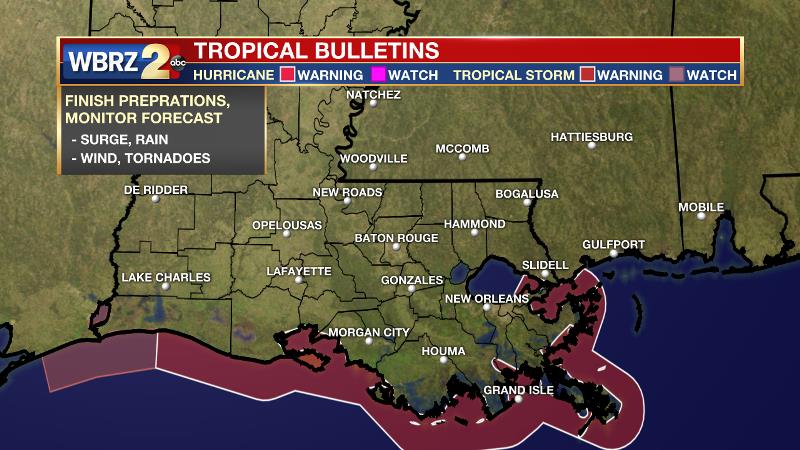 A TROPICAL STORM WARNING is in effect along the immediate coast from the Atchafalaya River to the Mouth of the Mississippi River to Lake Borne. Storm surge inundation is possible along shorelines and low-lying areas near the coast. If you are in a prone area, take the usual precautions. Some moderate beach erosion due to heaviest surf may also occur. Especially for coastal parishes and areas south of I-10, wind gusts over 40mph may cause some minor damage to weaker structures and trees. Some shallow rooted trees may be uprooted due to the combination of rain and wind. Secure loose objects near your property. Be cautious of debris on roads.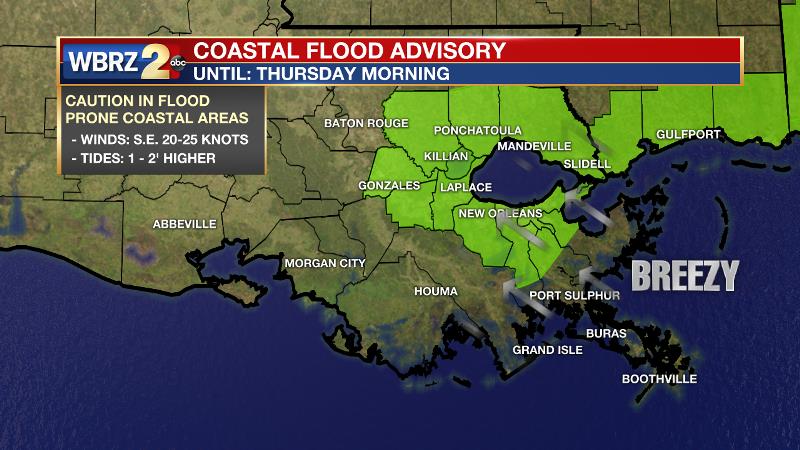 A COASTAL FLOOD ADVISORY is in effect for areas around the tidal lakes. East facing shorelines may note tides running 1-2 feet above normal due to sustained easterly winds of 20-30mph. Prepare for inundation in the usual spots.
Actions: Now is the time to some precautionary measures before the possible event kicks into gear. Make sure ditches and catch basins are clear of debris and free flowing. Also, have a plan in place to act on if and when any warnings are issued for your location. Here is a full recap of FLOOD SAFETY and SEVERE WEATHER SAFETY. Make sure there is a way to get warnings if they are issued such as a NOAA Weather Radio, the WBRZ Weather Team on Facebook and Twitter or the *free* WBRZ WX App. which sends push notifications to mobile devices if a watch or warning is issued for your location. Remember when hitting the roads, if you encounter an area that is covered with water, please turn around. Especially at night, there is no telling how deep the water is or if the road is intact below
More News