Time to make a trade
Another active afternoon of showers and thunderstorms gave way to beautiful double rainbows and colorful sunsets in the Baton Rouge area on Tuesday.
THE FORECAST:
Today and Tonight: Look for another round of showers and thunderstorms for your Wednesday. Like Tuesday, the showers and storms should take hold of the forecast area by early afternoon and could bring downpours and frequent lightning before weakening to a light or moderate rain into the late afternoon hours. High temperatures should not make it far beyond the low 90s before rain and clouds pull the numbers down. Overnight, look for clearing skies and low temperatures in the mid 70s.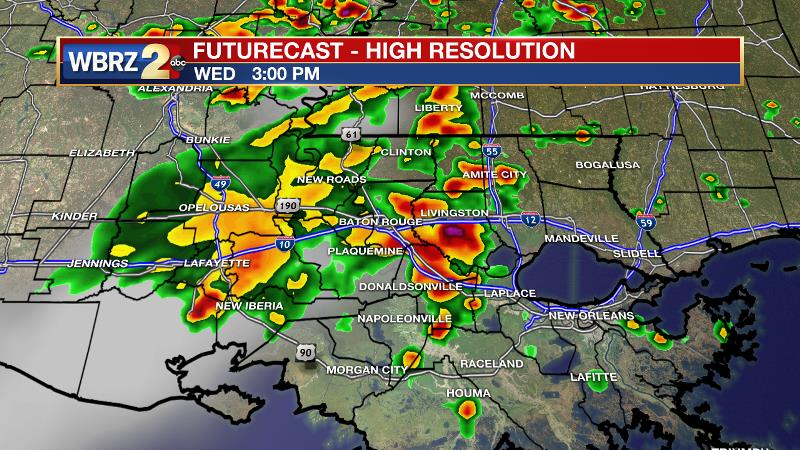 Up Next: Thursday will bring some changes to the stagnant weather pattern. Much lower rain coverage will mean more locations can cook for a longer period. High temperatures will climb into the mid 90s and stay there. With ample August humidity, feels like temperatures will be over 105 degrees for a few hours during the middle of the day. Be sure to hydrate, as these temperatures are a bit higher than what has been felt of late. On Friday, showers and thunderstorms will ramp up again. However, different from earlier this week, gusty winds will be possible in addition to downpours. The weekend looks unsettled with widespread showers and thunderstorms during the afternoons. Therefore, high temperatures will return to 2-4 degrees below average.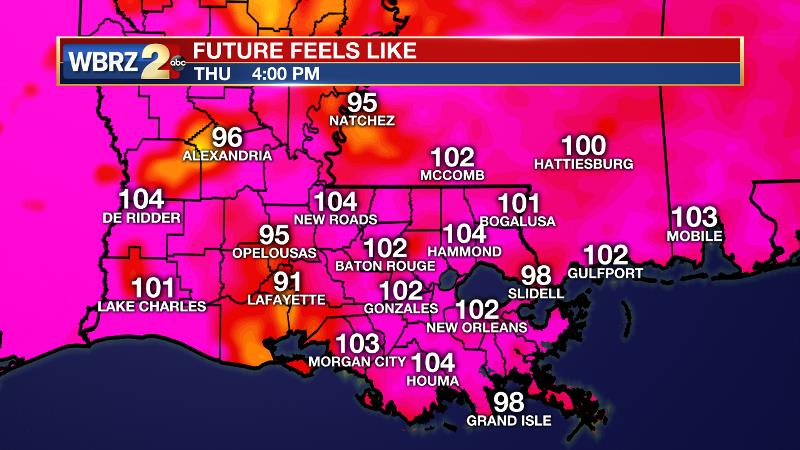 The Tropics: Hurricane Gert is a category one storm in the open western Atlantic. Packing 90mph winds, the storm will continue to accelerate northeastward and out to sea, not affecting land. Two other waves are being monitored in the eastern Atlantic. Between the Lesser Antilles and the Cabo Verde Islands, both have a 40 percent chance of further development before encountering some more difficult conditions. A third wave will soon be coming off of the African Coast and will be monitored through the weekend.
THE EXPLANATION:
Heavy rainfall will continue to be an issue but isolated severe thunderstorms with gusty winds will also become a possibility over the next three days. Enough dry air will move into the mid levels that storms will be capable of wind speeds of 50 to 60mph could become an issue. This is not expected to be widespread. As a low to mid level ridge digs into the area Thursday with strong capping, there should be very few, if any, showers and thunderstorms that are capable of developing. However, especially for Baton Rouge and points west, if a thunderstorm is able to get going, the potential would be heightened to produce gusty wind and heavy rain with a lot of energy available. Actually, the main weather issue Thursday will be heat as cloud cover and rain will be at a minimum. Heat index values could reach 108 degrees or higher during the peak heat of the day. This would normally not be too much of a worry if conditions had been this hot already, but this will seem like a sudden onset of hot conditions that could prove to be an issue with outdoor activities. Friday, we will see the mid level trough move southward again with deep moisture. Where this moisture interacts with the aforementioned drier air, some stronger storms will again be possible. Most activity should be found over the northern half of the forecast area on Friday. Once the deep moisture fully moves back into the area, we will shift from possible severe storms to heavy rain again and the heat will settle to what we have been used to. Saturday looks to be quite wet but Sunday looks to be the wettest of the weekend. Most thunderstorms over the weekend will be back-building and this could lead to some flooding of streets and low lying areas. Deep moisture sticks around much of next week keeping the chance of rain at or just above average.
--Josh
More News