Potential for very heavy rain, flooding this week
A threat for heavy rain and flooding will exist for the week ahead. This will be a steadily evolving weather situation, so stay in touch with the forecast. We encourage you to download the WBRZ WX App. on iOS or Android to keep up with the latest headlines as well as any watches or warnings. That information can also be found from @WBRZweather on Facebook and Twitter.
THE FORECAST:
Today and Tonight: Like Sunday, Monday will bring mostly cloudy skies and a high temperature near 90 degrees before some showers and thunderstorms flare up during the afternoon hours. Some of the storms could produce locally heavy rain and frequent lightning. Overnight, showers should ease off but skies will stay mostly cloudy and lows will be muggy in the mid 70s.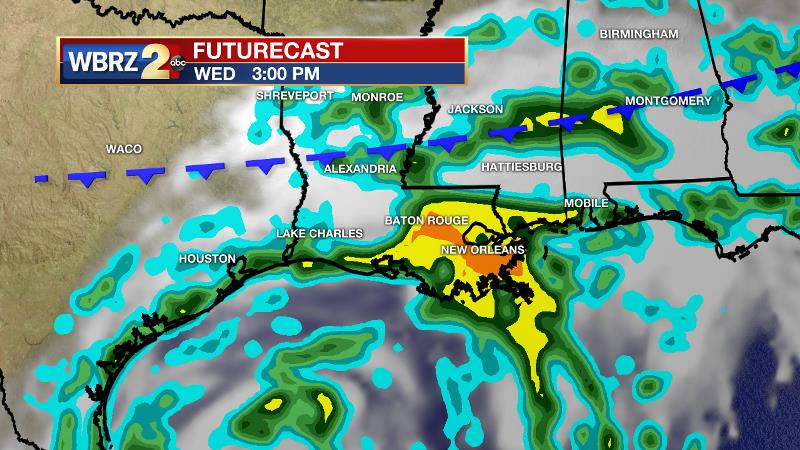 This Week: Several weather factors are in place that may contribute to a period of heavy rainfall and subsequent flood potential on several rivers and streams throughout the week. However, in the interest of full transparency, know that there is a lot uncertainty with this forecast given potential influence from a yet to be developed tropical system. Regardless, the atmosphere is still ripe to produce locally heavy rain. The most active period will be Tuesday afternoon through Thursday afternoon. As a result of rounds of rain and thunderstorms, temperatures will have small day to night ranges—from the mid 80s to mid 70s. A general 3-6 inches of rain is expected across the WBRZ Weather forecast area with up to 10 inches possible. At this time, the highest amounts are expected to be south and east of Baton Rouge.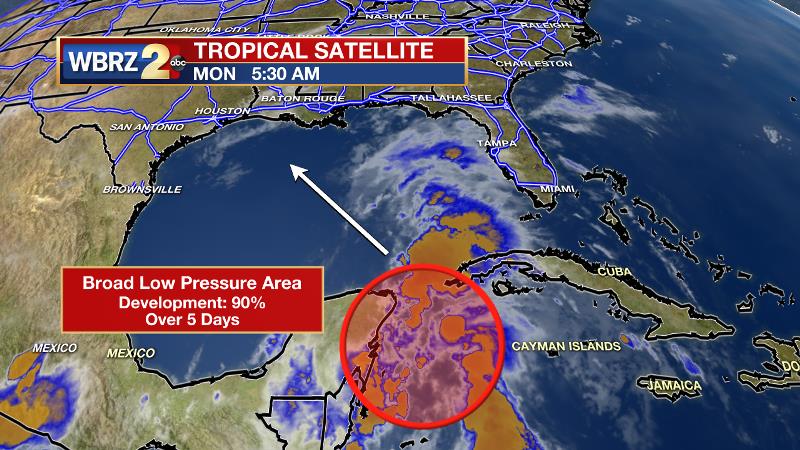 The Tropics: A broad area of low pressure near the Yucatan Peninsula is expected to develop into a tropical or subtropical storm over the next several days. The storm continues to lack a well-defined center of circulation which complicates the forecast by reducing the abilities of model guidance. For that reason, any impact to the Gulf Coast, including the heavy rain threat, remain conditional on this system's progression. Hurricane Hunters are on standby to investigate if needed. For the first time in history, the National Hurricane Center has utilized the designation "potential tropical cyclone" for a disturbance moving across the Central Atlantic. This is a new capability of the NHC this year meant to allow the service to begin issuing forecast products for a yet to be formed storm that may impact land. Potential Tropical Cyclone #2 may develop into a low-end tropical storm bringing rain and wind to the Windward Islands before encountering a harsher environment in the Caribbean Sea.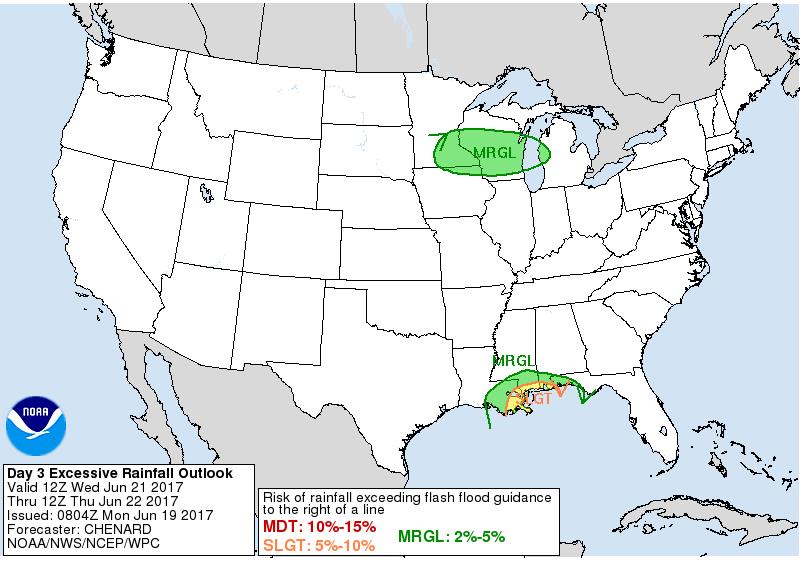 Statement from the National Weather Service: "First, a broad area of low pressure situated near the Yucatan Peninsula is currently being closely monitored for potential tropical cyclone development in the next few days. Second, a cold frontal zone is draped from the eastern United States into the Gulf Coastal States and is in the process of becoming stationary over the forecast area. Third, a very large region of deep tropical moisture in the southern Gulf of Mexico and western Caribbean Sea will be advancing northward during the next 24 to 48 hours, reaching the central Gulf States area by later tonight into Tuesday. These three ingredients combined favor heavy rainfall potential that could see storm total accumulations easily range from 3 to 6 inches over a 2 to 3 day period across a large portion of southeast Louisiana and southern Mississippi. There is also a potential for much higher accumulations in the 10 to 16 inch range if the system in the Gulf does move closer to the central gulf coast region during the week. At this time, it should be strongly stated that there is a large degree of uncertainty on actual rainfall accumulations at any particular location. There is a fair degree of confidence that this weather pattern is conducive to heavy rainfall. The heaviest amounts could easily remain over the near coastal waters, but could also occur over land areas close to the coast. There is also moderate confidence in the timing of heaviest rainfall likely to take place over a 2 to 3 day stretch beginning late Monday night and continuing through Thursday night. The Weather Prediction Center rainfall forecasting branch is indicating a MARGINAL RISK of excessive rainfall generally over a large portion of southeast Louisiana to include the Baton Rouge metro area, the areas generally north and west of the tidal lakes. There is a SLIGHT RISK of excessive rainfall over coastal Mississippi and the extreme eastern portions of southeast Louisiana to include the greater New Orleans metro area."
Impacts and Actions: Now is the time to some precautionary measures before the possible event kicks into gear. Make sure ditches and catchment basins are clear of debris and free flowing. Also, have a plan in place to act on if and when any flash or river flood warnings are issued for your location. Here is a full recap of FLOOD SAFETY. Make sure there is a way to get warnings if they are issued such as a NOAA Weather Radio, the WBRZ Weather Team on Facebook and Twitter or the *free* WBRZ WX App. which sends push notifications to mobile devices if a watch or warning is issued for your location. Remember when hitting the roads, if you encounter an area that is covered with water, please turn around. Especially at night, there is no telling how deep the water is or if the road is intact below.
Related Stories
More News
Desktop News
Click to open Continuous News in a sidebar that updates in real-time.