Tuesday morning video forecast
Related Story
Keep an eye on the forecast. Every day this week will be different from the day that comes before it.
THE FORECAST
Today & Tonight: Skies will be partly cloudy today and a few sneaky showers will be possible. Most areas will be dry but one or two brief showers will be moving through in the late morning and afternoon hours. Between the clouds, temperatures will be in the upper 70s. Tonight it will be a bit muggy with temperatures in the 60s.
Up Next: On Wednesday the humidity will keep building up and temperatures will be near 80°. By Wednesday evening showers will become widespread across south Louisiana. There is a level 2/5 SLIGHT risk for high winds and spin up tornadoes. You may be issued a severe thunderstorm warning if high winds are detected. Storms will clear from west to east overnight and we will be dry before sunrise on Thursday. Rainfall totals will be 1-2+ inches. Isolated higher amounts may briefly overwhelm the drains. Look out for those typical problem spots while it is actively raining. That will be late, from 7-10pm.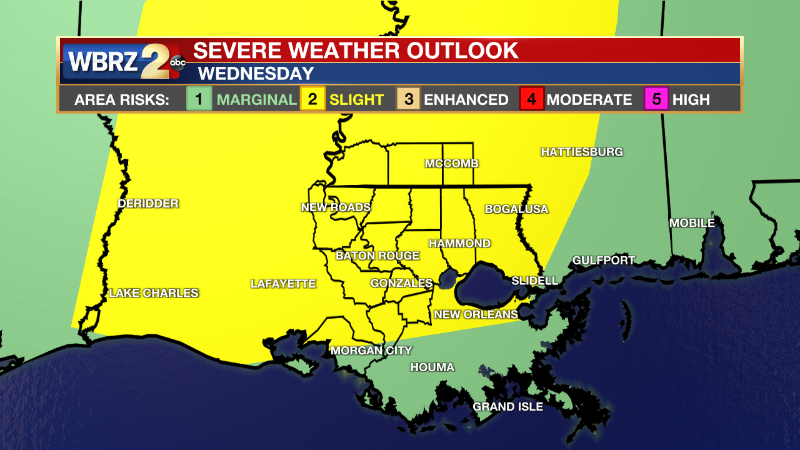 Temperatures will be much cooler on the other side. Thursday afternoon will have temperatures in the 60s and then they will drop into the 40s heading into Friday morning. Friday afternoon will be mostly sunny with high temperatures maxing out in the upper 50s. You can expect partly cloudy skies and high temperatures in the upper 50s for Saturday and Sunday too. Overnight lows will be in the 30s on Saturday and Sunday mornings. Click here to see the 7-day forecast.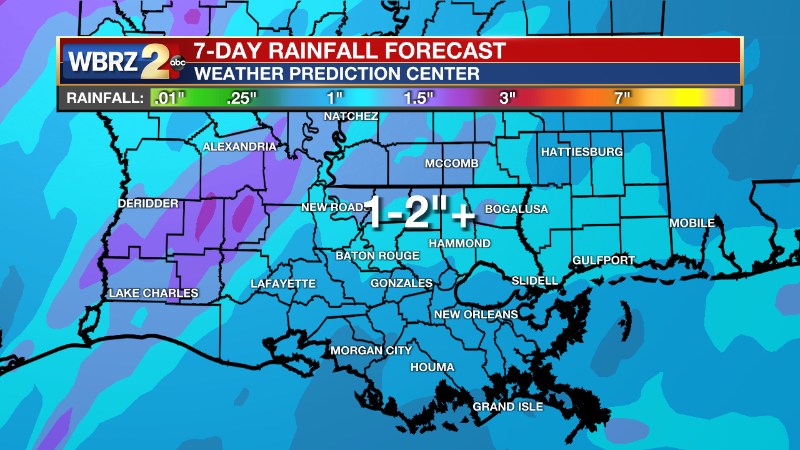 Reminder: With the threat for impactful weather— Strong Storms —please have access to alerts through Wednesday. You can download or activate the WBRZ WX App on your Apple or Android device or turn on a NOAA Weather Radio for bulletins such as watches and urgent warnings. Of course, WBRZ, WBRZ+ and the Cable Weather Channel will have updates as active weather dictates.
News
Keep an eye on the forecast. Every day this week will be different from the day that comes before it....
More >>