Tuesday morning video forecast
Related Story
An increase of afternoon showers and thunderstorms is again expected for the coming days. Even bigger changes are in store for area weather beginning this weekend.
THE FORECAST:
Today and Tonight: Today will be partly sunny, warm and humid with high temperatures near 92 degrees. By afternoon, a few showers and thunderstorms will develop. Expect about 30 percent of the 13 Parish, 3 County forecast area to pick up rain. Tonight will be partly cloudy with low temperatures near 75 degrees.
Up Next: Wednesday and Thursday will feature similar forecasts of partly sunny, warm and humid mornings followed by unsettled afternoons. Scattered showers and thunderstorms are expected both days. Thursday action could be enhanced by the presence of a weak front slipping in from the north. Temperatures will remain in the low 90s for highs and mid 70s for lows.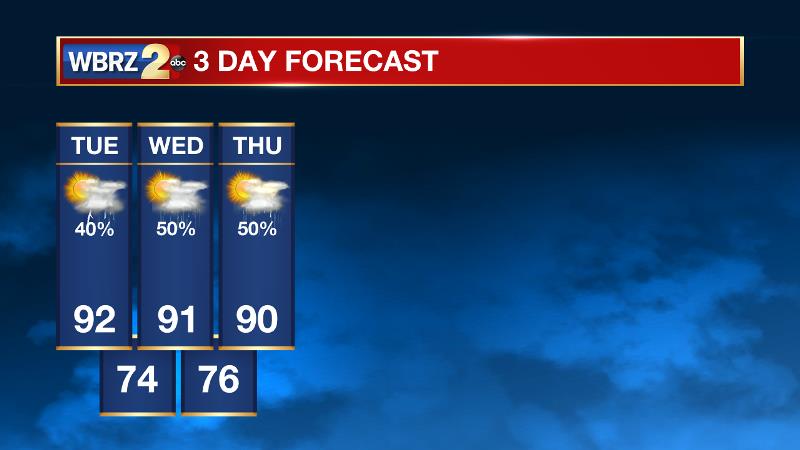 The Tropics: A tropical wave near the Bahamas has a 40 percent chance of development over the next 5 days. Regardless of development, rain and wind is expected for the islands. The remnants of Tropical Storm Harvey will enter the southern Gulf of Mexico by Wednesday with a 90 percent chance of redeveloping into a tropical depression or tropical storm. If this system holds together and continues northwestward, the western Gulf Coast will need to monitor the possibility of heavy rain.
Looking Ahead: Moving into the weekend, a stalled front and tropical moisture will combine for a heavy rain and flooding threat. While the highest rainfall totals are currently expected to remain in Southeast Texas, the local area could see a few inches between Saturday and Tuesday. Once that front finally kicks through next week, a few days with cooler temperatures and lower humidity are possible. Certainly, all of this is dependent on if that tropical system can hold together and locations of heaviest rain will be better pinpointed as we move toward the weekend. But for now, this is a scenario we will need to watch. Check in with WBRZ Weather on Facebook and Twitter for updates.
THE EXPLANATION:
An upper level ridge will be suppressed by an inverted trough in the Gulf of Mexico and an upper level trough scooting across the northern tier. Squashing this ridge will allow a bit less subsidence and a bit more convection over the next few afternoons. Forecast models show the most robust precipitation coverage on Wednesday and Thursday as the trough digs deepest into the Eastern United States. On Friday, the ridge will win out again, protruding back across the Gulf Coast. Over the weekend, the ridge will again be forced to the south and some waves of vorticity in the upper flow should help to generate afternoon showers and thunderstorms. There is a possibility that a tropical system will be located over Texas by this weekend. Moisture from the system will be forced back to the east starting Saturday as a ridge builds in the Southwest, blocking its northward and westward progress. The pattern will stall as a stronger mid-level wave drops into a deeper upper trough and moves directly southward through the central plains picking up the system and forcing it eastward along a stalled surface front. The whole complex will likely not be flushed from the local area until early next week. Whether direct or indirect, the impacts from heavy rainfall could create some issues. Although the heaviest rainfall is currently pegged from Southeast Texas per the Weather Prediction Center, there will be some potential for flooding issues locally. Once the system dissolves as begins to eject eastward, it could become a relatively strong cold front bringing a boundary through the local area. The result could be a cooler and drier air mass for a few days afterwards.
--Josh
News
An increase of afternoon showers and thunderstorms is again expected for the coming days. Even bigger changes are in store...
More >>