Tuesday 1-2 afternoon weather
Related Story
The second day of 2018 brings more incredibly cold temperatures and frigid wind chills due to a large arctic air mass that has fully established itself across the region. Much of the lower 48 has been in the grip of this arctic air mass for the past several days and the frigid air is also entrenched in south Louisiana and southwest Mississippi bringing sub-freezing temperatures in the overnight hours, and it is here to stay for the remainder of the week.
Historic #cold in #BatonRouge?
1) By Saturday, @BTRairport notches one of the coldest stretches on record (1930), depending on stat of choice.
2) Notes:
-lowest temp. = 8° (12/23/89)
-last teens = 17° (1/30/14) #LaWX #MsWX pic.twitter.com/3MePFBAgGL

— Josh Eachus (@DrJoshWX) January 2, 2018
---
A *HARD FREEZE WARNING* continues for the entire WBRZ Weather Forecast Area through noon Tuesday. Expect a re-issuance of the HARD FREEZE WARNING by the National Weather Service Tuesday night and likely Wednesday and Thursday night as well.
A *HARD FREEZE WARNING* means temperatures will be below 25 degrees for several hours.
An extended period of such temperatures could cause significant damage to sensitive vegetation and crop loss without adequate protection.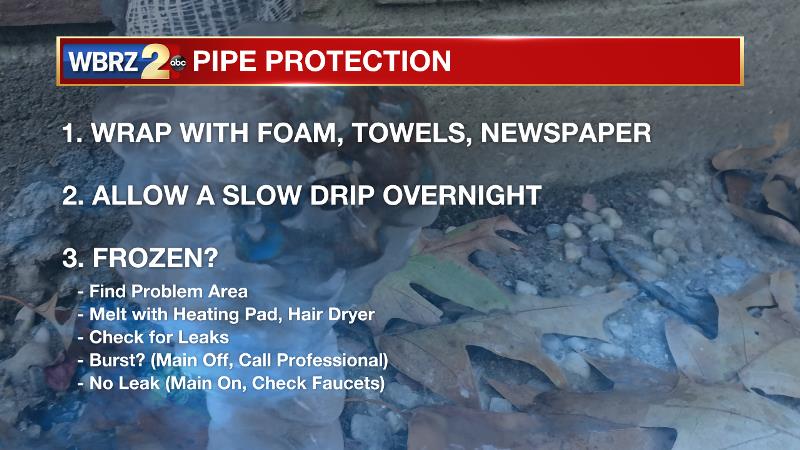 There is also the potential for freezing and bursting of outdoor water pipes. Be sure to wrap water pipes. Anything from insulating foam, to towels to newspaper can be used. Leave a light drip overnight to keep the lines moving and less prone to freezing. If you do notice a loss of water, a freeze or break has likely occurred. You can search for the trouble spot and attempt to thaw the line with a hair dryer or hot towels, but look for a leak upon melting. If this occurs, the pipe may have broken meaning you should shut off the main line and call a licensed professional. Of course, all this information is precautionary and you should always check with a licensed professional for official guidance or service.
Make frequent checks on the elderly. Make sure their furnaces are working and heating the house properly.
Be particularly careful with portable heaters; there is a danger of fire or poisonous fumes
Pets are also subject to the extreme cold. Keep pets indoors as much as possible. If this is not possible...make sure outdoor pets have warm...dry shelter and provide sufficient food and fresh, unfrozen water.
---
THE FORECAST:
Today and Tonight: Expect another cold day with biting wind chills. Despite sunshine, temperatures will only climb to the upper 30s for highs. Blustery north winds of 5-10mph will keep wind chills, or feels like temperatures in the 20s. Overnight lows will again sink to the lower 20s and possibly upper teens north of I-12 with lower winds chills.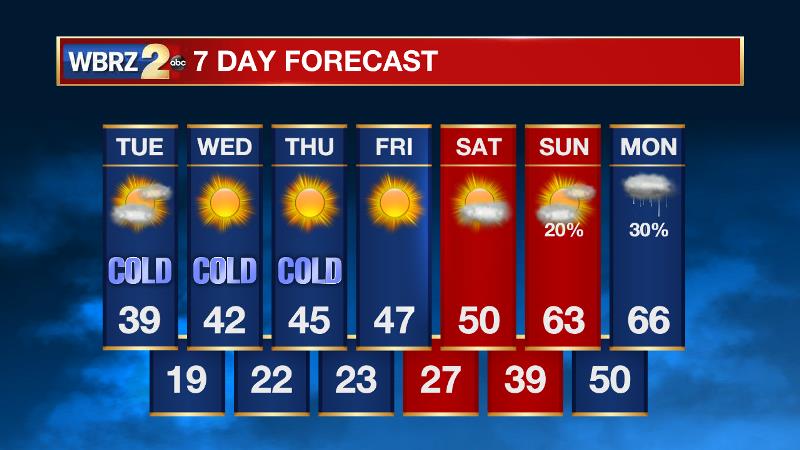 Up Next: For the remainder of the week, skies will remain mainly clear but thermometers will struggle to thaw. Wednesday through Friday will bring high temperatures into the low 40s and low temperatures in the low to mid 20s. Only by Saturday will highs recover into the 50s with a following night above freezing. The next chance for showers will arrive on Sunday.
The Explanation: As noted by the National Weather Service, Tuesday night remains the most difficult aspect of the going forecast. A shortwave trough will dive down the backside of the longwave trough bolted down over the Eastern U.S., which is responsible for the widespread, deep freeze. As this happens, the shortwave will try to draw moisture northward in the mid-levels. Most of our forecast model guidance suggests that this should move quickly overnight Tuesday and merge with the longwave trough leading to limited moisture and therefore little more than some spotty snow flurries. At this rate, with dew points in the single digits (almost unheard of along the Gulf Coast), just about anything falling through the atmosphere would rapidly evaporate. As for temperatures Tuesday night and Wednesday morning, lows could be rather close to those numbers realized on Tuesday morning, but any increase in cloud cover, which is forecast, would hurt those chances. Luckily, it looks like winds will be rather light so wind chills should not be cold enough to warrant another advisory. Wednesday through Friday will be dry and we will see a reinforcing shot of cold air behind Tuesday nights system which will keep the deep freeze around each night through to Saturday morning. Thermometers will finally begin to moderate this weekend with the next system looking to impact the region late weekend into Monday. There may be a little instability around to allow some thunderstorms just two days after a week of temperatures in the 20s—because Louisiana.
--Dr. Josh
The WBRZ Weather Team is here for you, on every platform. Your weather updates can be found on News 2, wbrz.com, and the WBRZ WX App. on Apple and Android devices. Follow WBRZ Weather on Facebook and Twitter for even more weather updates while you are on the go.
News
The second day of 2018 brings more incredibly cold temperatures and frigid wind chills due to a large arctic air...
More >>