Thursday morning video forecast
Related Story
Showers will be around all day; rainfall totals will be manageable.
THE FORECAST
Today & Tonight: Today is looking like a washout. Spotty showers will start up later this morning and continue on and off all day. There may be a few brief heavy downpours, but the flood threat is much lower than it was over the weekend. Some of the typical roads may hold water while its pouring, but there will be lulls in the activity for drains to catch up throughout the day. Temperatures will be cold, likely staying in the 40s all day. Tonight, we will dry out and temperatures will be in the low 40s and upper 30s for Friday morning.
Up Next: High temperatures on Friday will be in the 50s and we will dip into the 30s into Saturday morning. There will be a light freeze across south Louisiana before sunrise on Saturday morning. Then weekend is looking mostly sunny and comfortable with temperatures in the mid-60s in the afternoon and overnight lows in the 40s into Sunday. Temperatures will trend in the low 70s into next week. Isolated showers will be back in the forecast on Tuesday and Wednesday. Click here to see the 7-day forecast.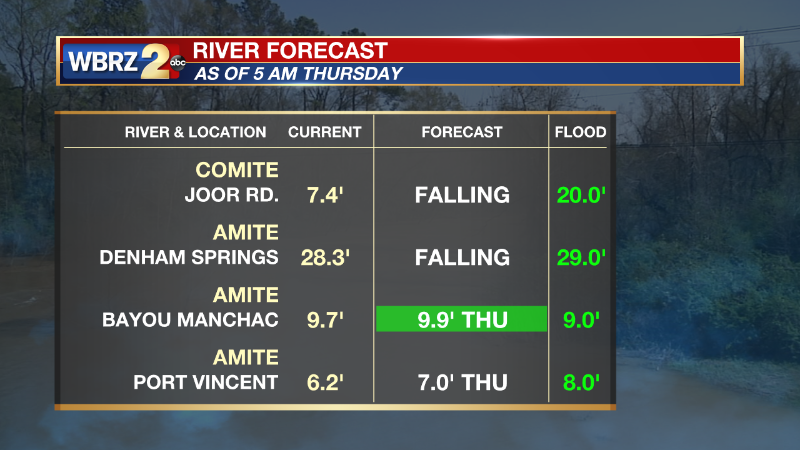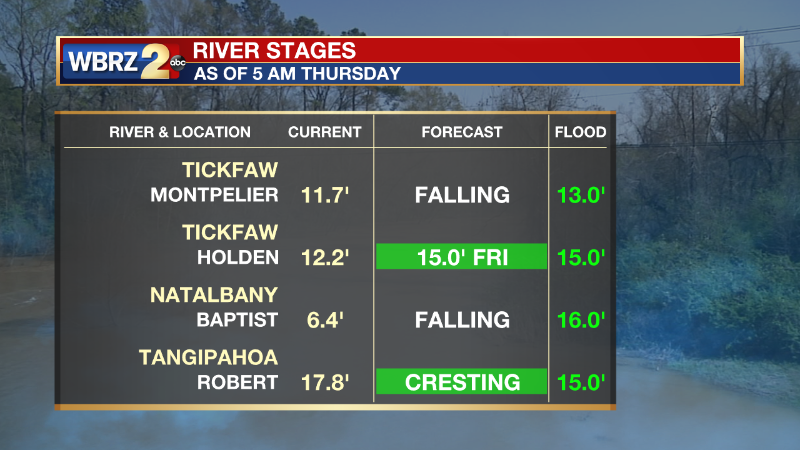 Reminder: With the threat for impactful weather— Heavy Rain —please have access to alerts through the day Thursday. You can download or activate the WBRZ WX App on your Apple or Android device or turn on a NOAA Weather Radio for bulletins such as watches and urgent warnings. Of course, WBRZ, WBRZ+ and the Cable Weather Channel will have updates as active weather dictates.
News
Showers will be around all day; rainfall totals will be manageable. THE FORECAST Stream LIVE news here. ...
More >>