Sunday Afternoon Forecast
Related Story
The Flash Flood watch in effect for most of the WBRZ viewing area is set to expire at midnight tonight.
THE FORECAST
Tonight & Tomorrow: So far today some portions of the Capital area have picked up 5" of rain. Showers started early this morning and lingered through the afternoon hours. Areas north of the I-10 are still seeing some scattered showers. The rain is not over for today. Into the evening hours, there is a chance to see more scattered showers. You have a greater chance of seeing them if you are in the northern portions of the WBRZ viewing area. Areas further to the south will remain mostly clear. Now we have plenty of moisture at the surface and fog development is a possibility going into Monday morning. Cloudy skies and muggy temperatures will stick around the forecast. By the afternoon on Monday, some isolated showers will begin to bubble up, but most people will stay completely dry.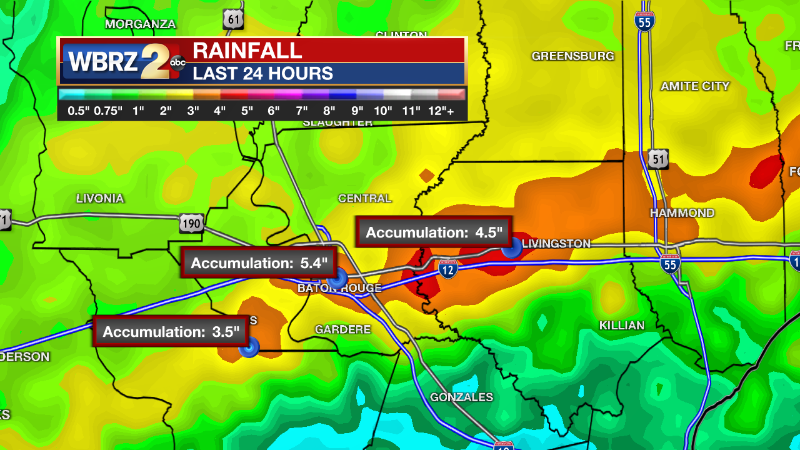 Up Next: Tuesday the same warm, muggy pattern will continue. Temperatures will reach the low-70s in the afternoons and isolated showers will be possible. Overnight cloudy skies stick around and winds will begin to shift out of the south. There will be showers around the forecast but still plenty of dry time and sunshine in between the rain. By Wednesday, our next system will start to move through the area. Wednesday you can expect scattered showers during the afternoon, but this is all ahead of the main line that's set to move through the forecast on Thursday. Into Thursday the next cold front will make its way through the Capital Area bringing more rain. This system will be quick moving and will be out of the area early Friday. Once the system finally moves out we will be much cooler and drier heading into your next weekend. Click here to see the 7-day forecast.
The Storm Station has you covered with hour-by-hour weather tracking is available for your location on the WBRZ WX App on your Apple or Android device. Follow WBRZ Weather on Facebook and Twitter for even more weather updates and unique weather insight from the whole team!
News
The Flash Flood watch in effect for most of the WBRZ viewing area is set to expire at midnight tonight....
More >>