Friday Evening Forecast
Related Story
The PM rainy pattern is wrapping up into the weekend.
THE FORECAST
Tonight & Tomorrow: Any showers still around the area will fizzle out as the sunsets. After a steamy afternoon, temperatures will begin to fall into the mid-70s overnight. The same pattern is set to repeat for your Saturday. Waking up with mostly clear skies, but muggy. As the day goes on, temperatures will climb back into the mid-90s. Just how hot you get is all dependent on when and where showers develop across the area. Scattered showers will begin just after lunch and will continue well into the afternoon. Any showers that develop could become strong or even severe. The primary threats being for gusty wind, hail, and heavy rain. The pattern begins to change on Sunday.
Up Next: Waking up Sunday, temperatures will be in the upper-70s. Finally the stationary front that has been locking in the rinse and repeat pattern will have moved off, but with little-to-no rain in the forecast that means the heat is on. Daytime highs will top out in the mid-to-upper 90s. A string of heat advisories is expected, but with Sunday being the first hot day of the new pattern we will probably not reach the 107° heat index threshold to trigger a heat advisory. Now for the start of your workweek. Heat on repeat and you can expect some dangerous heat. Heat advisories are almost a given throughout your next workweek. Click here to see the 7-day forecast.
The Storm Station has you covered with hour-by-hour weather tracking is available for your location on the WBRZ WX App on your Apple or Android device. Follow WBRZ Weather on Facebook and Twitter for even more weather updates and unique weather insight from the whole team!
In the Tropics: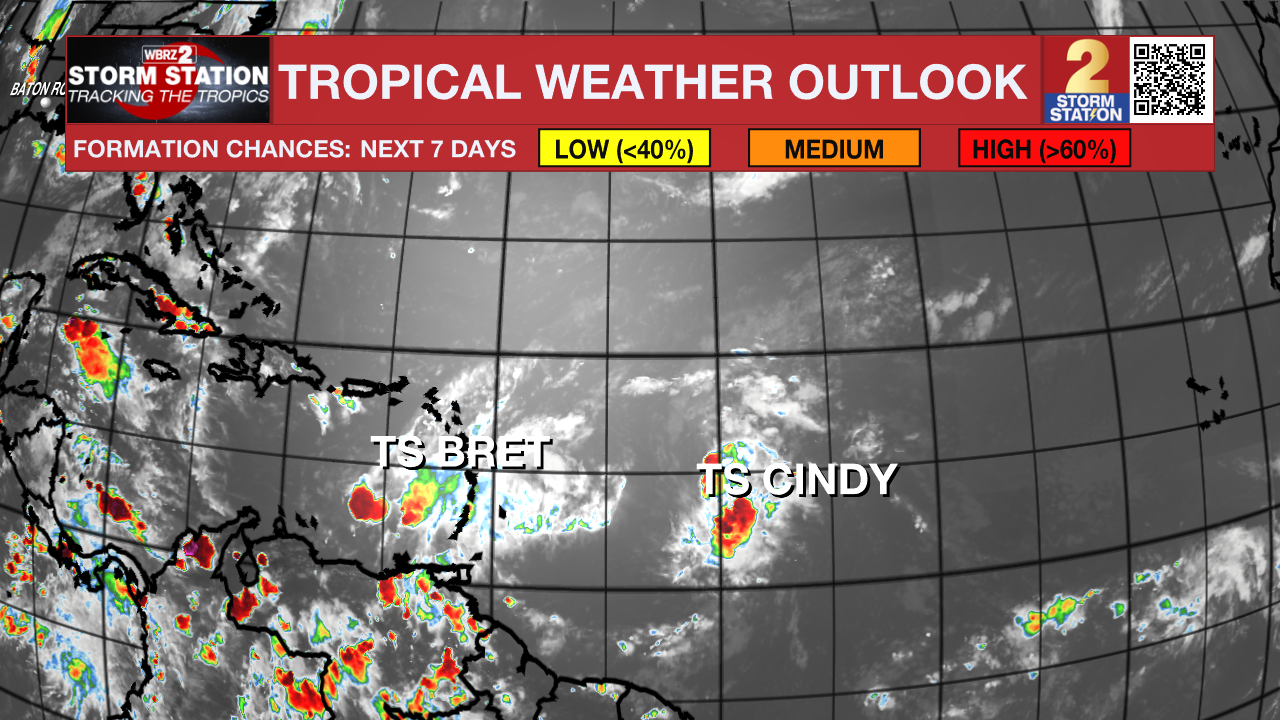 Tropical Storm Bret is expected to continue weakening over the course of the weekend. The storm is moving west at 14mph with maximum sustained winds of 65mph. Bret will quickly weaken and eventually dissipation over the Caribbean Sea this weekend in the face of harsh wind shear.
Tropical Storm Cindy has formed in the eastern Atlantic. That system will continue northwestward remaining north and east of the Lesser Antilles over the weekend. Cindy now was maximum sustained winds at 50mph and is moving west-northwest at 16mph. Tropical Storm Cindy will not be a threat to the local viewing area.
News
The PM rainy pattern is wrapping up into the weekend. THE FORECAST Stream LIVE news here. Tonight...
More >>