Why are weathercasters so hung up on dew points?
The WBRZ Weather Team often makes reference to dew points instead of relative humidity when describing the humidity. How does that make sense? Well, although the terminology may not jive, the dew point offers a much better relation as to how it is feeling outside.
A sliding scale that you often see in weather segments is easy to interpret, but not something most people draw on day to day. Simply put, the higher the dew point, the more moisture in the air, and the more humid it feels outside. But at what level do you actually start to notice the dew point? If you choose to remember just two things—a dew point over 70 degrees means it feels nasty out there and a dew point below 60 degrees brings a nice dry feel, especially to those that call the Gulf Coast home.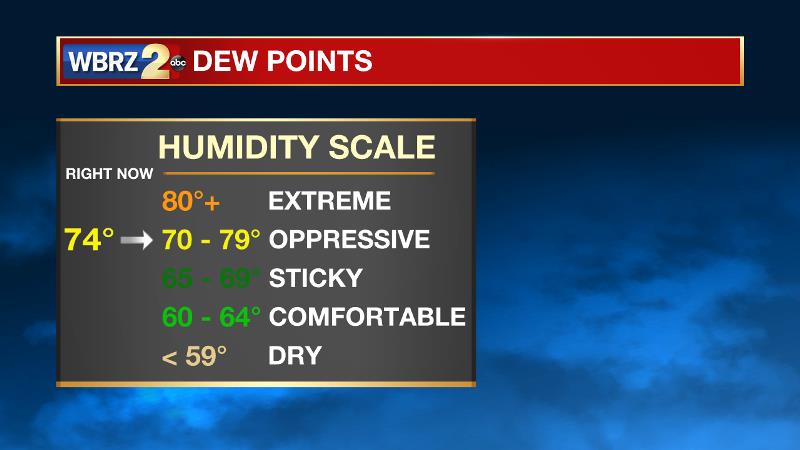 *The dew point is also used to measure the temperature to which air must cool to become saturated and form water droplets. This is a useful tool in fog, cloud and rain forecasting. The air temperature can never drop below the dew point.
Relative humidity is actually a more difficult parameter to understand. 100% relative humidity can often indicate that it is either foggy or very moist outside, but not always! Relative humidity is typically near 100% in the early morning hours when the air temperature has dropped to the dew point, and if winds are swift enough, you may not even have fog development!
Relative humidity is better explained as how close the air is to becoming completely saturated. A general rule of thumb is that when the relative humidity is less than 40%, it feels dry outside, and when the relative humidity is greater than 80% it feels moist outside. But, there are some exceptions to this rule. Let's consider the 1pm forecast for Thursday, July 6 in a few different cities: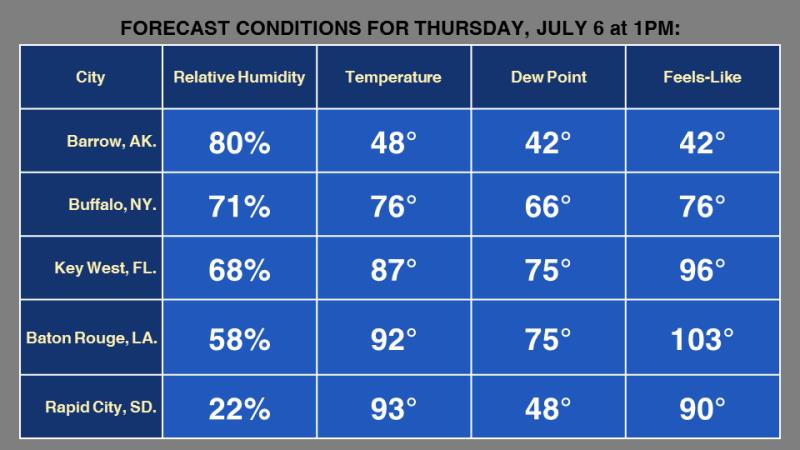 Now, if you judged the most uncomfortable location based solely on relative humidity, you would end up in chilly Alaska and assume that South Dakota is nice and comfy. However, a closer look reveals that the two locations sporting the highest dew points, are actually the ones that feel most uncomfortable—Key West and good ol' Baton Rouge.
The worst combination for human comfort is a high dew point and high relative humidity. However, if the dew point is above 70 degrees, it will always feel uncomfortably sticky outside, even if the temperature climbs over 100 degrees resulting in a low relative humidity.
To sum it up, dew point describes the quantity of moisture in the air, while relative humidity describes how close the air is to saturation. So next time you hear somebody say, "it's not the heat, it's the humidity," you might remind them that actually, "it's not the humidity, it's the dew point!"
---
Beat the summer heat! Stay in touch with the forecast by joining the WBRZ Weather Team on your Apple or Android device. You can also get the latest updates from @WBRZweather on Facebook and Twitter.
More News
Desktop News
Click to open Continuous News in a sidebar that updates in real-time.