Track shifts west, Louisiana could feel impact from Nate
Overnight, there has been a considerable westward shift in the forecast track of Tropical Storm Nate and there is an increasing chance of direct impact to Louisiana. With quiet weather expected over the next two days, take an opportunity to sure up hurricane preparedness plans in the event action will need to be taken.
Summary: As of 1pm Thursday, Tropical Storm Nate had a minimum central pressure of 1001mb and maximum sustained winds of 40mph and was moving northwest at 9mph. The system is expected to move across Nicaragua on Thursday before emerging in the northwestern Caribbean Sea and strengthening on Thursday night and Friday. Beyond that, another interaction with land—the Yucatan Peninsula is possible on Friday before the system moves into the southern Gulf of Mexico.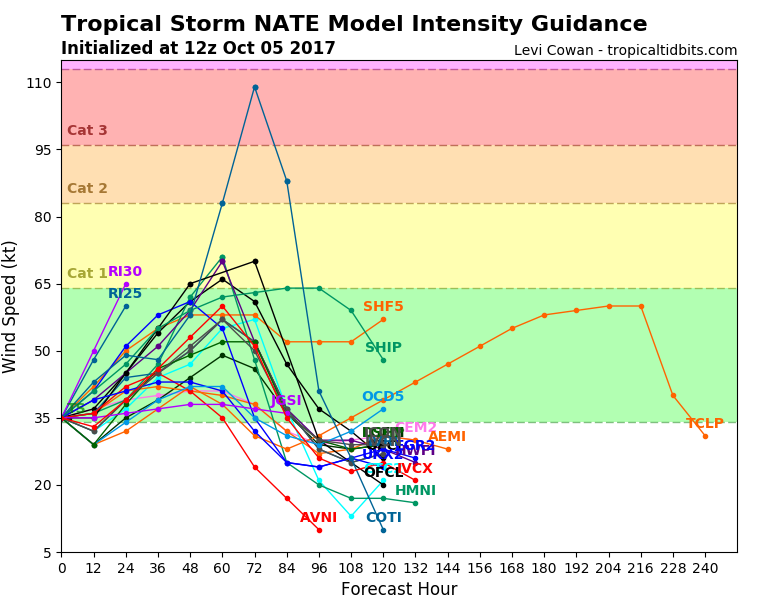 Strength: Further strengthening will depend on several factors including how much organization remains after crossing land, and how much wind shear is caused by the upper level ridge of high pressure that will ultimately steer the system northward through the Gulf. On the other hand, there will be plenty of deep, warm water available to fuel intensification. Most forecast models are in agreement that the storm will achieve strong tropical storm or category one hurricane status.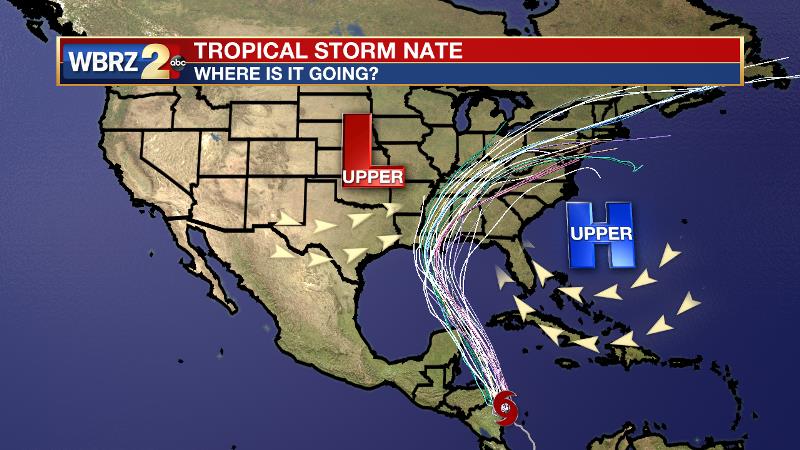 Track: As far as the track of the storm goes, the two key features in control will be the aforementioned ridge of high pressure over the southwest Atlantic Ocean and an upper level trough that will be moving across the central United States. The ridge will keep the storm on a northward motion through the Gulf, recent trends have shown this ridge nudging farther west, and therefore the forecast track has shifted father west. The upper trough moving across the U.S. seems to have slowed somewhat. This feature will ultimately tug the storm easterly and help accelerate it into the southeastern United States.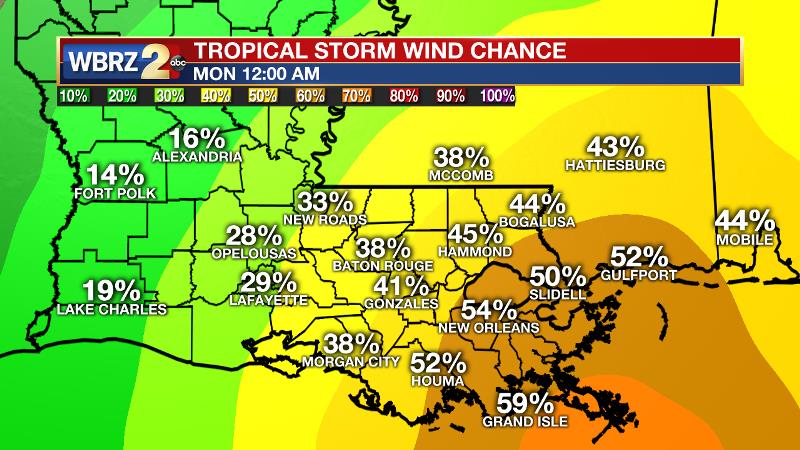 Impact: Given the current forecast, tropical storm and possibly hurricane conditions will be possible in southeast Louisiana. At this time, the chances for impact weather are higher south and east of Baton Rouge, closer to New Orleans and the coast. The main impacts will be wind and coastal flooding. There is 30 to 50 percent chance of tropical storm force winds (over 39mph) occurring in the Baton Rouge area. The winds will cause a continuation of the higher water on shorelines and The National Weather Service has extended the coastal flood advisory through Sunday due to this threat. Water levels could be as much as 2 to 3 feet above normal. Any storm surge could increase these levels, mainly in coastal areas. Rain looks to be a lesser threat as this system will be a fast mover. 2 to 4 inches appears to be possible over the weekend.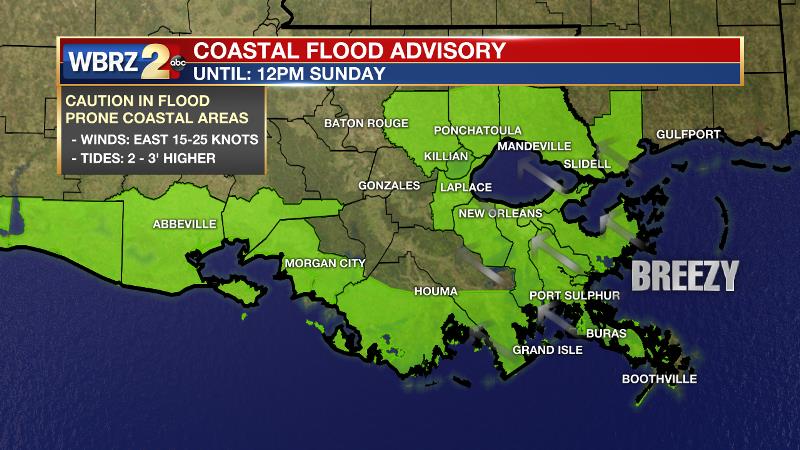 Actions: With nice weather expected over the next two days, take the opportunity to review hurricane preparedness plans. Those with coastal interests should take the necessary precautions. For a full rundown of hurricane readiness including evaluating risk in your area, gathering supplies, checking insurance and prepping your home, CLICK HERE. The WBRZ Weather Team is here for you, on every platform. Your weather updates can be found on News 2, wbrz.com, and the WBRZ WX App. on Apple and Android devices. For new storm advisories as soon as they are issued at 1, 4, 7 and 10 am/pm follow WBRZ Weather on Facebook and Twitter.
More News