Setting Up For A Dry Weekend & July 4th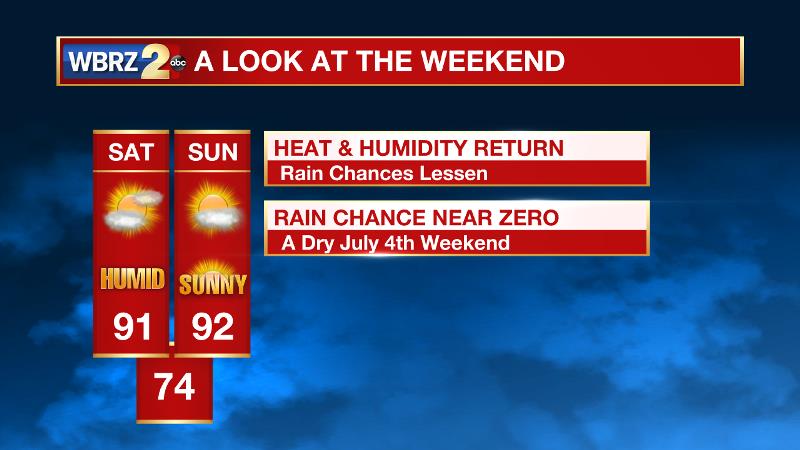 Friday's Forecast:
The chance for rain greatly diminishes for your Friday as conditions heat up in south Louisiana and the humidity rises to the oppressive category for the next several days. Drier air has settled into the Gulf Coast region and that has essentially placed a cap on the atmosphere and will inhibit vertical growth in the atmospheric cloud development, and with fewer of the rain-making clouds we have a greatly reduced chance for rain. In fact, the best chance for rain will be during the daytime hours on Friday, and then as we head into Friday evening the rain chance begin to shave off dramatically. Temperatures will quickly rise into the upper 80s by noon and the mercury should top out close to 90 degrees in the mid afternoon hours. Look for overnight skies to be clear, with the humidity remaining high and temperatures settling to the lower 70s
The Weekend:
Saturday and Sunday appear to be mostly dry at this point due to the drier air that has settled in over the area. There still remains the chance of a passing shower to the north, east and south, and we might see one or two renegade storms form along the coast, but the will be short-lived and should not produce any major rainfall. Expect temperature to be over the 90 degree mark for both Saturday and Sunday, with the humidity remaining extremely high for all of the region. Overnight low temperatures will fall to the middle 70s and clear skies are expected.
The 4th of July:
The dry conditions will carry on trough the July 4th holiday with little to no rainfall expected. As noted, the humidity levels will be high and if you are planning on spending extended time outdoors, be certain to wear sunscreen during the hour between 10:00 AM and 4:00 PM and drink plenty of non-alcoholic fluids(preferably water) to keep your body cool and hydrated in the searing heat and humidity. High temperatures will be in the low to mid 90s for the entire area, with little chance for a cooling afternoon shower. Plan to join WBRZ with Fireworks on the Mississippi beginning at 9:00 PM on Tuesday July 4th!!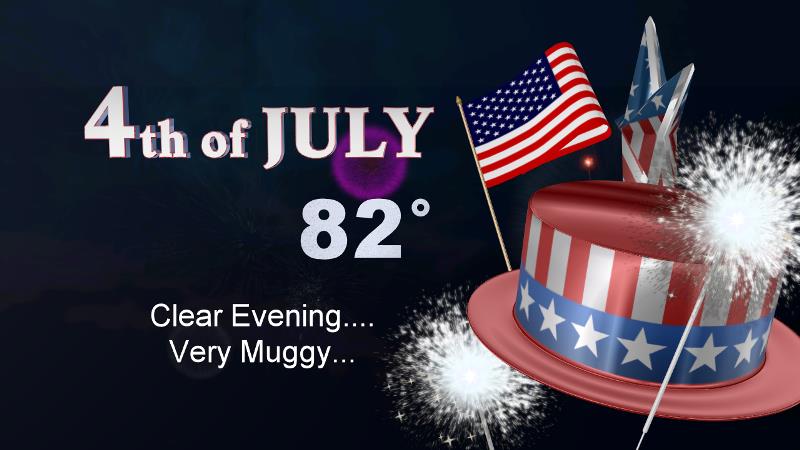 More News
Desktop News
Click to open Continuous News in a sidebar that updates in real-time.