New tools for the 2018 Hurricane Season
The hurricane season of 2017 was an active one, naming 17 storms with 10 of those developing into hurricanes. Of those 10 hurricanes, 6 of them intensified into major hurricanes, as four of their names being devastating enough to merit retirement of their names. Still in the early stage of the 2018 season, it is still unknown just how dynamic this year will end up being. One thing is for sure, the National Hurricane Center has some new tools this year to help with awareness and forecast accuracy.
The cone of uncertainty is getting more certain. The cone shrunk from 211 nautical miles in 2017 to 198 nautical miles 5 days out. Looking out 24 hours, it has continued to get smaller each year, improving forecast track by 36% within the last 10 years, 10% from last year. This reduction in cone size is not arbitrary, it is actually based off 2/3 of historical official forecast errors over the last 5 years. That means that the cone width will continue to get smaller as forecasts stay accurate.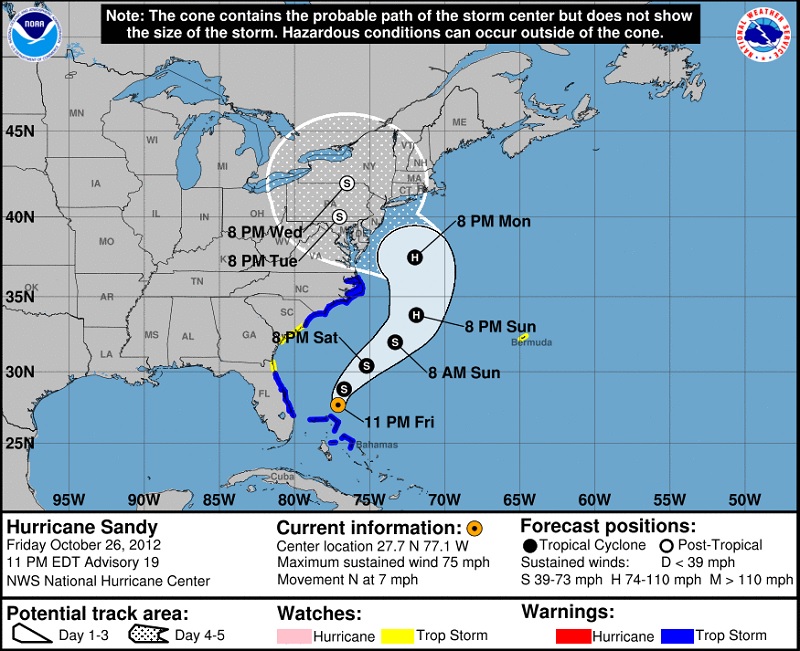 Forecast cone of Hurricane Sandy 2012.
Source: National Hurricane Center
The National Hurricane Center has added the product of timing and arrival time of tropical storm wind speeds (39 mph). This graphic also uses a cone to provide the earliest reasonable arrival time and the most likely window at 6 and 12 hour intervals. The timing of the arrival of tropical storm winds is crucial in Emergency Responders, as they are required to shelter in place while winds are tropical storm force or higher. This is to ensure that the rescuers do not become the rescuees.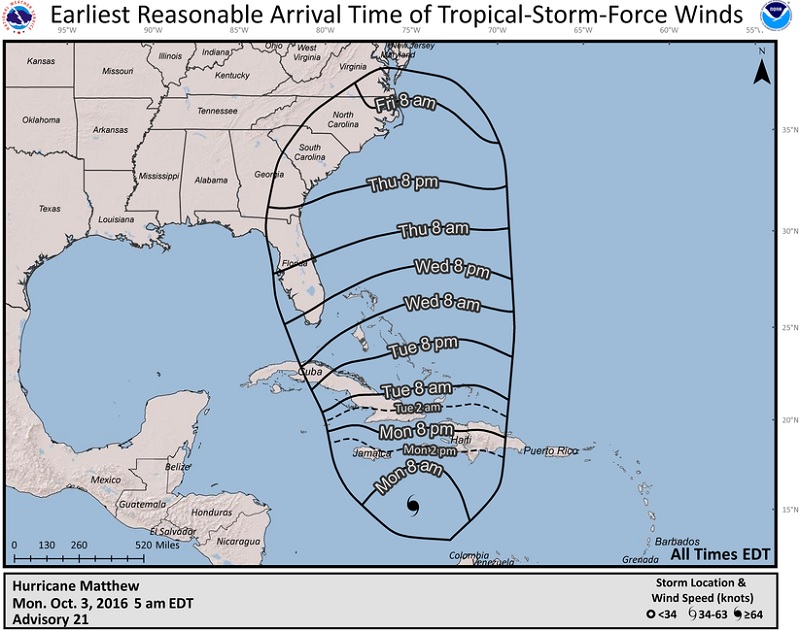 An example of the arrival time of tropical storm force winds for Hurricane Matthew 2016.
Source: National Hurricane Center
Public Advisories will now be able to discuss the forecast out to 5 days. In past years, the National Hurricane Center was only able to discuss the forecast of a tropical system up to 48 hours. These discussions are issued every 6 hours, or 3 hours when necessary, that include watches, warnings, location, strength, forecast, and potential impacts.
Recent changes have been successful, especially in 2017. Last year, the National Hurricane Center added Potential Tropical Cyclone information to its repertoire. This feature was added for tropical depressions and waves that could strengthen to tropical status and make landfall within 48 hours. This was to help lead time and public awareness of rapid intensification of an incoming storm or hurricane, and was issued 7 times in 2017. Storm Surge watches and warnings also became operational last year, helping to highlight what is often the greatest threat to life and property from a hurricane. What may be the best new public tool for hurricane threat awareness is the National Storm Surge Inundation Maps. Here, one can increase hurricane strength to observe modeled storm surge height across the Gulf, East, and Caribbean coasts.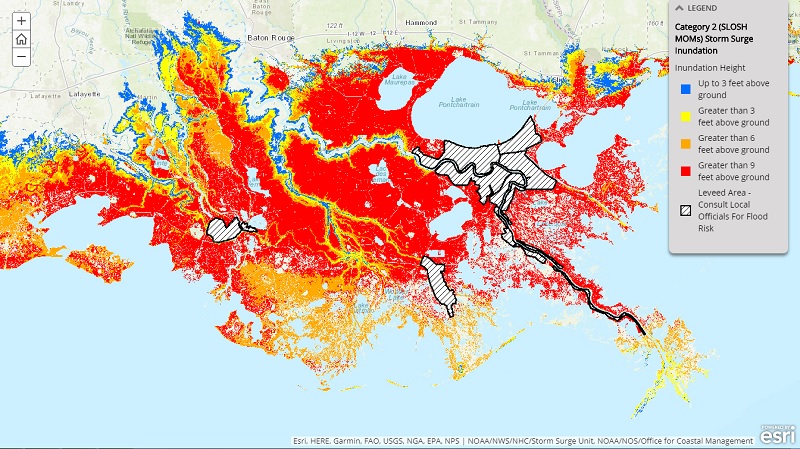 Storm surge inundation map for the Louisiana Coast during a Category 2 hurricane.
Source: NOAA
Preparation, staying connected, and being weather aware are the best ways for you and your family to stay safe during this hurricane season. When a system, or even a potential system, moves into the Gulf of Mexico, it is fair game for landfall to occur from Florida to Texas. Even with some outfits reducing their pre-seasonal forecasts, it only takes one.
More News
Desktop News
Click to open Continuous News in a sidebar that updates in real-time.