Air Quality Slightly Improving Across Louisiana
The American Lung Association has just released their "State of the Air" report for 2018, and have found that the Pelican State has experienced improved air quality from last year. Cities experiencing the highest increase in air quality values include Alexandria, Houma, Thibodaux, Lafayette, Opelousas, Morgan City, Lake Charles, Jennings, Monroe, Ruston, Bastrop, New Orleans, Metairie, Hammond, Shreveport, and Bossier City. These cities were names among the cleanest cities for short-term particle pollution and experienced zero unhealthy air days.
When looking at long-term particle pollution though, the larger cities did not fare well. Baton Rouge saw increased levels of year-round particle pollution, and was tied 58th for most polluted city in the nation. New Orleans was also tied 66th most polluted city in the nation for year-round particle pollution. This ranking was determined by finding the daily concentration level of tiny solid and liquid particles, and averaging those numbers over the entire year.
Weather plays a key role in the distribution of pollutants across a region or city. If the atmosphere for a given day is unstable, or that there is a lot of lift, than the pollutants will escape straight up into the atmosphere and have limited impact over the surrounding area. If the atmosphere is stable then the opposite is true, and the pollutants will stay at a much lower elevation and closer to the ground surface. Wind speed and direction are also key in determining the efficiency of pollution transport and concentration. As wind speeds increase, the pollutant is dispersed over a larger area, impacting more of the surrounding area, but through that process the pollutant concentration decreases.
Each year the ALA provides the "State of the Air" as a sort of report card on the two most widespread outdoor air pollutants, ozone pollution (smog) and particle pollution (soot). These are measured in two ways: average annual particle pollution levels and short-term spikes in particle pollution. Obviously, all pollution can be harmful for public health, but the short-term spikes and quick changes in pollution within 24 hours can have more acute effects such as lung cancer, asthma attacks, cardiovascular damage, developmental and reproductive harm, and even premature death.
As a whole, Louisiana did fairly well in ozone pollution, effectively undergoing fewer unhealthy days compared with the 2017 report. Nationwide, the best progress from the 2017 report came in reducing year-round levels of particle pollution. Unfortunately, this year's report found Louisiana having levels that were slightly higher than the previous year.
For a daily breakdown of air quality and health report head to our Website, or follow us on Twitter and Facebook.
Good morning! Here is today's weather and health report for the #BatonRouge area: pic.twitter.com/Lke3AaxIEm

April 26, 2018
See below for a detailed breakdown of pollution by parish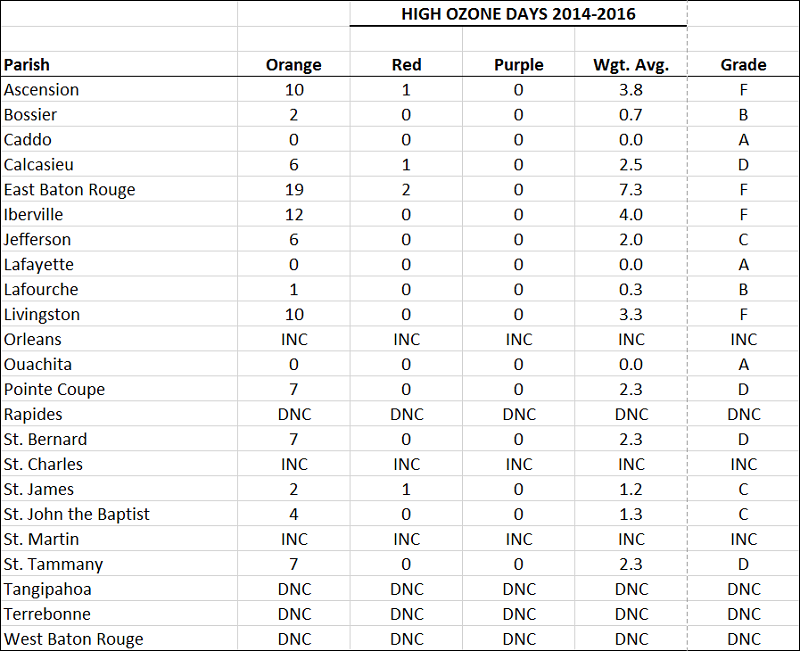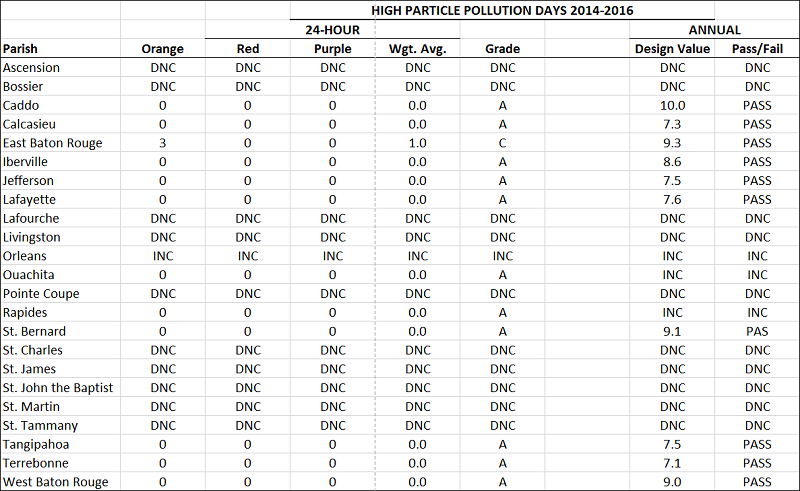 More News