Active seabreeze returns, Assumption flooding update
We're back into the wet pattern through most of the week, along with the summer-like humidity.
THE FORECAST:
Today and Tonight: Your Monday will bring another round of scattered thunderstorms. High temperatures will be in the mid 80s with humidity producing a heat index in the 90s when rain isn't falling and breaks of sun occur. Tonight will be partly cloudy with lows in the mid 70s.
Looking Ahead: Expect a mix of sun and clouds through the week with late morning and afternoon thunderstorms. Temperatures will likely stay out of the nineties until about midweek. No severe weather is expected, but it's always possible to see a summer storm get a little intense with downpours, gusty wind and frequent lightning. Toward the latter half of the week, it seems as if there will be a little better chance to see rain coverage lessen. While thunderstorms remain possible, they won't me as numerous.
---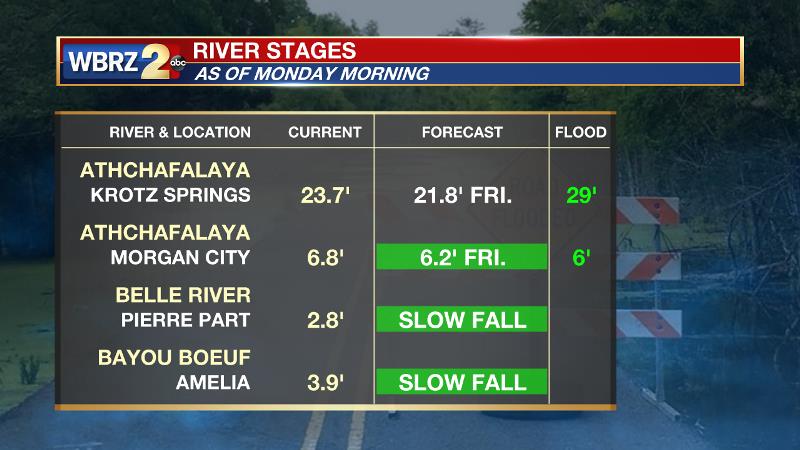 The rain is not good news for parts of Assumption Parish that continue to contend with backwater flooding. Especially in Pierre Part and areas near Belle River, drainage will no slow to nil through Thursday. The Atchafalaya River at Morgan City will remain above flood stage through Friday meaning water will not be able to exit the streams and tributaries that typically flow into it.
---
The Tropics: In the tropics, all is quiet for now with no development is expected over the next several days. See below for more on what could occur next weekend and beyond.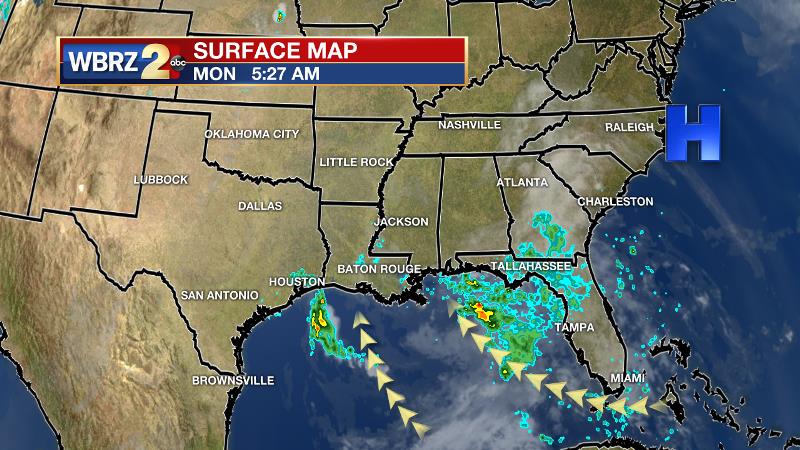 THE SCIENCE: As expected a large influx of tropical moisture is underway as a ridge of high pressure has set up in the Western Atlantic while an upper trough is moving over the Great Plains. This pattern will lead to marine breezes forcing out convection during peak heating hours over land followed by activity offshore overnight. This typical summer pattern should last through mid-week. As such, Expect daily rain coverage on the order of 30-50 percent but also the convection will keep high temperatures from getting above average-- which is 90 degrees for this time of year. Social media rumblings have begun with regard to a system in the tropics next week. Many forecast models agree that a closed center of low pressure will develop near the Yucatán Peninsula next weekend before moving into the Bay of Campeche. There is lots of time to monitor morel solutions and for the situation to change but since it is hurricane season, this is something certainly worth watching. At this point, none of those model solutions show a local impact except for perhaps some higher seas and tides.
--Josh
More News