Active afternoons continue early this week
The pattern continues with afternoon scattered showers and thunderstorms along with intermittent sunshine. Expect more sun in the morning with some patchy fog before sunrise.
THE FORECAST:
Today and Tonight: Your new week starts off with an old forecast. Morning sunshine will cook thermometers into the low 90s before showers and thunderstorms spark by the afternoon. Activity will be scattered with some locations receiving downpours and frequent lightning. A few spots will dodge rain. Overnight, temperatures will remain in the mid 70s with partial clearing.
Up Next: Each day presents pretty much the same rain scenario along with the same heat and humidity. Temperatures are actually seasonable with low 90s over mid 70s exactly what we expect in July. Some days do have the chance for higher thunderstorm coverage than others—especially through Wednesday. As of now, it looks as though the rain coverage may taper toward the weekend, while not disappearing entirely.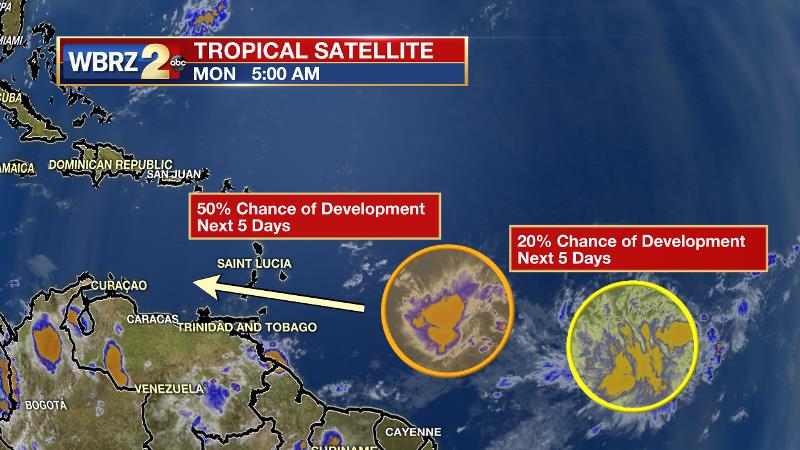 The Tropics: There are two waves being monitored in the Atlantic Basin. These waves are located in succession, just east of the Windward Island. The leading cluster of showers and thunderstorms has a 50 percent chance of further development over the next 5 days and a hurricane hunter aircraft may further investigate later Monday. The trailing wave has a 20 percent chance of development.
THE SCIENCE:
A shortwave trough is expected to move east through the Northeast and Mid-Atlantic States through Tuesday while a trough axis persists near the north Gulf Coast. At the same time, a mid-level ridge will build east into northern portions of the Southeast. Plenty of moisture, with precipitable water in the 2.25 inch range, Monday and moderate instability will result in convective temperatures in the low 80s during the morning and mid 80s by afternoon. Convective development will also be aided by weak seabreeze/lake breeze and thunderstorm outflow boundaries that develop with daytime heating. Rain coverage will remain high Monday and then lower just a touch for Tuesday and Wednesday as slightly drier air works in from the north. High moisture content combined with slow storm motion will once again favor locally heavy rainfall and localized flooding of streets and other low lying, poorly drained areas Monday. By Thursday, coverage of showers and thunderstorms should lower into the isolated (20 to 30 percent) range as the atmosphere gets drier under influence of a building upper level high. Model precipitable water values drop into the 1.5 to 1.8 inch range. The high is expected to become centered over the Tennessee Valley to south Atlantic Coast region Friday and continue moving east over the weekend. This may allow for subtle increase in moisture and seabreeze convection on Friday, otherwise, expect isolated to scattered afternoon thunderstorm activity during the latter part of the week into the weekend. With less thunderstorm activity, expect max temperatures to climb a few degrees and be near to above normal.
--Josh
More News
Desktop News
Click to open Continuous News in a sidebar that updates in real-time.