Wednesday morning video forecast
Related Story
A few heavy downpours could stack up the rain again on Thursday.
THE FORECAST
Today & Tonight: A stalled out front was able to slip a little further to the south over the last 24 hours and pull temperatures down. It is also helping with the fog problem. Expect chilly temperatures and a little haze this morning. Clouds will stick around all day with on and off spotty showers like what we have seen the past two days. High temperatures will be in the mid to upper 50s. (Scroll down for updated river stages.)
Up Next: Thursday will bring another round of heavy rain through the Baton Rouge area. Showers will be on and off starting early and lasting through the late evening. An additional 1-2inches is expected with isolated areas picking up 3-4+ inches. The drains may get overwhelmed if heavy downpours line up in the same location multiple times. Keep weather alerts close by in the event flood warnings are needed for your area. After that, we will be totally dry as we head into the weekend. Temperatures will be a bit cooler as well. High temperatures on Friday will be in the 50s and we will drip into the 30s into Saturday morning. The weekend is looking mostly sunny and comfortable with temperatures in the mid-60s in the afternoon and overnight lows in the 40s. Click here to see the 7-day forecast.
Reminder: With the threat for impactful weather— Heavy Rain —please have access to alerts through the day Thursday. You can download or activate the WBRZ WX App on your Apple or Android device or turn on a NOAA Weather Radio for bulletins such as watches and urgent warnings. Of course, WBRZ, WBRZ+ and the Cable Weather Channel will have updates as active weather dictates.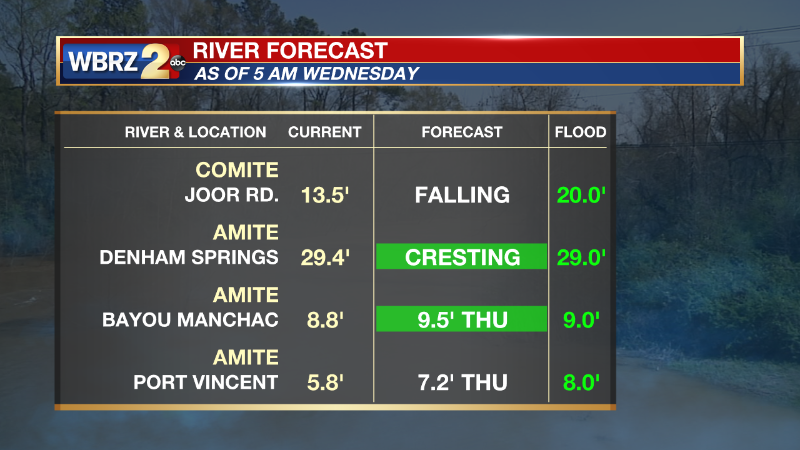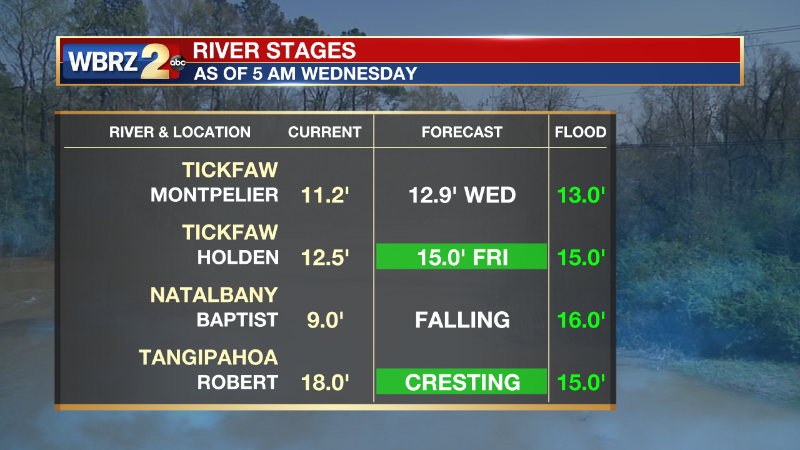 News
A few heavy downpours could stack up the rain again on Thursday. THE FORECAST Stream LIVE news here....
More >>