Wednesday evening video forecast
Related Story
A cold front will move into the area on Friday causing a wet and stormy morning drive. Much lower temperatures will blow in behind the boundary for the weekend.
Tonight & Tomorrow: Skies will stay mainly clear overnight. With winds shifting to the southeast at 5mph, it will not be quite as cold as previous nights with low temperatures in the upper 40s. Another quick warmup is anticipated on Thursday. The high temperatures will top out in the upper 70s and it will be a bit more breezy with southeast winds of 10-15mph. Expect more sun early in the day with more clouds appearing late.
Up Next: A cold front will bring organized rain and thunderstorms to the region on Friday. Plan for a wet and potentially slow commute into work and school in the morning. Along the leading edge of a squall line, some gusty wind and downpours will be possible. Low lying, typical trouble spots could briefly hold water. Moderate rain will linger for several hours, possibly into the late afternoon before showers end. 1-2 inches of rain is expected with an isolated higher amount possible. Behind this front, much cooler air will spill into the region. Early temperatures in the 70s on Friday will fall into the 50s by nightfall. Both weekend days will be chilly with highs in the mid 50s and lows in the low 40s. There will be more clouds than sun on Saturday and vice versa on Sunday.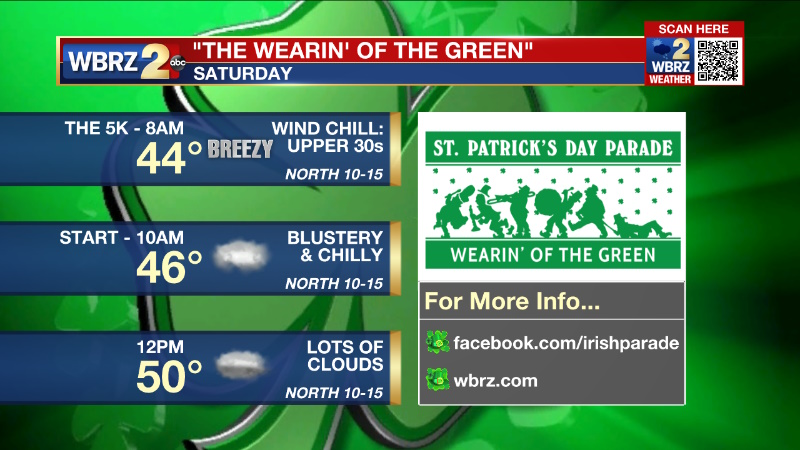 Wearin' of the Green: Saturday morning will be dry, but cloudy and chilly. With air temperatures in the low to mid 40s, blustery north winds of 10-15mph will cause feels-like temperatures, or wind chills, to be in the 30s through about midday. In addition to heavier outer layers, you will probably want cover for hands and ears as well. A bit of sunshine could peek through the clouds at times. Going to the parade? You can get ongoing updates and hour by hour weather on the WBRZ WX App.
---
Get the latest 7-day forecast and real time weather updates HERE.
Watch live news HERE.
---
--Josh
The Storm Station is here for you, on every platform. Your weather updates can be found on News 2, wbrz.com, and the WBRZ WX App on your Apple or Android device. Follow WBRZ Weather on Facebook and Twitter for even more weather updates while you are on the go.
News
A cold front will move into the area on Friday causing a wet and stormy morning drive. Much lower temperatures...
More >>