Thursday morning video forecast
Related Story
*AREAL FLOOD ADVISORY* for the shaded area. Typical trouble spots will hold water. #lawx #mswx pic.twitter.com/kihuRP6WKs

— WBRZ Weather (@WBRZweather) February 11, 2021
THE FORECAST
Today and Tonight: Temperatures starting in the upper 60s and that is as warm as it will be today. Temperatures will be dropping into the 50s by the afternoon and into the 40s overnight. Showers and storms have already started and they will continue to move through the area all day. They will be stronger in the morning bringing heavy downpours, frequent lightning, gusty winds, and small hail is a possibility. Some areas have already accumulated near 5 inches of rain. Look out for localized street flooding. There will still be rain on and off this afternoon, but the bulk of the storms will move southeast by the end of the morning hours. With more rain expected this afternoon, an AREAL FLOOD ADVISORY has been issued for all of East Baton Rouge Parish and parts of Ascension, East Feliciana, St.Helena, Livingston, Iberville, and West Baton Rouge Parishes.
Up Next: Temperatures will be in the 40s as we wake up on Friday morning. Afternoon highs will be back in the 50s and overnight lows down in the 30s. High temperatures on Saturday and Sunday will struggle to hit the 50s and overnight lows will be below freezing.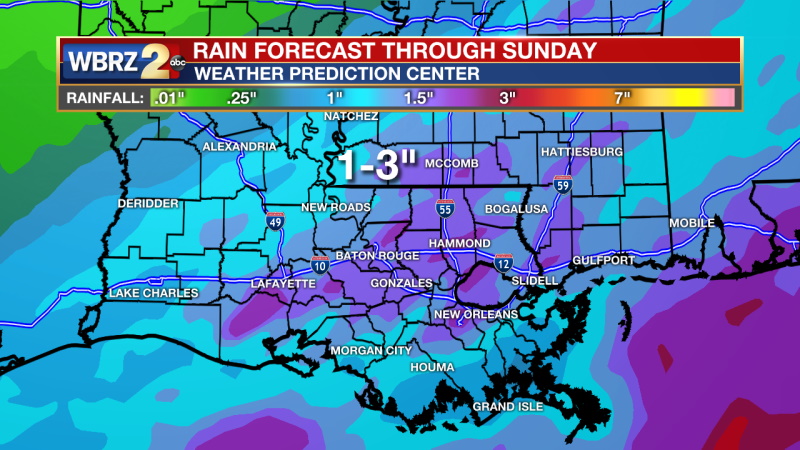 We are still monitoring the chance for wintery precipitation associated with these chilly temperatures. The uncertainty is still high. Right now all the precipitation in the forecast through Saturday is forecast to be rain. Come next week, Monday temperatures will be in the 40s during the day and in the 20s at night. Since it will be so cold, there is a chance we will see some frozen precipitation in the coldest hours of the night. Any liquid precipitation will then be at risk of freezing in the overnight hours. The timeline will be Monday into Tuesday morning. Stay with us as we track it out! Click here to see the 7-day forecast.
Get right now weather conditions for your location on the WBRZ WX App on your Apple or Android device. Follow WBRZ Weather on Facebook and Twitter for even more weather updates and unique weather insight from the whole team!
News
*AREAL FLOOD ADVISORY* for the shaded area. Typical trouble spots will hold water. #lawx #mswx pic.twitter.com/kihuRP6WKs — WBRZ Weather...
More >>