School districts release schedules for transitions into in-person classes as La enters Phase 3
BATON ROUGE - School officials across Louisiana are reevaluating attendance plans and learning models as the state enters Phase 3 of its reopening process amid the COVID health crisis.
School systems are deciding how they will eventually bring all students back to campus since Governor John Bel Edwards announced that Louisiana will move out of Phase 2 and into Phase 3 on Friday, September 11.
East Baton Rouge Parish Schools released a plan saying it will transition to face-to-face learning five days a week in October.
The transition into Phase 3 is expected to follow the schedule below:
September 28 - October 16
- 6th-12th Grade students with last names beginning with A-K will attend in person on Monday and Tuesday. This group will learn virtually Wednesday - Friday.
Students with last names beginning with L-Z will attend in person on Thursday and Friday. This group will learn virtually Monday - Wednesday. -Children of EBRPSS employees in grades 6-12 may attend the student's school of record four days a week: Monday, Tuesday, Thursday and Friday.
-All students will learn virtually on Wednesday
October 5
-PreK-5th Grade students will begin attending in-person classes five days a week (Monday through Friday) at their assigned school campuses.
-Students who wish to continue learning in the all-virtual environment will still be able to do so by completing a virtual opt-in form to remain in the all-virtual learning model. If a family would like to opt back into in-person learning at a later date, they will communicate with the student's assigned school so that school level adjustments may be made in a timely manner.
PreK through 5th Grade students have been transitioning into attending hybrid classes since September 15.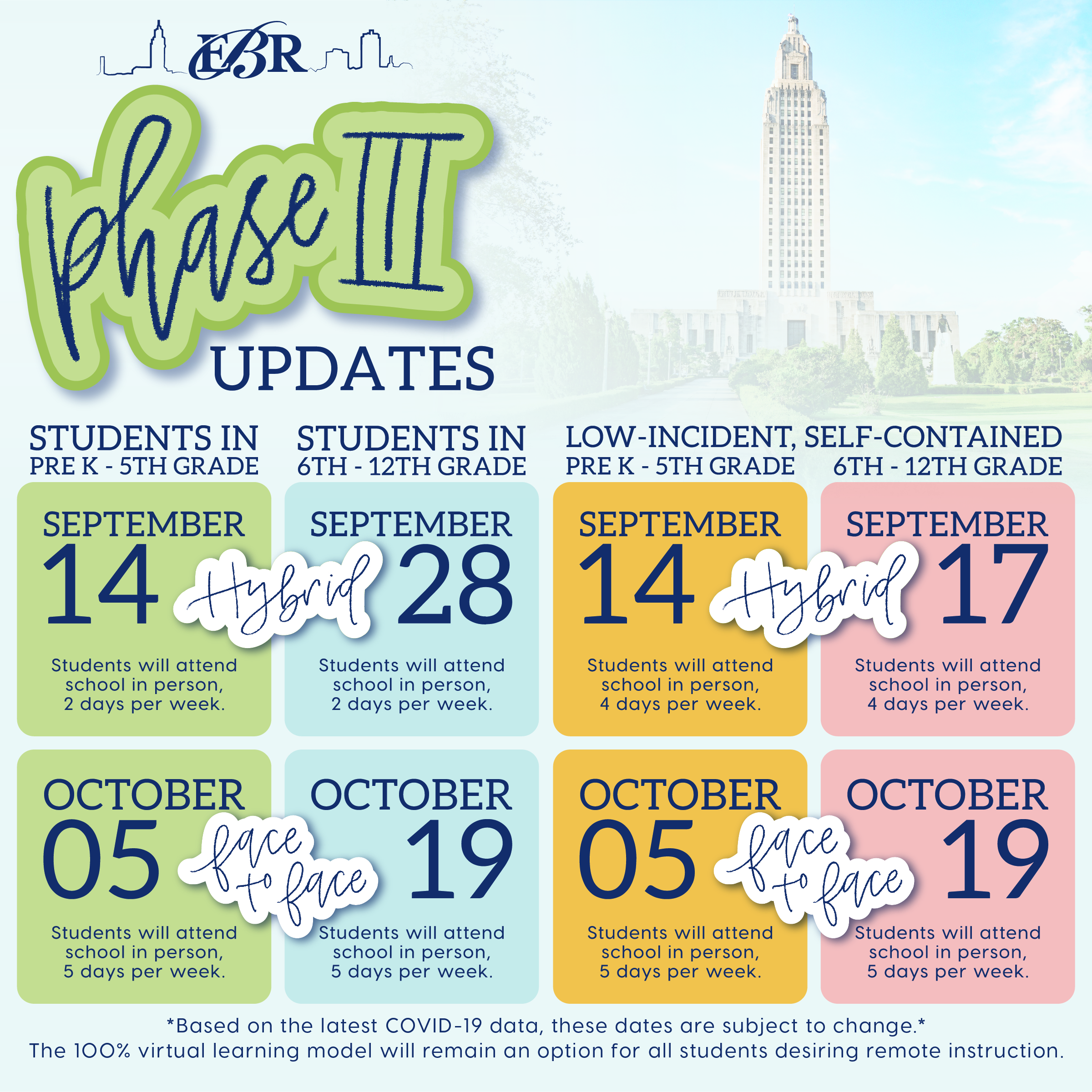 Read the full plans from East Baton Rouge Parish here.
West Baton Rouge Parish Schools says it will transition its middle and high school students from an alternating schedule to every day on the following timeline:
Monday, September 21 - Caneview 7-8, Port Allen Middle, Port Allen High

Monday, September 28 - Brusly Middle, Brusly High (Brusly Middle and Brusly High have more classroom adjustments to make and we still have construction going on at both schools.)
*All students in our Virtual Academy will remain in the virtual setting. *All Phase 2 safety protocols will remain in place in Phase 3.
Central schools announced that during its transition into Phase 3, Grades PreK-6th grade will remain in their face to face learning models. The following dates will mark the beginning of a transition to in-person learning models for all other grades:
Monday, September 21 - Grades 7th & 8th - Return face to face

Tuesday, September 29th - Grades 9th - 12th - Return face to face
Zachary Schools announced the following schedule for its shift into Phase 3:
During phase 3, group sizes will increase from 25 to 50 individuals and bus capacity from 50% to 75%.

Monday, September 21, 2020 - Middle and High School Hybrid Groups A and B will begin attending school five days a week.

Students who are 100% virtual will remain 100% virtual, with the option of returning the second semester.
Ascension Parish Schools revealed the following schedule information in regards to its transition into Phase 3:
-Monday, Sept. 21, 2020 - 6th, 7th, and 8th grade students will transition to daily in-person learning in a phased-in schedule.
-Most 9th through 12th grade students will continue in a hybrid schedule of alternating in-person and online learning at least through the end of the first nine weeks with some exceptions.
-Donaldsonville High School will move to daily in-person learning starting Monday, Sept. 21, 2020. However, due to the large size of their student populations, Dutchtown High, East Ascension High, and St. Amant High will continue a hybrid schedule for at least the remainder of the first 9 weeks.

-Additional information about high school transitions from hybrid to daily in-person learning will be communicated out by September 30, 2020.
Livingston Parish Schools announced that its transition to Phase 3 will take place as follows:
-Last week, Grades 6th - 11th returned to campus full time for in-person classes
- On Monday, September 21, 12th graders return to campus full time, which means all of Livingston Parish will be back in school full time as of Monday.
As students across Louisiana eventually return to campus, they'll do so wearing masks and school officials will continue to enforce social distancing.
More News