Hot days ahead of the next cold front, Ophelia sets a record
Lower humidity will be felt over the next few days, but make no mistake; afternoons will still be hot. The next good chance for a cool down will come early next week.
THE FORECAST:
Today and Tonight: Thursday will be sunny and warm but not as humid as earlier this week. High temperatures will climb into the upper 80s with light, north winds. Overnight will be clear with low temperatures in the upper 60s.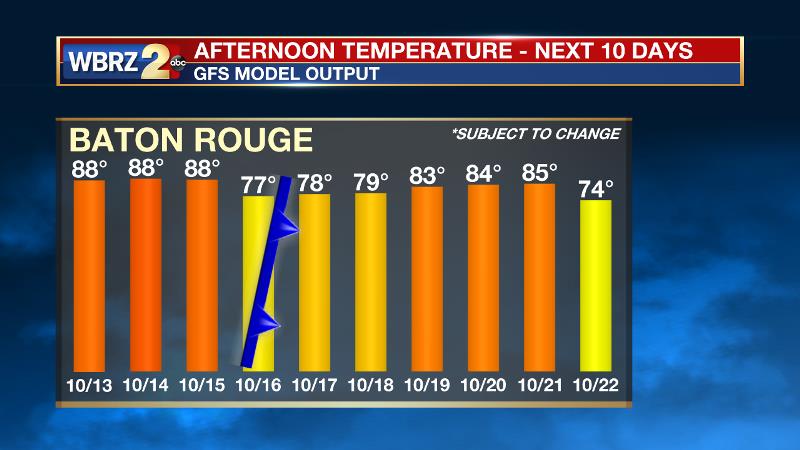 Up Next: Friday will be sunny and hot with high temperatures near 90 degrees. Lower humidity compared to earlier in the week should make the heat a little more tolerable. A similar forecast is on tap for Saturday.
As LSU plays host to Auburn, expect hot temperatures in Death Valley for kickoff time in the afternoon. Temperatures will be close to 90 degrees but it often feels much hotter in the stadium. For a mid-afternoon game, during the peak heat of the day, field level temperatures run 10-15° above the actual outdoor air temperature. Within the concourse, it could be anywhere from 15-20° hotter. The stadium temperature spike can be attributed to high solar radiation and poor air flow as the stadium creates its own "mini-climate." In addition, a grassy field plus 100,000+ screaming, breathing fans (emitting water vapor) will produce an uptick in humidity as well. As we know, the heat and humidity combination produces an even higher "feel-like" temperature. Wear sunscreen and hydrate.
Some humidity will sneak back into the area on Sunday with the possibility of an isolated shower. Confidence is increasing that a stronger cold front will move through the area on Monday. While widespread showers and thunderstorms are not expected, a bigger drop in temperatures and humidity is anticipated. Tuesday and Wednesday could bring highs near 80 and lows near 60.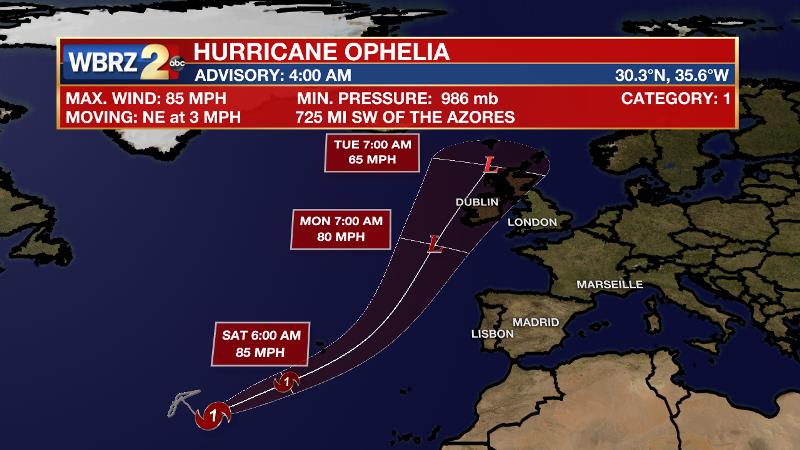 The Tropics: Ophelia has now become the tenth straight named storm to reach hurricane status, tying the all-time record set in 1878 and equaled in 1886 & 1893. As of 4am Thursday, Hurricane Ophelia was located 725 southwest of the Azores. With maximum winds of 85mph, the system was drifting northeast at 3mph. While the same general direction will continue through the weekend, Ophelia is expected to accelerate by Saturday.
THE EXPLANATION:
A mid-level ridge in the southeast U.S. will expand westward over the next several days. A weak cold front barely pushed through the region and is now dissipating. Because of the front, dew points have been nudged back and overnight lows will therefore drop into the upper 60s rather than low 70s. As drier air warms more efficiently than humid air, the next couple of afternoons may actually be hotter than early week and compressional warming will assist this. Especially Friday and Saturday, a few high temperatures near 90 degrees will be possible. The ridge aloft is also expected to keep convection to a minimum and only low topped cumulus clouds are expected during the afternoon hours. Moisture return will begin on Sunday introducing some low rain chances. Into next week, both the GFS and ECMWF models show another front moving into the area by Monday. While a shower or thunderstorm will be possible, some presence of the ridge left in the southern U.S. should prevent anything widespread or significant. Models have been aggressive over the last several runs with a considerable push of cooler and drier air by Tuesday. Thermometers may finally retreat to more seasonable readings for a couple of days.
--Josh
More News