By the Numbers: Hurricanes shatter records in 2017
The 2017 Atlantic Hurricane Season was well above average, as forecast, with multiple basin statistics ranking in the top ten through recorded history (1851). The season began early when Arlene formed on April 19 and ended when Rina dissipated on November 9.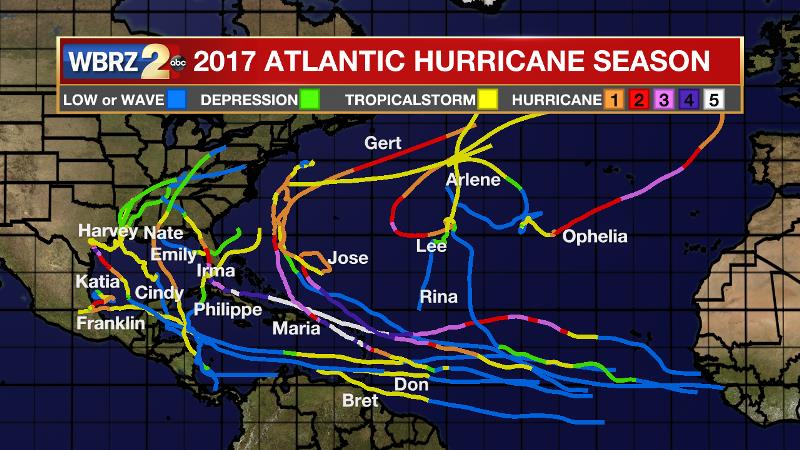 There were 17 named storms and 10 hurricanes with 6 reaching major category three strength or higher. All of these tallies exceeded the historical averages.
| | | |
| --- | --- | --- |
| Stat | Rank | Record |
| 6 Major Hurricanes | T-3 | 7 (1961, 2005) |
| 19.25 Major Hurricane Days | 6 | 24.5 (1961) |
| 51.25 Hurricane Days | 6 | 61.5 (1893, 1995) |
| 226 Accumulated Cyclone Energy | 7 | 259 (1933) |
| 10 Hurricanes | T-8 | 15 (2005) |
| 17 Named Storms | T-9 | 28 (2005) |
Louisiana and Florida saw the most tropical cyclones make landfall with Cindy, Harvey and Nate, and Emily, Irma and Philippe respectively. Striking near the Mouth of the Mississippi River, Hurricane Nate was the first October landfall along the central Gulf Coast since Lili in 2002.
September set a one month record for accumulated cyclone energy which is a measure (number) used by the National Oceanic and Atmospheric Administration (NOAA) to express the activity of individual tropical cyclones and entire tropical cyclone seasons.
Atlantic Accumulated Cyclone Energy (ACE) by month during this year's #hurricane season. Atlantic calendar month record ACE in September 2017, while all other months were fairly close to normal. pic.twitter.com/vrLZ2dY1Ed

— Philip Klotzbach (@philklotzbach) November 27, 2017
As of September 26, Irma, Jose and Maria all accrued accumulated cyclone energy over 40; the first time three individual storms did so in a single season. All three storms occurred in the same month.
In October, Hurricane Ophelia marked the tenth consecutive Atlantic Basin storm to reach hurricane status tying the record from 1878, 1886 and 1893. In addition, Ophelia became the farthest east a major hurricane has ever been recorded in the Atlantic Basin.
---
Three storms were particularly devastating and certain to be retired from the annual hurricane lists: Harvey, Irma and Maria. Each was responsible for a number of records.
| | | |
| --- | --- | --- |
| Storm | Cost | Deaths |
| Harvey | $198.6 million | 63 |
| Irma | $64.7 million | 134 |
| Maria | $103.1 million | 71 |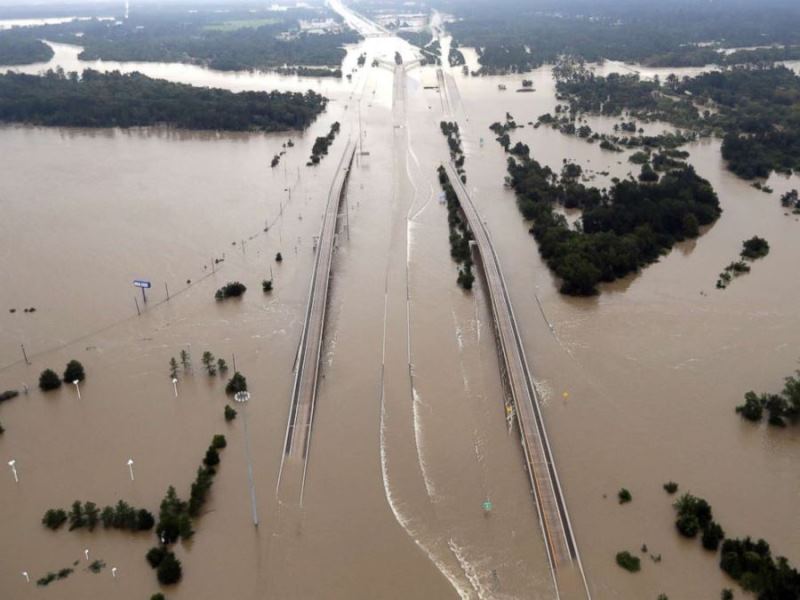 Hurricane Harvey, August 17 – September 1
"Drought Breaker to Record Rainmaker"
Landfall(s): San Jose Island, TX., Rockport, TX., and Cameron, LA.
Maximum sustained wind: 130mph
-ended longest U.S. major hurricane landfall drought at 4323 days, last had been Wilma in 2005
-first category four hurricane to make landfall in Texas since Carla in 1961
-first category four hurricane in the Gulf of Mexico since Gustav in 2008
-most rain ever recorded in continental United States from a tropical cyclone with 51.88" of at Cedar Bayou, TX, previous mark set by Tropical Storm Claudette, with 48" in Texas in 1979. Four other stations also eclipsed the old record. The United States record of 52" in Hawaii was likely broken as well since it was still raining when the gauge failed.
-longest lasting named storm after landfall in Texas on record at 117 hours, Fern lasted 54 hours in 1971
-first storm to make two Gulf Coast landfalls more than 60 hours apart with the second near 100 hours later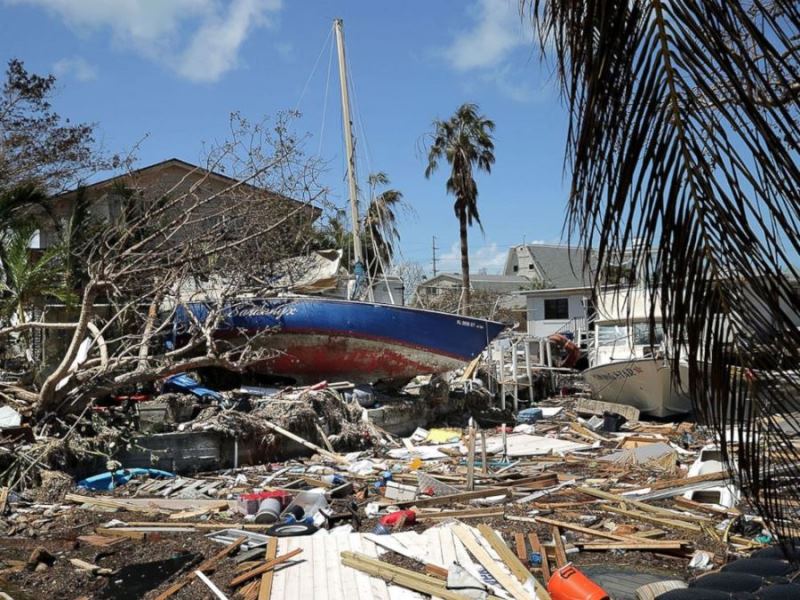 Hurricane Irma, August 30 – September 12
"Atlantic Anomaly"
Landfall(s): Cuba, Cudjoe Key, FL., Marco Island, FL.
Maximum sustained wind: 185mph
-strongest winds ever measured in the Atlantic Basin outside of the Caribbean Sea or Gulf of Mexico at 185mph
-longest duration of 185mph+ winds ever measured on earth at 37 hours
-lowest pressure ever measured in the Atlantic Basin outside of the Caribbean Sea or Gulf of Mexico at 914mb
-longest duration as a category five hurricane in the Atlantic Basin in the satellite era (1966)
-strongest storm (by winds, 185mph) on record to impact the Leeward Islands
-first category five hurricane to make landfall in the Bahamas since Andrew in 1992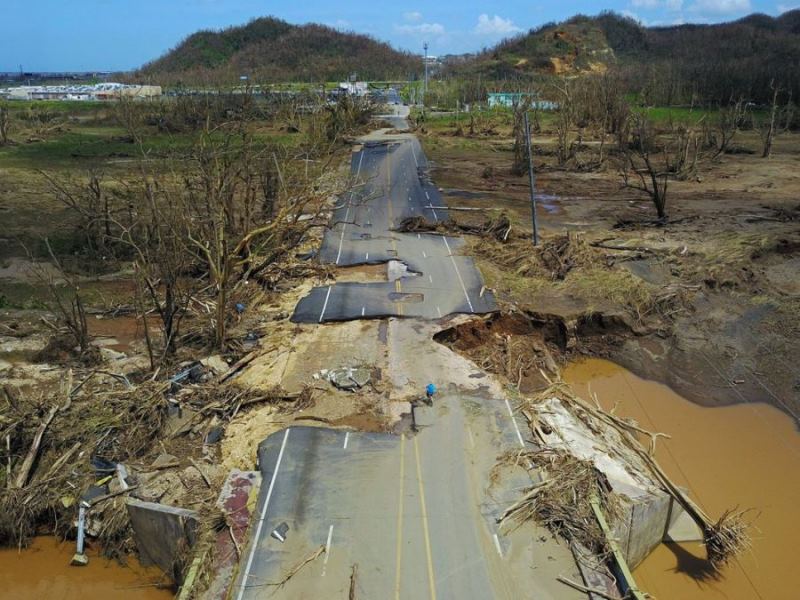 Hurricane Maria, September 16 – September 30
"Caribbean Catastrophe"
Landfall(s): Dominica, Vieques, PR., Yabucoa, PR.
Maximum sustained wind: 175mph
-lowest pressure ever recorded in the Atlantic Basin at 908mb
-first category five hurricane on record to make landfall on (or track within 50 miles of) Dominica
-first category four hurricane to make landfall in Puerto Rico since San Ciprian Hurricane of 1932
---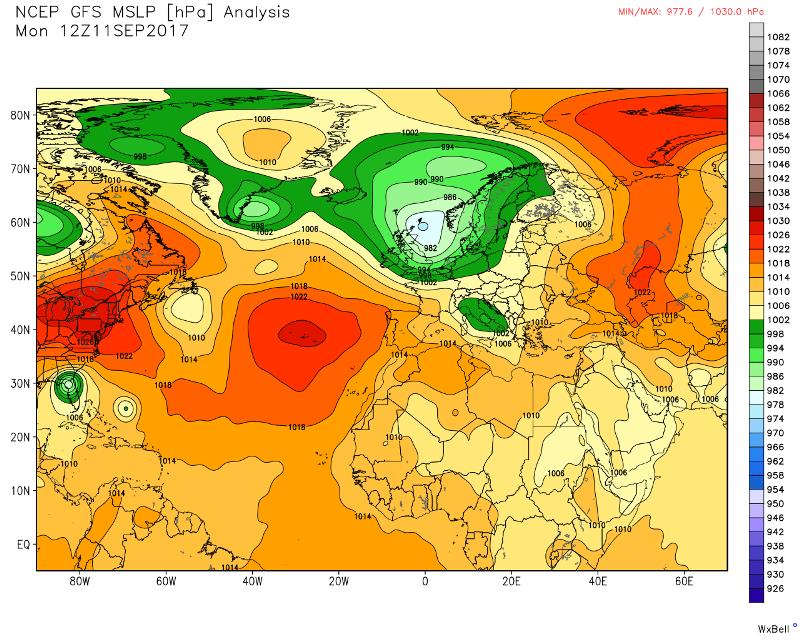 The hyperactive 2017 Atlantic Hurricane Season was a result of warmer than average ocean temperatures, and the lack of an El Niño pattern. Something often weaker during an El Niño event, and particularly in September, a dominant ridge of high pressure over the central Atlantic steered storms on a southern and western track toward the United States. This ridge prevented long lasting "Cape Verde" storms from making the typical curve out to sea.
#Hurricane season ends Thursday. What 2017 storm do you think was the most devastating? Feel free to let me know why you voted the way you did!

— Josh Eachus (@JoshEachus) November 29, 2017
---
Data and statistics via Philip Klotzbach, Wikipedia and WBRZ Weather
More News
Desktop News
Click to open Continuous News in a sidebar that updates in real-time.