Friday evening video forecast
Related Story
A light freeze is expected across south Louisiana tonight.
THE FORECAST
Tonight & Tomorrow: Temperatures will hit 32° tonight for a few hours. If you have any sensitive plants, take them in or cover them before you go to bed tonight. Make sure outdoor animals come in or have somewhere warm to stay. Saturday is looking sunny and cool with high temperatures in the mid-50s. If you are out in the morning hours, keep an eye on the "feels like" temperature, it could be in the 20s. Saturday night, temperatures will fall into the 30s again, but we will stay above freezing.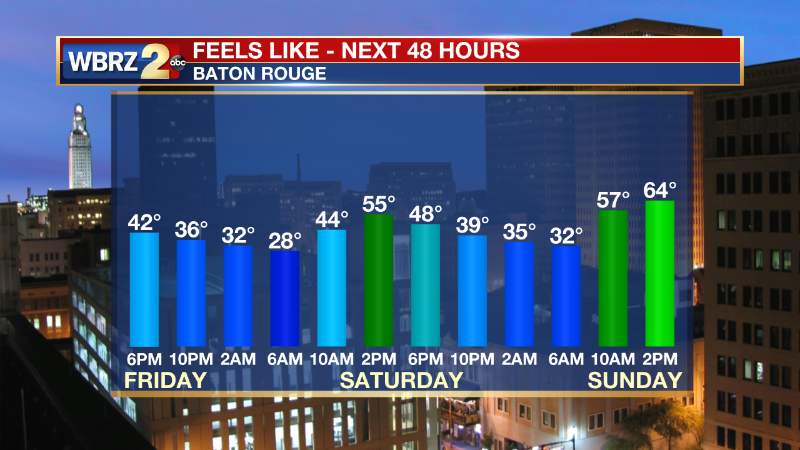 Up Next: Sunday afternoon, we start to rebound with high temperatures in the mid-60s. By Monday, we will have 70s back in the forecast and humidity will return. We will see temperatures climbing through the week as we anticipate the next cold front. Isolated showers will be possible late Monday night into Tuesday and Wednesday. Scattered showers and storms are expected to come in with the next front on Wednesday into Thursday. The front will pass through by the morning hours on Thursday. Temperatures on the other side of the front will drop again. High temperatures next Friday will be in the mid-60s with lows in the mid-40s. Click here to see the 7-day forecast.
Hour-by-hour weather tracking is available for your location on the WBRZ WX App on your Apple or Android device. Follow WBRZ Weather on Facebook and Twitter for even more weather updates and unique weather insight from the whole team!
News
A light freeze is expected across south Louisiana tonight. THE FORECAST Stream LIVE news here. Tonight &...
More >>