Thursday AM Forecast: New information about the next cold front
Stay connected to the Storm Station! We are learning more about the front coming in on Friday night.
THE FORECAST
Today & Tonight: Humidity is starting to go up today. High temperatures will be in the mid to upper 80s with partly cloudy skies. Overnight temperatures will be near 70°.
Up Next: The next cold front will bring in scattered showers on Friday evening and will clear into Saturday morning. There is some level of severe risk for the entire WBRZ viewing area on Friday night. The risk gets higher the further north you live, but storms approaching our area will be weakening as they move in.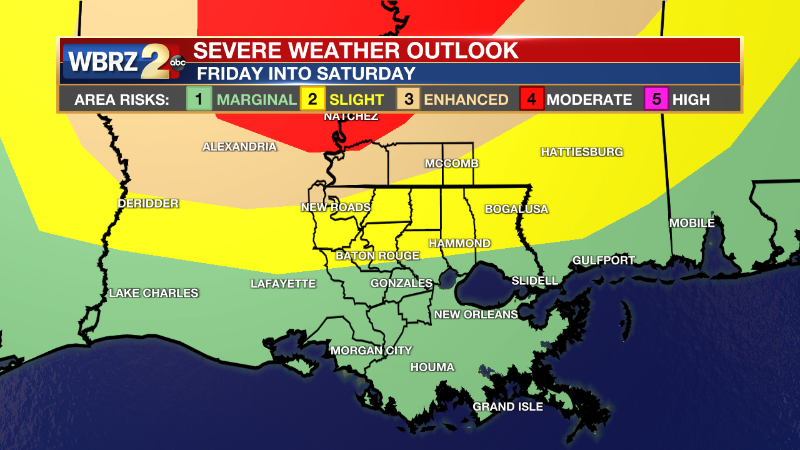 The timeline is not set in stone, but the bulk of the action will happen after dark on Friday and before sunrise on Saturday. Some areas will get through Friday night with no rain at all. Saturday will be mostly sunny with high temperatures in the 80s. It is more likely you see some rain on Sunday than on Friday night. Then on Sunday high temperatures will reach the 80s and afternoon showers will be scattered across south Louisiana. Showers will become more scattered across the area on Monday, and temperatures stay warm. The next front will clear out showers by early Tuesday morning and it will drop humidity too. Click here to see the 7-day forecast.
Reminder: With the threat for impactful weather— Thunderstorms—please have access to alerts through Saturday. You can download or activate the WBRZ WX App on your Apple or Android device or turn on a NOAA Weather Radio for bulletins such as watches and urgent warnings. Of course, WBRZ, WBRZ+ and the Cable Weather Channel will have updates as active weather dictates.
More News