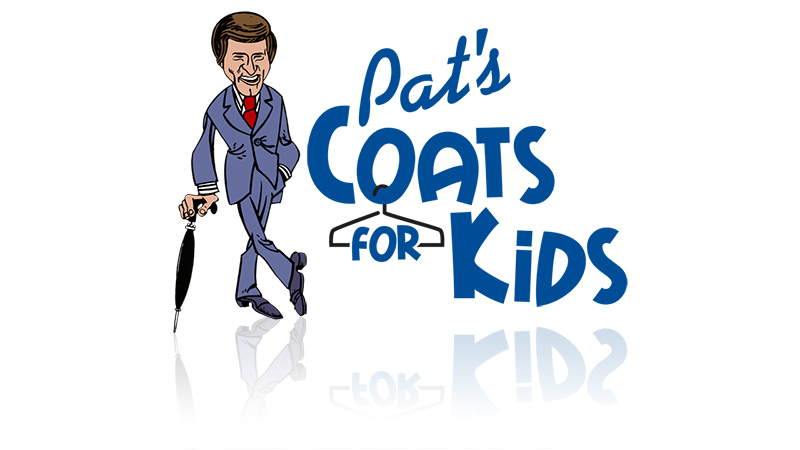 For 31 years Pat's Coats for Kids has provided a warm jacket to children in our community. It takes only $20 to give a kid a new coat in the proper size.
During the cold months of December through April, we know that there are kids in the Baton Rouge community that do not have coats, whose parents cannot afford coats, kids that start their day at a bus stop shivering, and kids who enter a school needing time to "warm up" to start their classes.
That is what "Pat's Coats for Kids" is all about and the reason Pat continues to champion the effort. Since its inception more than a million dollars have been received, reflecting in close to 260,000 coats purchased and distributed to 135 area schools. In addition, we have collected more than 200,000 used coats. In 2018 we were able to fulfill the need in our community by distributing 8,000 coats to children in our area.
WBRZ would like to thank our sponsors; Coldwell Banker One, Entergy, Neighbors Federal Credit Union, and the Baton Rouge Clinic for all their generous support. The Society of St. Vincent de Paul Council of Baton Rouge and PODS also help to make Pat's Coats for Kids a success year after year.
To donate online using VISA, Master Card or Discover:
_______________________________
To make monetary donation by check or money order, make payable to:
Pat's Coats for Kids
And mail or drop off at:
1650 Highland Road
Baton Rouge, LA 70802

Pat's Coats for Kids: Adopt A School
Pat's Coats for Kids identifies the kids in need and distributes the coats with the help of the public schools in our area. This year we have nearly 10,000 coats requested from 137 schools. You, your business, church or civic group can help by adopting a school. By adopting a school you will provide the coats for all of the needy students at that school at the cost of $20 each. For your generous donation, WBRZ and Pat Shingleton will recognize you as a school sponsor during our campaign.
If you would like to adopt a school, choose one from the list below and fill out the short form. Someone from WBRZ will contact you soon to work out all the details.

| | |
| --- | --- |
| School | Total Coats Requested |
| Albany Lower Elementary | 20 |
| Apple Digital Academy | 33 |
| Arlington Preparatory Academy | 47 |
| Ascension Head Start | 31 |
| Audubon Elementary School | 110 |
| Baker Heights & Bakerfield Elementary | 160 |
| Basis Baton Rouge | 37 |
| Baton Rouge FLAIM | 38 |
| Bayou L'Ourse | 13 |
| Belfair Montessori Magnet | 47 |
| Belle Rose Middle | 21 |
| Bellingrath Hills Elementary | 22 |
| Bernard Terrace Elementary | 129 |
| BRCVPA | 4 |
| Broadmoor Elementary | 92 |
| Brookstown Middle School | 19 |
| Brownsfield Elementary | 59 |
| Brusly Elementary | 101 |
| Buchanan Elementary School | 29 |
| Bullion Primary School | 16 |
| C.D.I.C - Child Development Learning Head Start | 46 |
| Capital Area Head Start | 20 |
| Capital Middle Magnet School | 66 |
| Capitol Elementary | 106 |
| Careview K-8 | 75 |
| Cedarcrest Southmoor | 59 |
| Central Intermediate School (CIS) | 60 |
| Central Primary (Ascension) | 21 |
| Charlie Thomas Memorial Head Start | 126 |
| Children's Charter Elementary School | 52 |
| Claiborne/ Howell Park Elementary | 345 |
| Cohn Elementary School | 24 |
| Crescent Elementary School | 110 |
| Crestworth Elementary | 119 |
| Dalton Elementary | 170 |
| Delmont Dedicated Pre-K Center | 100 |
| Denham Springs Elementary | 22 |
| Discovery Head Start | 58 |
| Donaldsonville Primary | 259 |
| Dorseyville Elementary | 62 |
| Dufrocq | 44 |
| Duplessis Primary | 36 |
| Dutchtown Middle School | 30 |
| Dutchtown Primary | 19 |
| East Iberville Elementary & High School | 36 |
| Eastside Elementary | 19 |
| EBR Readiness Elementary School | 29 |
| EBR Readiness Middle | 20 |
| Forest Heights Academy | 80 |
| Freeman Matthews | 122 |
| French Settlement | 156 |
| Frost School | 41 |
| G.W Carver Primary | 116 |
| Galvez Middle School | 6 |
| Galvez Primary | 28 |
| Glasgow | 36 |
| Glen Oaks Magnet High School - Middle School Complex | 140 |
| Glen Oaks Middle | 120 |
| Glen Oaks Park Elementary | 77 |
| Gonzales Middle School | 10 |
| Gonzales Primary | 72 |
| Highland Elementary | 18 |
| Iberville Elementary | 145 |
| Iberville Parish Optional Education Center | 58 |
| IDEA Bridge Academy | 95 |
| Inspire Charter Academy | 40 |
| Istrouma Middle Magnet | 20 |
| Juban Park Elementary | 36 |
| Labadieville Primary School | 70 |
| LaBelle Aire Elementary School | 100 |
| LaBelle Aire Head start | 94 |
| Lakeside Primary School | 15 |
| Lanier Elementary | 146 |
| LaSalle Elementary | 93 |
| Lewis Vincent Elementary School | 16 |
| Live Oak Elementary | 14 |
| Live Oak Jr High | 11 |
| Livingston Head Start | 74 |
| Lowery Elementary School | 26 |
| Lowery Middle School | 40 |
| Lukeville Upper Elementary School | 16 |
| Magnolia Woods Elementary | 36 |
| Maurepas School | 15 |
| Mayfair Laboratory | 13 |
| Melros Elementary School | 50 |
| Merrydale Elementary School | 174 |
| New Horizon (Main) | 109 |
| New Horizon Head Start (Annex) | 78 |
| North Corbin Elementary | 72 |
| North Live Oak Elementary | 20 |
| Northeast Elementary | 51 |
| Northeast Middle | 19 |
| Northside Elementary | 41 |
| Northwestern Elementary/Zachary Early Learning Center | 25 |
| Oak Grove Primary | 16 |
| Park Elementary School | 98 |
| Park Forest Elementary | 260 |
| Pecan Grove Primary | 8 |
| Pierre Part Elementary | 45 |
| Plaquemine Middle School | 45 |
| Port Allen Elementary | 32 |
| Port Allen Middle | 107 |
| Prairieville Middle School | 32 |
| Progress 1 | 80 |
| Progress Elementary | 70 |
| Redemtorist St. Gerard Elementary School | 98 |
| Riveroaks Elementary | 117 |
| Rollins Place Elementary | 26 |
| Rougom Elementary | 80 |
| Ryan Elementary School | 56 |
| Scotlandville Pre-Engineering Middle Magnet Academy | 56 |
| Seventh Ward Elementary | 16 |
| Shanandoah Elementary | 77 |
| Sharon Hills Elementary School | 107 |
| South Fork Elementary | 19 |
| South Live Oak Elementary | 19 |
| South Walker Elementary | 60 |
| Southdowns Pre-K Center | 31 |
| Springfield Elementary School | 32 |
| St. Francis Xavier | 18 |
| STEM Magnet Academy | 26 |
| Tanglewood | 15 |
| Twin Oaks Elementary | 134 |
| University Terrace Elementary | 375 |
| UP Elementary University Prep | 76 |
| Upper Pointe Coupee Elementary | 103 |
| Villa Del Rey Elementary | 66 |
| Walker Elementary School | 44 |
| Wedgewood Elementary | 170 |
| West Feliciana Parish Head Start/Early Head Start | 57 |
| Westdale Heights Academic Magnet | 12 |
| Westminster Elementary | 320 |
| White Hills Elementary | 95 |
| Wildwood Elementary | 148 |
| Winbourne Elementary | 160 |
| Wonderland Head Start | 135 |
| Woodlawn Elementary School | 81 |
Pat's Coats for Kids: Adopt A School