Changing rain coverage, weather forecast for Omaha
The typical, active summer pattern will continue.
THE FORECAST:
Today and Tonight: Tuesday will mark a third straight with scattered showers and thunderstorms. Rain coverage should be slightly lower than Sunday and Monday -- in the 50 percent range. High temperatures will therefore make it into the upper 80s with humidity producing a heat index in the 90s during times of sun. Tonight will be partly cloudy with lows in the mid 70s.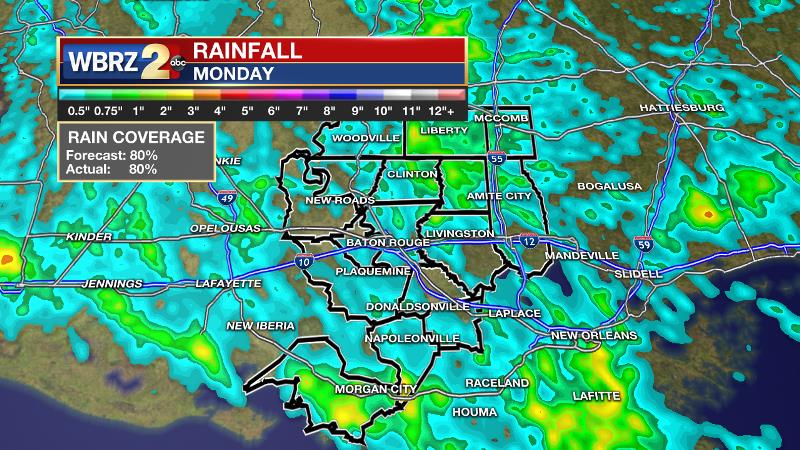 The forecast performed well on Monday. Approximately 80 percent of the WBRZ Weather forecast area picked up measurable rain as expected. There were multiple rounds of showers and thunderstorms from late morning to late afternoon. Rainfall totals did not get too out of hand with about an inch showing up as the maximum for some locations.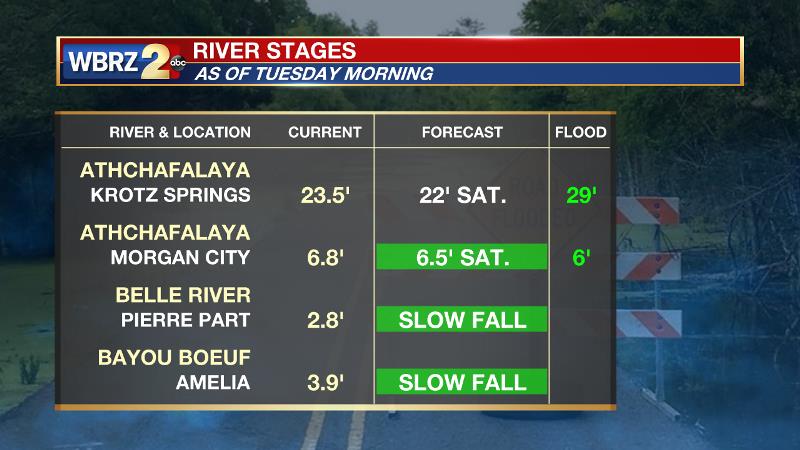 The rain is not good news for parts of Assumption Parish that continue to contend with backwater flooding. Especially in Pierre Part and areas near Belle River, drainage will no slow to nil through Thursday. The Atchafalaya River at Morgan City will remain above flood stage through Friday meaning water will not be able to exit the streams and tributaries that typically flow into it.
Up Next: While daily showers and thunderstorms will continue, activity should not be as widespread for the second half of the week, but it will continue to be primarily during the afternoon hours. Through the week, little more than an inch of rain is anticipated. As the rain coverage lessens, more times of sun will allow some locations to reach high temperatures in the low 90s. High humidity will continue and nighttime temperatures will be in the low to mid 70s as a result. The weekend forecast is a little uncertain as to whether or not showers and thunderstorms will be just isolated or more widespread. Either way, it is not expected to be completely dry.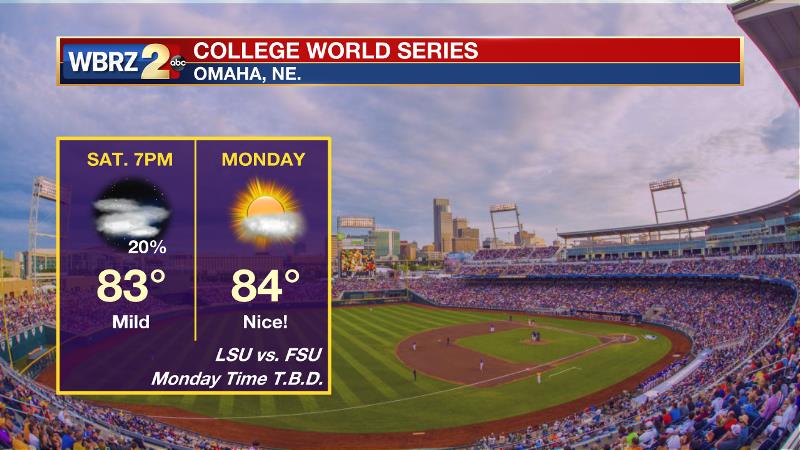 We now know that the LSU Tigers will take on the Florida State Seminoles at 7pm Saturday for their first College World Series game. In Omaha, the weather should be cooperative with temperatures in the 80s on Saturday evening. At this time, a shower can't be ruled out, but the chances look low. The second game will be played on Monday, though the time is not yet known.
The Tropics: It continues to look as though a weak tropical wave will develop near the Yucatan Peninsula and move slowly northwestward into the Bay of Campeche by early next week. The National Hurricane Center pegs a 20 percent chance of further organization over the next five days. Due to an increased gradient from high pressure north of our area, this may help to increase tides and possibly showers over the Gulf of Mexico.
THE SCIENCE: An area of high pressure parked off of the North Carolina coast will continue onshore flow through the week. A weak upper level trough will move into the Southeast U.S. by tomorrow. In the meantime, ample moisture, daytime warmth and the sea breeze will be sufficient to kick out a round of showers and thunderstorms on Tuesday. Rain coverage is expected to ease off somewhat on Wednesday and Thursday as a weak ridge axis penetrates the upper levels from the southwest. On days where rain coverage is lesser, more locations can expect high temperatures to reach 90 degrees. With dew points in the low 70s, humidity will be excessive and overnight lows won't dip below the low and mid 70s. Into the upcoming weekend, forecast models are showing a tropical low in the southern Gulf of Mexico. A surface high pressure moving into the Mid-Mississippi River Valley will have two effects on the local area. First, the pressure gradient between this high and the low may increase tides and seas for coastal areas. Second, the high should be close enough that convection is somewhat suppressed though for now, we'll continue to mention isolated showers and thunderstorms.
--Josh
More News
Desktop News
Click to open Continuous News in a sidebar that updates in real-time.