Hours after Nakamoto report, Justice of the Peace submits resignation to Judiciary Commission
UPDATE: Hours after this report was published Monday night, Randy Guidroz submitted his resignation to the Secretary of State and the La. Judiciary Commission. His resignation comes after a 12-year span in which there was no evidence he ever did any work for the sheriff's office and collected over half a million dollars in paychecks.
See Guidroz's resignation letter here: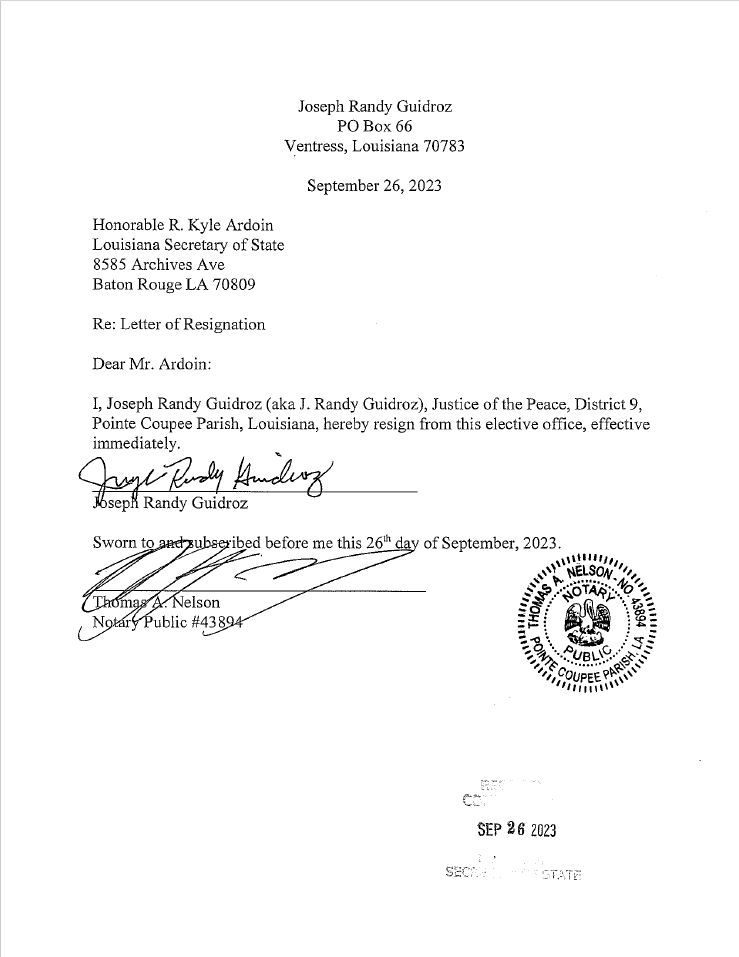 -----------
NEW ORLEANS - Years after the WBRZ Investigative Unit exposed a ghost employee who was left on the payroll despite no record of doing any work, the Louisiana State Supreme Court heard a recommendation this month from the Judiciary Commission to suspend him.
The justices will make a determination and release their findings at a later date.
Randy Guidroz collected more than $500,000 over a 12-year span and there was no proof that he did any work.
In addition to being a full-time "intelligence officer" for the Pointe Coupee Parish Sheriff's Office, the WBRZ Investigative Unit also found Guidroz is an elected official. He is a Justice of the Peace in the parish.
The state's dual office holding laws may pose big problems.
Louisiana Revised Statute 42:63 states, "No person holding an elective office in the government of this state shall at the same time hold another elective office, a full-time appointive office, or employment in the government of this state or in the government of a political subdivision thereof."
Questions are being raised about whether Guidroz broke the law. An Attorney General Opinion issued in 1991 addresses whether a justice of the peace can work as a full-time deputy sheriff.
"Holding a full-time position as deputy sheriff would be prohibited by RS 42:63," the opinion reads.
The Louisiana Judiciary Commission determined "...by acting as an intelligence officer tasked with covertly gathering information on the very same constituents whom he had been elected to serve as a Justice of the Peace, Justice of the Peace Guidroz blurred the line between the judiciary and law enforcement and created an ethically impermissible appearance of impropriety and partiality."
The Commission also noted there were issues with his truthfulness.
"JP Guidroz failed to disclose his active employment with the sheriff's office when directly asked, under oath at a sworn statement, where he was employed. While he later acknowledged the employment following media reports exposing it, he could not provide cogent testimony as to why he believed he did not previously have to disclose it to the commission."
The Commission recommended that Guidroz pay a nearly $1,600 fine for costs the commission incurred by doing this investigation. It also recommended a 180 day unpaid suspension.
Justices heard the recommendations on Sept. 7, 2023. Their decision will be rendered at a later date.
More News
Desktop News
Click to open Continuous News in a sidebar that updates in real-time.